Tuesday
Community Articles, Featured Stories
Tweeting Shambhala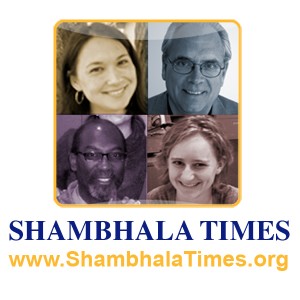 Using the Power of the Internet to Radiate Basic Goodness
By Jennifer Holder
Early this year, my boss at the book publishing company where I worked sat me down in front of Twitter and Facebook and gave me the pith instruction on how the modern world might radiate basic goodness. New York publishing was abuzz with these new platforms for promoting books and authors, and we were jumping aboard. But I had another vision for engaging with social media – one that wasn't commercial, which turns out is a key to online networking popularity.
Jacquie was a boss that nurtured my interests, so she dubbed me "DharmaJen" and went to work forwarding me links so I could download Digsby, TweetDeck, Google Reader, and aggregators so my interests on cyberspace would constantly flash up on my screen while I worked. As is common in Manhattan, word spread and soon the chirping sound of incoming tweets echoed out from cubicles and pervaded the office. It was very cheerful and fun – we were all excited by our exchanges as we chose our handles (our Twitter names) and forwarded thoughts, experiences, links, and photos to each other and the hundreds of people who were soon following each of us.
Jacquie tweeted about hockey. Alice tweeted recipes. Irene sent pictures of her dog in costume. Bob linked to his theater blog. And Will cussed at the Yankees in front of everybody.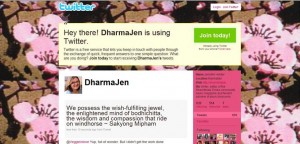 And me? Well, true to my name I tweeted dharma. I quoted the Sakyong, participated in Tricycle magazine's #BigSit hashtag, in which people around the world reported on their meditation sessions and even sent each other messages like: "No more distractions — drop that ice cream and get yourself on the cushion." I even composed haiku at Central Park during my lunch hour.
It wasn't until two of my Sakyong quotes went viral that I began to realize what I was doing. When something goes viral, it's a lot like word of mouth, but on Twitter you have to multiply the audience that's listening by your several hundred followers. They can then "re-tweet" what you said so that all of their followers see it.
Here are the tweets that originated with me sitting at my desk, when at some moment in time, they struck me as a potent reminder.

Like gravity, karma is so basic we often don't even notice it. ~ Sakyong Mipham

Whatever we do lays a seed in our deepest consciousness, and one day that seed will grow. ~ Sakyong Mipham
It's interesting to me that both of these quotes are about karma. I often wonder how and why this peaks our global interest now.
That's the thing about Twitter. It captures a global moment. And that's powerful.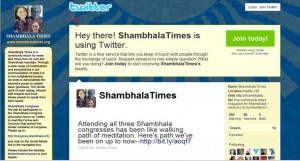 As I prepared for my role as the Shambhala Times blogger for this year's congress, I think I was staring out my apartment window at the Inwood Lagoon, beyond to the Hudson River, and composing yet another haiku. Then it struck me – with Twitter, we could radiate what is happening during November's events in Halifax to the rest of the mandala. We could assist in the Sakyong Wangmo's request that everyone participate in the Tenshuk ceremony – we could use free, existent technology to come together as a community. And maybe even turn a few heads our way in the process (that's only natural).
So we're doing it! The Shambhala Times is offering their Twitter and Facebook presences as hubs for a mandala-wide exchange. I volunteered to be the on-the-scene reporter, leading the dialog by sending tweets live from congress – and others will too.
How We Will Tweet Shambhala
We have created a discussion forum using the hashtag #shambhalacongress in our tweets. Click on this tag, and you'll see what everybody has to say.

Working with the coordinators and congress committee, we have developed forms and protocols to protect the container of trust and confidentiality that is vital for representatives in Halifax to feel they can speak from their hearts. So whether you are planning on tweeting from Halifax, or Boulder, or New Zealand – please do read the rules of the game. That way we can relax into the playful atmosphere of social media and enjoy each other! Click here to read the Forms and Protocols for tweeting.

Our media campaign isn't limited to people who are already using Twitter and Facebook – feel free to join and experiment. The congress website offers some useful orientations:

What is Twitter?

How to Join
As the congress coordinators quoted in the letter to participants, I truly feel that because Shambhala is a global community, it is exciting to offer a platform that has the potential to keep people all over the mandala in touch with the congress and Tenshuk, whether near or far.
This will be an experiment in communicating and radiating. Please do join us.
_____________________________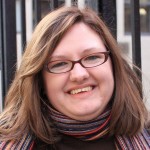 Jennifer Holder is the content manager of the Shambhala Times. She is founder of Full Bloom Publications, and a writer, editor, and publisher in Manhattan.
Post Tags:
Celebrating Community
,
Shambhala Congress