Tuesday
Featured Stories
Losing a Little Part of Myself
A reflection on the transformations encountered through the process of aging
by Shastri Christine Heming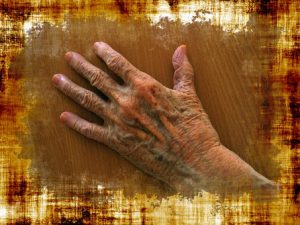 It seems that everyday I lose a little part of me.  As if a transformation is occurring, completely out of my control.  This morning the liver spot on my left cheek deepened in color and expanded its territory.  Yesterday the bandits of fatigue stole my ability to pull even simple things together.  Last week the fun of walking down a country road with my daughter ended with me face down on the gravel shoulder.  I fall occasionally; my balance simply takes off to places unknown.
My friends who live along this county road are, one by one, selling out and moving into smaller, simpler quarters in town.  They are tired and ready to leave the maintenance of their beautiful landscapes to those younger and more capable.  Are these the reasons I grieve?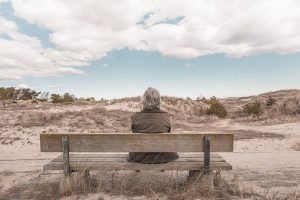 The challenges of aging are many and varied.  There are the external realities to address:  where to live and how to take care of oneself.  These are important.  But often they are the main focus.  The inner experience is seldom mentioned and not well understood by those who have yet to experience it.  I know; I was one of them.
When my mother was in her 90's, I made the decision to attach bars and handrails in strategic places to make her safer in her home.  She protested, but I promised to do an attractive job of it.  She watched in frustration as I attached a handrail along the three stairs leading down to the back door.  As her frustration grew she blurted out, "You make me feel so old!"  Then I blurted out, "Mom, you are old."  We laughed and cried together, but I really did not understand how she felt, that is, not until now.  With each bar and handrail, she was losing a little part of herself.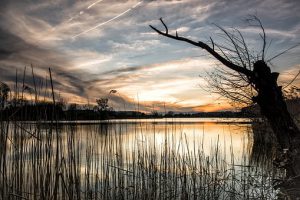 Growing old, becoming less capable in so many ways is one of the sufferings of existence.  Sickness, old age and death are common partners in this crime.  I haven't yet found a graceful way out.  I have been told that one can "grow old gracefully," but I wonder if this is just a cover-up or the wishful thinking of the young.  My mother lived to be 103.  Friends and family are quick to remind me of this whenever I mention growing old.  "You'll live to be 100," they say, not realizing it means another 30 years of dying.
Looking into the grief of sickness, old age and death, I find it is filled with the sadness of life itself – the predicament of samsara, our conditioned existence – and I long to be free.  Time is running out and I still struggle.  Practicing the dharma is my only hope and source of solace.  There I find peace and joy.  Everything else is futile.  At last I understand Milarepa's teaching – everything, absolutely everything in samsara is futile.  I am looking for that fearless confidence that can stare the end in the face and have a good laugh.  It is all illusion after all, but as Lord Marpa himself was known to say, it is a grand illusion.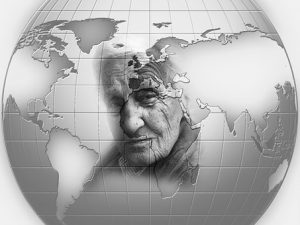 This is not to deny love and compassion.  On the contrary, the more I recognize this futility, the more my grieving takes on the world – people, animals, the trees and greenery, the wounded planet.  We are all in this together.  To harm the earth is to harm me.  My neighbor's pain is my pain.  That very fragile, elderly woman with her walker who is very slowly making her way through the farmer's market is a version of myself.  How can I deny her loving-kindness?
I thought one day a community might begin to appreciate and venerate the elders among them.  But in our culture we gray-headed ones remain invisible.  In my case, the community is almost entirely gray.  It seems the old become segregated.  It is unnatural and a waste of much wisdom.
But the way out is the way in, and this I know to be true.  So I sit in this pool of tears that have no root, no cause, and no boundaries.  I am learning to become a good swimmer.
These are the ramblings of a seventy-one year old facing the realities of the first noble truth.  This truth is glaringly apparent each day as each day, I loose a little part of myself.
Christine Heming lives in the Annapolis Valley, Nova Scotia, with her husband Gregory Heming, an ecologist and municipal councillor.  She holds a Ph.D. in speech science and pathology, and for nine years was on the faculty of Dalhousie University, and later the staff of the Annapolis Valley Regional School Board. Now retired, she devotes her time to promoting the principles of Shambhala as a Shastri, or senior teacher.  Fostering genuine communication has been a major part of her life's work.  She has a daughter, Carolyn, an artist and advocate for persons with special needs, who currently lives in Iqaluit, Nunavut, Canada.  She is also a proud grandmother.
Post Tags:
aging
,
Aging in Enlightened Society
,
impermanence
,
suffering