Thursday
Featured Stories
Leaping Off the Edge
A brave couple takes a leap into the unknown to realize a long-held dream of living in another country
by Lynn Bishop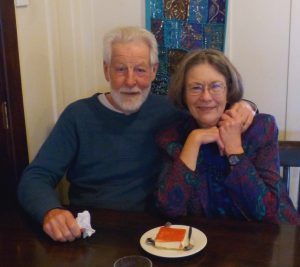 As the Shastri began chanting the Supplication to the Lineage, I opened my mouth to join in but instead started crying.  Overwhelmed by unexpected emotion, I sat there, raw and wide open.  Tears streamed down my cheeks. My nose dripped.  Then the steady beat of The Heart Sutra filled me with the teaching of the profound nature of emptiness.  My feelings, however,  dwelled in  a different sort of emptiness, one of impending loss.  As the final gong faded away, I walked across the room, plucked tissues from the emergency box, and returned to my cushion. I should have taken the whole box:  the crying wasn't done. But as the Shastri's teaching washed over me, the tears slowly subsided, leaving me exhausted but a bit more at ease with the realization that this was my last class at the  Shambhala Meditation Center of Denver.  After  two years studying with the Sangha, I felt part of a community for the first time in my life. However, in a few months my husband and I were going to leap off the edge of our familiar world in Colorado, not knowing whether we'd land right side up in our new home in Nelson, New Zealand.Moving halfway around the world is daunting at any age, and people entering retirement aren't encouraged to leave everything they know to start all over somewhere else. But even reading "Awesome Forces" about New Zealand's natural hazards – earthquakes, floods, land slides, volcanic eruptions, and tsunamis – didn't deter us. Besides, it wasn't as if we were moving to an unknown land.
I fell in love twice traveling around the world in the late 1970s, first with New Zealand, and a few months later with my trekking partner in Nepal.  We married and moved to Colorado.
Twenty-six years later Jeffrey Masson's book Slipping into Paradise: Why I Live in New Zealand fanned the dormant flame of my wish to live in there into a full-blown not-to-be-denied desire. When my British husband worked in in New Zealand's capitol of Wellington in the 1970s, the city fell asleep every night after the workers went home, so he wasn't sure he wanted to go back.
To help us decide, we spent six weeks in 2008  touring the country.  You might credit the gorgeous scenery and friendly people with changing my husband's mind.  Or the Sunday morning when we found Wellington very much awake, filled with people eating, drinking, and enjoying life to the fullest. But what finally convinced him that moving down under wasn't such a daft idea was the discovery of Mississippi Mud Pie in a tiny North Island bakery: New Zealand had changed!  Now we were ready to go home and organize the move.  A few days later, as we prepared our evening meal in the kitchen of a  South Island Holiday Park, the television news shocked  us to a standstill:  the U.S. stock market had nose-dived. By the time we returned to Colorado a few weeks later, the housing market collapse was singing, "Bye, Bye Dream."
But big dreams don't die — they just bide their time until more auspicious circumstances arise. Nearly four years later, when the housing market rebounded, we sold our house, shipped our belongings across the Pacific, and bought two airline tickets to Nelson.  By the time we arrived, my husband was 76, and I was two days shy of my 68th birthday.
A few days later we climbed to the top of the Port Hills, and were stunned by gorgeous  views of Tasman Bay, the distant mountains, and Tahunanui Beach. When we walked in the surf, an old Spike Jones ditty from my childhood came to mind:  "By the sea, by the sea, by the beautiful sea! You and me, you and me, oh how happy we'll be!" For the next year every beach walk found me dancing joyfully around Tony, singing  that song.  My grin muscles ached from overuse.
Of course there have been challenges.  The move was exhausting.  So was looking for a house:  it took sixteen months of going on foot to nearly 150 open houses before we found one within budget and within walking distance of town.  All that walking made us fit and  helped us get to know the hills and valleys of Nelson. Tony's bicycle collision with a dog, and my moving-day fall and concussion, taught us that older bodies take longer to heal. Learning to think in terms of kilometres and kilograms was tricky. Aging ears still sometimes struggle to understand Kiwi English. The price per litre of petrol is shocking, and we were surprised to have to pay a fee at the library to rent a video or put a hold on a book. We were dismayed by the levels of obesity and domestic violence.  Learning the ins and outs of the health care system took a while.  New Zealand's single-house government is still a puzzle but living under a Constitutional Monarchy, with The Queen as our Sovereign, hasn't posed any problems so far. Besides, watching raucous debates in Parliament is quite entertaining.  And it's a relief that election season spans a few months rather than a few years.
All in all, the blessings of living here far outweigh the challenges. We've gotten used to new ways of doing things. The people are friendly, kind and quick to offer help. The climate in sunny Nelson is superb and numerous biking and hiking trails and the beach beckon daily. Those tears of sorrow over leaving  the Denver Sangha have been succeeded by the joy of connecting with the only other Shambhalian in Nelson:  our Sangha of two meets regularly to meditate and study Dharma.  A special treat was attending a Half Dathun in New Zealand taught by none other than Acharya Dale Asrael.
While leaping off the edge into the unknown was challenging, we're glad we didn't let the "you're too old" argument deter us:  we seem to have landed right side up.
Post Tags:
aging
,
Aging in Enlightened Society
,
bravery
,
New Zealand