Tuesday
Community Articles
City of No Illusions
Shambhala grows and finds a new home in Buffalo, New York
by Pat Pendleton and Ed Taylor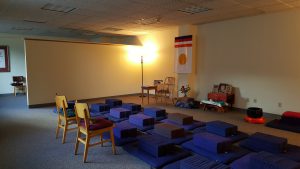 Maybe it's a cicada thing—they certainly were singing in the summer of 2016. After seven years in the cocoon of its previous skin, it was time for Shambhala Meditation Group of Buffalo (New York) to shed and fly. After all, the city's unofficial nickname as poster child for Rust Belt industrial decline and blizzards has been "Buffalo–City of No Illusions." Now, we had to see clearly.
Twelve years ago, Ed wrote a feature story on Buddhism in Buffalo for the local Buffalo News. Buffalo has long had a vibrant and diverse community of meditation practitioners, ranging from Theravada Buddhists who settled in Buffalo after leaving Vietnam in the 1970s and 1980s, to Zen and Vipashyana practitioners and a variety of mindfulness groups. Out of all those he talked with, the Shambhala gathering was the only one that invited him to sit with them. So he joined the meditators in the midwife's office where meetings took place back then. As a result of that experience, he became part of the sangha.
The group's history goes back to 1999-2000 when Trudy Stern's daughter, Sadie Minkoff, returned from college with the idea to begin a Shambhala meditation group. Along with friends and Trudy's mother, Lorraine, Trudy and Sadie began a weekly group practice. Some time after Ed became involved, that midwife's office was replaced as the group's meeting place by an intimate attic space in the house where member Steven Clookey lived. We trekked up a steep wooden staircase into a charming space with Tibetan thangkas and windows shaded by trees, a single room warmed only with space heaters in winter, and cooled by nothing but a fan in the steamy Buffalo summer. The steep steps and tight quarters soon became problematic for access and growth.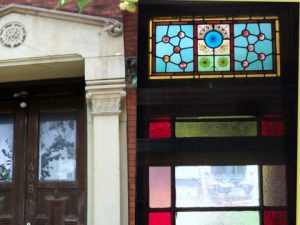 The next location was discovered while several Shambhala members were attending an art exhibition presented by the Western New York Analytical Psychology Society, a group of Jungian psychologists who saw patients, held programs, and operated a small art gallery in an ornate early twentieth century house in Buffalo's artsy Allentown neighborhood. An inquiry about subleasing space in the house was accepted that evening. During the spring of 2009, Steven Clookey, Trudy Stern, Pat, and Jenny Bruce filed paperwork with Shambhala International as Shambhala Meditation Group of Buffalo and began hosting weekly meditation and other programs at 408 Franklin Street.
The Franklin Street space was essentially a ground floor apartment on a leafy residential block, complete with hard-core city ambiance–traffic, music, and pedestrians to-and-from nearby bars and restaurants. The house's upper floor was occupied by various renters through the years. Planted in the yard out was an extraordinary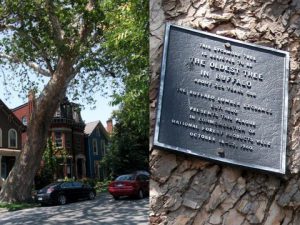 sycamore, a giant protector bearing a plaque naming it the oldest tree in Buffalo.
The location had its charms and challenges—ornate wood and plaster work, stained glass windows, and low rent that allowed us to save a nest egg. We meditated in the gallery among interesting works of art, including an exhibition of sangha art and another show of Miksang photography. The location was conveniently near a subway station and had plenty of parking.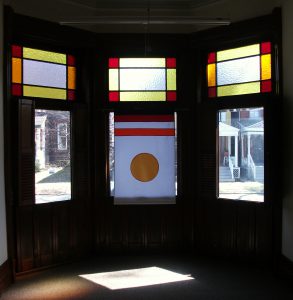 Most challenging, however, was the fact that each time we gathered, furniture had to be moved and meditation cushions pulled out from a hallway to be arranged. Everything had to be put back in place at the end of the session. This and other factors combined to make the space problematic, and limited the group's ability to utilize the space as we wished.
The impetus that pushed us toward a new and bigger space was finding out that the Jungian group was downsizing their offerings to take place within a local church. We could have renewed a lease on our own, but the large increase in rent for a space that was not quite right didn't make much sense.
We had two months to figure out our next move, so our core group engaged in a quick series of strategic planning meetings to identify needs, goals, and aspirations. We looked at a variety of potential spaces. Our group coordinator, Jose Rodriguez, has navigated us through the rough waters of lease negotiation to lead us into our new home, a 1400-square-foot space with bathrooms, a kitchenette, and a coat closet in a nearby hallway. Located on Buffalo's tree-lined showplace, Delaware Avenue, the row of Robber Baron mansions from the city's big-shouldered nineteenth century glory days is now inhabited by a variety of nonprofit organizations.
Twice the size of our former space and many times more costly, the freshly painted and carpeted bright rooms became our new home in August, a remarkable leap for our small group with fewer than ten members. The new financial obligations required long and difficult deliberations, and ongoing motivation will fuel us to implement a variety of new programs. The fall program includes Contemplative Writing, Full Moon Sadhana Practice, and Mindful Monday Mornings. We look forward to hosting Miksang Photography, Everyday Life classes, Shambhala Training Levels, and retreats.  Even though we look forward to these changes, it was a giant leap for us.
Nevertheless, there is a tangible felt sense of ownership in this new endeavor—an elevated energy for us all. Weekly attendance is already growing, as well as donations. And like the snow lion, we are enjoying the cool crisp air up here–we welcome all of Buffalo and the world to join us.
Post Tags:
Buffalo
,
Shambhala Center
,
shambhala meditation group
,
Shambhala on the Move