Monday
Sakyong and Family
Proclaiming Humanity's Goodness
by Michelle Munro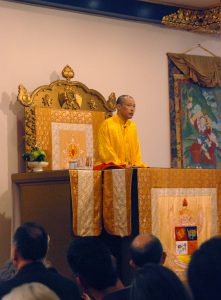 On February 3-5th we had the pleasure of hosting the Sakyong at the Halifax Shambhala Centre, where he led a program titled "Proclaiming Humanity's Goodness: Shambhala Meditation."
As a Centre we are always delighted to have Rinpoche be with us and teach us. Leading up to this public program we were especially happy to see that many people registering were new to the Shambhala path, and some had never seen the Sakyong in person.
The weekend started off on an excellent footing under the guidance of Acharya Noel McLellan and Acharya Eve Rosenthal. The curiosity and tender-heartedness was palpable, and included a tinge of nervousness in the groundlessness of not knowing exactly what to expect. The Acharyas welcomed the full range of experience and put people at ease.
As Director, I will say one of the greatest honors and joys of my job is greeting Rinpoche when he arrives to teach at the Shambhala Centre. It was sunny, cool, and crisp as I waited on the sidewalk with a khata (a traditional scarf-like offering). When the door to his vehicle arrived he was beaming, smile ear to ear. There was no doubt that everyone was in for an adventure.
Throughout the weekend the Sakyong encouraged us all to feel our hearts, and to bravely remain open. He acknowledged the harshness of the world, and transmitted the Shambhala Meditation technique to us so that we could feel confident and grounded in the view of basic goodness.
More than 200 people participated in person, and several hundred more participated online. To participants' great delight and surprise, the Sakyong met with small audiences on Sunday in an intimate, small room. I watched as people emerged from the room after their session, beaming. Some had tears in their eyes. Many are still remarking to me that the opportunity to simply be with Rinpoche in such an intimate setting was transformative and enriching.
The Sakyong ended the weekend with a blessing line, a first for many. Another generous act by Rinpoche that gave him contact and connection with everyone in the room.
During the weekend I observed and felt an indescribable magic that happens when people feel safe, slow down, touch in with their humanity, and connect with others on a genuine level. The interactions between people were thoughtful and accommodating. There was a warmness and connectivity that I am confident will have a ripple effect both in participants' personal paths and in the activity and community of the Halifax Shambhala Centre.
If you were watching online, I hope the teachings had a deep impact for you as well. If you were unable to watch the weekend of the event, I know the recordings will be available via Shambhala Online. Gather a group of friends and get ready to receive the gift of Shambhala Meditation from the Sakyong.
Post Tags:
guided meditation
,
Halifax
,
meditation
,
Sakyong Mipham Rinpoche