Thursday
Featured Stories
Drala Encampment, Earth and Space
In our final story on this Dorje Kasung encampment, we get a glimpse into a special part of the practice: skirmish, a mock battle that provides insight into each warrior's state of mind under pressure
by Harrison Holmes
Earth
Skirmish: Before the mock battle begins we are sent out into the woods to connect with the ground. But what does this mean? We Dorje Kasung, protectors of the teachings, officers of the Lha, what do we truly know of the earth and its rugged acceptance of all that unfolds on its surface. Free from all conceptions of gentility, peace, conflict and judgment, this is quite simply what the great wrathful one is.
But how do we connect with this?
As we return from our journey into the wilderness, each of us has touched the earth and returned with a sense of greater wisdom still to be uncovered. Still our uniforms are perhaps too clean. As it turns out we are attached to virtue and to the words of the teachings. We are attached to softness and resolution and the gods are angry. We are hesitant to dissolve into the elements and simply let the phenomena play.
"Words do not cook rice!" decrees the wrathful god of the kingdom beyond hope and fear. With this proclamation, our respective kingdoms of illusory peace and false civility  are torn to the ground and we can no longer hide behind their walls. Despite all our noble attempts at resistance, the wrathful deities challenge us to pass beyond the realm of discursive thought and into the real. Luckily defeat in this battle offers no obstacle, and both squads return to the field so that we may try again to truly face one another and the obstacles before us.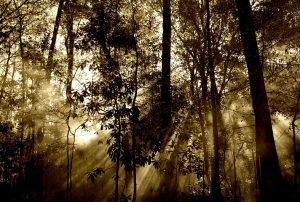 Running into the trees to prepare for the battle at hand, we bicker and strategize and attempt to establish some sort of chain of command. It doesn't work, mostly because we are still hesitant to act. But after a few simulated "deaths" and returns to the battlefield, we overcome the imprints of our past lives and find ourselves more immersed in the rhythm of things. As the battlefield becomes a more and more familiar location, increasingly we let go of why we are fighting–which was fictitious from the very beginning anyway. Still, regrouping after the fray of each battle, we seem to fall into the same patterns again and again.
Informed by our games of Kagemusha the day before, I begin to recognize familiar displays of temperament and style. At the beginning of a match, one warrior rushes forward and misses every throw at enemies with backs turned. Commands are questioned, elaborated, and repeated. Confusion and frustration begins to arise between two leaders, sending them off in separate directions. Having tasted it before, I am struck by the familiar sensation of my own cold anger, and the icy dam of practiced calm and acceptance which restrains it. I am brought face to face with my own hesitation to intervene, take charge, or take responsibility. I realize plainly that this hesitation is not benefiting myself or anyone else.
Well SVAHA anger, so be it!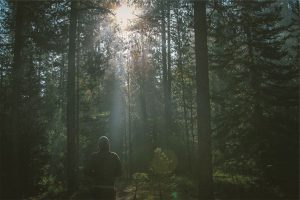 With the character of cold rushing water let loose, I dart through the trees, relaying tactics and information on the enemy's position from squad member to squad member. Bounding back and forth through the woods, I feel adrenaline rise to sweep away obstacles. The energy of anger at inaction is transformed into the pulse-pounding excitement and heightened clarity which arises from the decisive and unapologetic action of combat.
A command is given, and we respond. The sword of speech is swift and sharp, wielded with a brevity that reflects the immediacy of the situation. Suddenly we are all animated with this military sharpness and simplicity. There is order, direction, and a unified assault from many angles. AHA!! But sealing our victory in that round, we fall in the next, as the game quickly begins to develop and evolve.
How curious that when standing on the parade ground under the banner of the great eastern sun, with clear orders and forms, we have such precision and decorum. We know how to act, with a measure of certainty. But when we are left to play in the woods in the realm of dreams, where just about anything is possible, it is here that we lose our clarity and simplicity and get caught in a confused flurry of rationalizations and imaginary upsets. As so many of our deeper habits of mind rise to the surface, we bring obstacles into a world of make-believe, where essentially there are none.
Space
On that night after the skirmish we put aside the illusory divisions of battle to reunite as Kasung. Gathered in the shrine room before the seat of the Dorje Dradul and the Makkyi Rabjam Jampal Dradul (Sakyong Mipham Rinpoche), whose images seem to dance with joy in the flickering fire light, year-long and lifetime oaths are taken with Camp Commander Bickford. As we acknowledge the training we have undergone and the paths ahead of us, we all vow heroically to continue marching onward together as protectors of the dharma. Shouting, cheering, roaring KI KI SO SO!, we return to that same space of upliftedness and possibility in which we began the regional encampment. With libations in hand, we raise our glasses to the Mukpo clan.
In this mandala there is space
Space for aspiration
Space for exploration
Space for failure
Space for enjoyment and hardship alike
Space for silliness and seriousness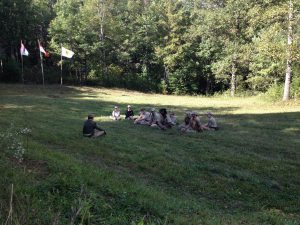 Space in which to watch the great dream of the Dorje Dradul continue to grow and unfold. As we continually gather together to manifest this dream, I realize that the character and the power of the Dorje Kasung and our experiences within it will be shaped by the intensities that we bring to it. So as we return to these training grounds again and again and again, there will always be space for greater vision and greater daring.
Arising with the sun the following morning, we dissolve the mandala and prepare to carry home with us, in our backpacks and in the pockets and folds of our clothes, all the experiences of sacredness, devotion, and diligence which we have summoned here. They smell of sweat and juniper. Gathering once more in formation after a brief bout of drills, we march to the highest point of camp, resting in simplicity. Putting one foot in front of the other I let all the thoughts and details captured in the awareness of our time at encampment fade away and sink into mind. I'm sure they will later serve as objects of contemplation and the seeds of future endeavors and aspirations, but for now I try to hold on to the freshness of the moment, my last experiences of this beautiful green space. Turning us about face to look over the great valley filled with trees and standing us at ease, Dapon Ryken calls out from behind us:
"You are like a flagpole. Standing tall you are connected with the earth, and the flags of your subconscious gossip flutter in the wind!"
Like flagpoles we stand with our head and shoulders in the sky and feet rooted in the earth. For a brief moment every tree in the valley, the forest that has sheltered us and provided the container for our time here at Drala point, dances and sways in the wind, appearing as an infinite ocean of victory banners, a vast assembly of protectors.
With a volume and power that would remain with me, in my mind, my speech, and my posture for weeks to come, the warrior's cry resounds:
KI KI SO SO ASHE LHA GYAL LO TAK SENG KHUNG DRUK DI YAR KYE!
Post Tags:
Dorje Kasung
,
encampment
,
warriorship