Wednesday
Featured Stories
Drala Regional Encampment
Members of the Dorje Kasung gather for fellowship and practice; the forms and precision of military life allow for alert relaxation, tender wakefulness
by Harrison Holmes
Day One: Water
We arrived at Drala Point just as Hurricane Mathew was making its way up the coast. Quickly setting up camp we were then treated to two days of rain.
The first night we sleep lightly. Our minds are continually pulled towards wakefulness by the sound of the rain, which beat endlessly like a hundred damaru drums dancing in the night. Their endless pitter-patter is punctuated only by the next morning's call to awake.
Dressing quickly in the cold and wet we gather on the parade ground for morning calisthenics. Immediately I am treated to the great humor of military life and all the wisecracks and stern tomfoolery that displays our high spirits as we go about dressing up our formation in the rain. Immediately I relax. My expectations of rigidity and seriousness, heightened by our collective manifesting in uniform, dissolve and so much postural tension falls away. Still, in the echo of that initial snap to attention, I find that I am left with a soft but resonant alertness and a sense of space.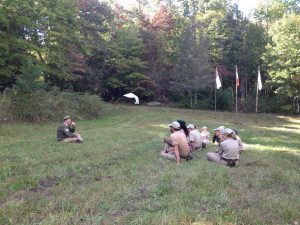 As we return again and again to the parade ground, after breakfast and after our work period, this becomes more and more clear. As we stand in formation awareness radiates out to embrace each of my fellow Kasung in turn. Like an echo bouncing from tree to tree, each stands stall, resonating the force of their basic being and their designation of name and rank: Regional Commander Szendroi, Tate Kado, NCO Kingsmen, Kenchen Thompson, Desung Foresythe, NCO Kasung Gordon, Kasung Larrick, Camp Engineer Mr. Swain, Kasung Palanisami, Kasung Caroll, Kasung Moeller, Kasung Henson and myself.
Later that day, regional commander Szendroi points this out to me. Saying that as Kasung we train with an emphasis in vipassana; letting attention radiate outwards to embrace all the details.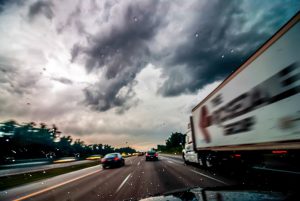 At the end of our first day of continuous rain, Sergeant Major Dapon Ryken and Camp Commander Kenchen Bickford arrive at camp and join us for dinner in the shrine room. Setting us at ease the Dapon reports the reason for their delay: having to navigate their way in–which was difficult enough as it was–through the traffic of all the evacuation routes and all the cars fleeing the impending hurricane. Civilians fleeing the scene in fearful anticipation, while kasung joyfully march, or in this case drive, into the storm. The Dapon laughs heartily and this sentiment of weathering the storm carries over into his speech the following day.
Throughout drill, work, lunch, meditation, and slogan practice the rain flows down from the sky and into the various layers of our bodies. Dapon Ryken asks us simply, why are we here. Why are we running around, working in the cold and the rain and actually having a good time? What kind of craziness is this? We answer:
"A sense of Devotion"
"A search for Purpose"
"To be with Family"
"Because why not" says Mr. Swain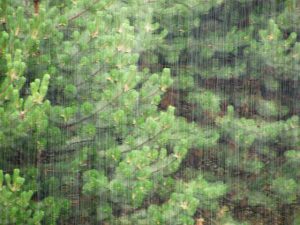 Whatever our individual reasons, we sit in one another's company with a sense of upliftedness. Maintaining good head and shoulders, our posture communicates openness, readiness, patience, and a willingness to take responsibility. Looking across the shrine room into one anothers eyes, there is a sense of mutual admiration; an admiration of our shared conviction and our willingness to show up and to meet whatever arises.
In such a tender and wakeful environment, the rain falls as a soft curtain of blessings upon the Drala Regional Encampment.
---
Editor's note: this is the first in a series of articles about the encampment; look for more in the coming days.
Post Tags:
Dorje Kasung
,
encampment
,
Training
,
vipassana