Monday
Featured Stories
Shambhala Service Awards
At the request of the Sakyong and Sakyong Wangmo, the Shambhala Office of Culture and Decorum is pleased to announce the reinstatement of Shambhala Service Awards.
from the Office of Culture and Decorum, with photos by BHH Studios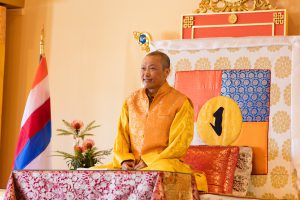 On Shambhala Day 2017, more than 1,400 awards were conferred on recipients around the world. For the first time in approximately sixteen years, awards have been granted to individuals who have demonstrated a pattern or career of outstanding service to Shambhala, or who extend Shambhala principles into the greater world through their work in many fields:
Great East Awards

: Pillar of Government, civil service, and leadership
Elegance Awards

: Office of Culture & Decorum, contributions to Shambhala culture and the arts
Ashoka Awards

: Societal health & well-being, healthcare, and medicine
Golden Key Awards

: Pillar of Economy, patronage, finance, and business
Shotoku Taishi Awards

: Pillar of Practice & Education, through teaching or administration, and ritual service such as umdzes and chöpöns
Kalapa Awards

: Service in the Kalapa Courts
Sakyong Wangmo Awards

: New award for social engagement, peace, and relief efforts
Dawa Sangpo Awards

: for particularly heroic service leading a specific project or campaign
Higher Orders (Tiger, Lion, Garuda, Dragon awards)

: Career of service awards for our long serving leaders who have held high levels of international responsibility in Shambhala
An important aspect of our Shambhala culture is to acknowledge the bravery and service of our community. This not only shows appreciation, but inspires others to cultivate virtuous and generous activity. In the late 1970's the Druk Sakyong, Chögyam Trungpa Rinpoche, the Dorje Dradül, began a tradition of conferring awards on Shambhala citizens as a way to show appreciation for their dedication to Shambhala vision. During his time, awards were offered only within the circle of most advanced students. The meaning and appearance of every award was given great consideration in order to make them truly potent gifts from the lineage. The awards were triangular ribbon medals, with colors chosen very particularly to invoke the energy and drala of each area of service.
Using the particular form of an award, the sometimes invisible act of service was brought into the visible realm of tangible form. Awards are just one of many such Shambhala forms created by the Dorje Dradül to bring forward the notion of an enlightened society. The Kongma Sakyong, Jampal Trinley Dradül, has chosen to broaden this system for our growing worldwide community. The relaunch of Shambhala Service Awards has all members of Shambhala eligible for awards, and incorporates a modern and wearable award design, as unique cloisonne enamel medals. The design is still faithfully based on the colours and symbols chosen so carefully by the Dorje Dradül.
In order to recognize the many individuals who have made special and significant contributions to our Shambhala society since the last time awards were conferred, the Shambhala Office of Culture & Decorum solicited nominations from leaders in different roles from every place in our mandala. This included Kalapa Council, Acharyas, Center Directors, Representatives of Culture & Decorum, and so on. The recommendations were reviewed by committees of leaders in each field, and were finally approved by the Sakyong himself, who showed great interest and championed the entire project.
Though we have been exhaustive in our efforts to award everyone deserving recognition, there will no doubt be unintended omissions. It is the intention of the Office to present awards every two to three years going forward, providing many future opportunities to acknowledge those who offer great benefit to Shambhala, and to further enhance our Shambhala culture of appreciation. Unfortunately, some dedicated warriors may have been overlooked. Please encourage your local leaders to be thorough in their recommendations for the next round, and feel free to suggest nominees to these leaders.
The launch of Shambhala Service Awards coincides with the initiation of the Shambhala Household Mandala, which will begin in local centres over the course of this coming year. These two elements are intimately connected, as visible examples of the society and culture within which the teachings of Shambhala are held. The Shambhala Office of Culture & Decorum is delighted to offer this relaunch of Shambhala Service Awards on behalf of the Sakyong and Sakyong Wangmo.
To learn more about the history of the awards and protocol for wearing a medal, please visit the website for the Office of Culture and Decorum. The website also features a list of this year's Shambhala Service Award recipients.
Post Tags:
Award
,
Culture
,
culture and decorum