Wednesday
Featured Stories
With Elegance and Brilliance
Report on the First Shambhala Office of Culture and Decorum Conference in Europe
– Led by Sangyum Wendy Friedman
– Hosted within the Court Service and Practice weekend in Berlin
article by Ute Reinhart-La Haye, SOCAD Regional Supervisor Europe
photos by Jitka Holubcova
"Like a soft and gentle tornado, with elegance and brilliance, she swept us off our feet…"
The day before the conference started, I listened to a talk that Mindrolling Khandro Rinpoche gave at the Berlin Shambhala Center. At the end of her talk, she wanted to know which groups were present and how much practice they offer. The coordinator of the Berlin Shambhala group (Judith Fraund) reported that they do, "two hours of open house sitting each Tuesday." She immediately corrected herself, saying that, "In fact we do a half an hour of socializing and then one and a half hours of sitting meditation." "Oh yes!" Khandro Rinpoche answered, "It would not be Shambhala if there wasn't some celebration involved!"
When we shared this exchange with Wendy Friedman, she rejoiced: "Yes, that is exactly what Shambhala is about! This is our culture!" Later she explained that our culture of celebration has as much transformative power as meditation practice.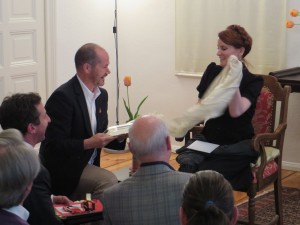 I had met Sangyum Wendy Friedman the year before since I had been the SOCAD Representative for Dechen Choling already for quite a while. I was still struggling to figure out what that means. There was no example I could follow since I was the first one to do it here.
All the other SOCAD representatives I had met so far shared the same feeling: on the one hand, somehow intuitively, we knew what to do, and at the same time, we consciously realized that there is no fixed layout, no way to be "right". We all felt uncertain.
Watching Sangyum Friedman on different occasions, working together with her on a banquet and meetings, I felt I learned so much, but in a different way than by studying outlines. This, even though the outlines and documents for the Office of Culture and Decorum are well done and provide an excellent guide. Experiencing her presence raised my wish to organize a conference with her so that we all could learn and be inspired by what she teaches beyond words.
Shambhala Europe and the Sakyong Ladrang held a Court Service and Practice weekend in Berlin and we conjoined the SOCAD conference to it. The weekend was opened on Friday night by Sangyum Wendy Friedman introducing what Court means, how it is related to household, why form is a gentle tool, and in which ways court is a fundamental principle for all of Shambhala culture.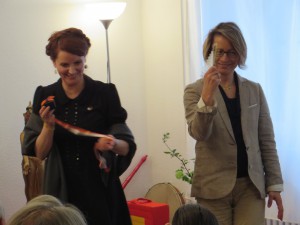 The next morning we had a very touching introduction to court vision by Judith Fraund, followed by an interesting and vivid presentation round, introducing the different mandalas which work together to create the Sakyong and Sakyong Wangmo's Court.
In the afternoon we split up into our respective working groups, after having been reminded by Wendy on how to keep our balance: by focusing on what is realistic to do and by remembering the obstacles and antidotes.
We had our first working circle with our "boss" and she explained to us the changes that have happened recently in the Office of Culture and Decorum and on the Kalapa Council and how everything is now organized. We exchanged specific questions and heated our fire of inspiration through the seemingly unceasing source of elegance and creativity Sangyum Friedman manifested.
All of the different mandalas joined back for a mutually organized reception, pretending the Sakyong Wangmo was visiting. It was amazing how the mock situation could immediately raise the same nervousness, tension and excitement – as well as sacredness, cheerfulness and lungta we all know when the Sakyong and Sakyong Wangmo visit.
Sunday passed just too quickly with further talks, work meetings and final advice. We were showered abundantly by Sangyum Wendy Friedman's brilliant teachings, marveling at her presence and elegance. I do not think anyone had previously imagined what this weekend would turn into.
For the Culture and Decorum representatives in Europe, this was certainly very inspiring and a good basis for further exchanges on "sophistication and communication", which is, as it had been explained to us, the basis of the Sakyong Wangmo principle.
A fundamental part of the success of this weekend was the enormous preparation work the Berlin community had done. It was mainly these three people: Martin Ramstedt, Hans-Werner Klohe and Birgit Krause. The Berlin group is still a quite small group and this program with 35 people needed good preparation. It was extremely well organized and obvious that quite some prep work had been done, particularly in respect to the limited space. Tea, for instance, had to be served in the back part of the shrine room and instead of a teacher's room, Sangyum Friedman employed a red couch absolutely graciously.
Thank you to all Berliners who made this possible; thank you to Shambhala Europe and the Ladrang who initiated it and everybody else because without you, this could not happen!
Here are a few quotes from my Culture and Decorum colleagues who commented on our conference: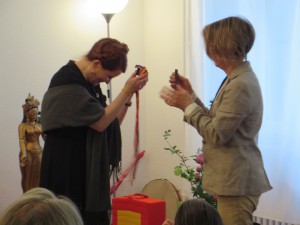 Martina Hunsdieck, Culture and Decorum Rep, Marburg, Germany: "Mostly I enjoyed being with all of you and am touched by your courage and curiosity to discover this pretty new task and subject, which is becoming a quite central one in the Shambhala Mandala -with the seat in the Kalapa Council. It was very inspiring to share our love and understanding of Culture and Decorum and all our experiences in the Centers.
Being guided and taught by Sangyum Wendy Friedman, who was so close with the first Sakyong early in this mandala and is working together very closely with the Sakyong and the Sakyong Wangmo these days, felt like an initiation rite and brought the Culture of Shambhala even more organically into my heart/mind."
Ingrid Rigetti, new Culture and Decorum member, Rotterdam, Netherlands: "I was so happy this weekend occurred. I manage the materials in the Rotterdam Center and for me it is often difficult to find out how to do it in the tradition of Shambhala. I ask some people but only get pieces of information. The other aspect that was helpful was learning the background of the ceremonies.
During Wendy Friendman's talks, it was so important to learn through feeling, because I was able to feel what she means. It was so beautiful to experience this."
Catherina Hofman, Culture and Decorum Rep, Amsterdam: "The opportunity to meet with Sangyum Wendy Friedman was deeply heartfelt. It was just great to learn from her and listen to her experience and ideas for the C&D office. I am wishing Wendy Friedman all the inspiration and the power to take her seat in the Kalapa Council. She's so brave and elegant, and is truly a wonderful example.
I am very happy to have companions in crime here in Holland, we will definitely meet and talk things over and maybe help and inspire each other in this challenging and beautiful work."
Post Tags:
culture and decorum
,
Living Shambhala Culture
,
Office of Culture and Decorum