Friday
Opinion Pieces
Out of Darkness Into Light
As we mark the equinox this week, a northerner reflects on winter and the first days of spring
by Nyingje Sheltri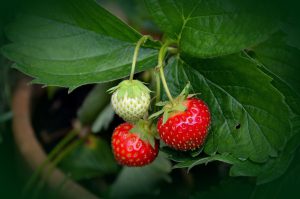 My strawberry plants arrived in the mail yesterday. My husband and I opened the "mystery" box together, having forgotten what we had ordered back in December. When we saw the bundle of little shoots inside, and the cheerful yellow note saying "Time for planting," we burst into laughter. Thanks to winter storm Niko and friends, there's still about two feet of snow in our back yard; strawberry planting seems very far away, and the thought of sweet red berries ripening in the sun seems like just a dream.
Winter has been an especially dark time this year. The election in November split our family into uncomfortable factions. Our friends and neighbors are unsettled and concerned about the future, feelings that are even stronger for those who are directly affected by the current political climate: immigrants and international visitors, the LGBTQ community, families dealing with medical challenges. We have been gathering together more, sharing hugs and food, music and laughter; we take courage and comfort in the presence of others.
I think back to the winter solstice, spent at Karme Choling this year in a group retreat. Our program was in the Pavilion, away from the main house; many times each day we would bundle up against the cold and walk down the road together, often plodding our way through deep snow or standing up to a fierce and chilly wind. The main house was hosting a family week, and every time we returned from the Pavilion we were greeted by the bustle and laughter of children — such a contrast to the relative quiet and stillness of our retreat. It felt like we were shuttling back and forth between deep winter and the liveliness of spring.
I'd never been on retreat with so many children and families, and was delightfully surprised by how much their presence enriched the whole experience. On the very first night, there was a small gathering of teen girls giggling in the hall near my room. Their sheer joy in one another's company was infectious, and called up an answering glow of cheerfulness in my heart and mind. At mealtimes, the smallest children sat on their parents' laps in the dining hall, while older siblings dashed in and out with their friends. Later in the week, we gathered by candlelight for a spiral ceremony, singing solstice songs together and enjoying the warmth of a bonfire while munching on cookies hot from the oven. What I remember most from that week is how cheerful we were, how ready to work with whatever little difficulties might arise. The depth of winter turned out to be unexpectedly bright.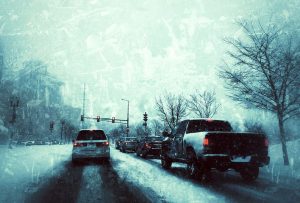 And now, the first week of spring is here: unexpectedly stormy, cold, and dark. The morning after those strawberries arrived, I drove to work over icy roads, with sheets of freezing rain coming down, snapping and pattering across the windows. Arriving at the office, I hustled inside, dreaming of warming up with a hot cup of coffee; but it was not to be! As the door closed behind me, I found that the entryway was entirely dark, and further inside there was only the distant glow of emergency lights. All that ice had caused a power outage. There was no electricity, no heat, and no light.
Turning on my cell phone and stepping into the hall by its tiny glow, I heard a hubbub of happy voices. Wrapped up in their coats, gathered in the one office with natural light, my staff members were talking up a storm and enjoying one another's company. Every one of them was smiling, and several had their cell phones out, posting updates to Twitter feeds or Facebook pages, and speculating about the causes of the outage. It was an unexpected holiday, and they were taking great pleasure in the whole experience, clearly having a wonderful time.
The next person through the door was a man we'd never seen before, carrying a toolbox and a ladder — just by chance, on this particular day and time, he had been scheduled to check on our emergency lighting. He joined in our delighted laughter, and then we fanned out around the darkened building, finding all of the emergency lights and calling his name when we found one that wasn't working. It was like a game of hide and seek, all the more fun because it was so completely outside our regular routines. The feeling was lighthearted and playful, generous and helpful, full of unexpected delight.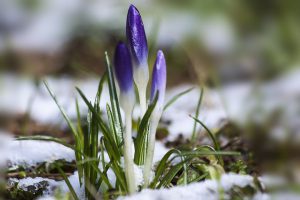 When the job was finished, the power restored, I stepped outside for a moment. There in the snow beside the doorway, crocuses were blooming. Yes, the freezing rain was still coming down, the wind was cold, and the sky was completely gray. But in our hearts, things are not so dark after all; there are strawberries to be planted, and the main house is filled with the laughter of children.
Post Tags:
cheerfulness
,
Karme Choling
,
spring equinox
,
winter
,
winter retreat
,
Winter solstice