Wednesday
Sakyong and Family
Jetsun Yudra Celebrates 4th Birthday
A truly delightful birthday celebration
by Amanda Betzen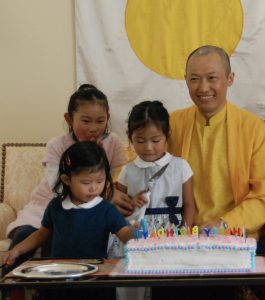 On the warm and windy, nearly-spring day of March 14, Princess Jetsun Yudra Lhamo Yangchen Ziji Mukpo celebrated her 4th birthday at the Kalapa Court in Boulder. The morning began with the Sakyong giving the Tsewang Long Life Abhisheka to Jetsun Yudra. Later, as balloons and preparations for the community gathering were put in place, all three Jetsunmas added to the festive environment by exclaiming, "It's Jetsun Yudra's 4th birthday!!!" and dancing around the Kalapa Court.
In the afternoon, it was time for a party! After guests connected by playing and enjoying a tasty afternoon snack, everyone gathered in the Great Room to begin a treasure hunt led by Alaya Preschool Director Steve Sachs.
Jetsun Yudra gleefully solved the first treasure hunt riddle, which was skillfully "hidden" on the horn of a large stuffed unicorn before the party by big sister Princess Jetsun Drukmo. The Sakyong and Sakyong Wangmo joined in the fun by reading some of the treasure hunt clues to the children.
Next, a blazing pink unicorn birthday cake was presented. Jetsun Yudra demonstrated perseverance in blowing out all (many more than 4!) of the birthday candles by herself. After everyone enjoyed their cake and gifts were presented to Jetsun Yudra, it was time for stories and singing. Norah Murray, Ziji Early Elementary School teacher, told a story about a group of unicorns that the children energetically acted out, to the great delight of all!
The birthday celebration concluded with the Shambhala Anthem followed by the Sakyong offering guests Tseri (long life pills) which he had prepared for the abhisheka earlier that morning. May Jetsun Yudra indeed enjoy a very long life!
---
Amanda Betzen serves as Regional Secretary to the Jetsunmas
Post Tags:
birthday
,
Jetsun Yudra
,
Sakyong and Family