Monday
Community Articles
Growing Enlightened Society
A new project in organic gardening and permaculture methods at Ziji Garden
by Audrey Dallamaggiore and Simon Bertin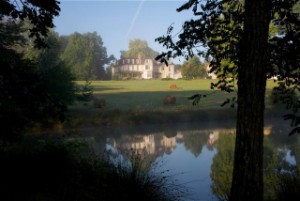 Last November, Dechen Chöling hosted an Enlightened Society Assembly. During this ten-day program, participants were offered the chance to apply the teachings to a practical project around the land center: they created a "lasagna bed garden" in Dechen Chöling's very own organic apple orchard. This project has been launched thanks to the financial support of the Shambhala Trust and their Ziji Innovation Grants.
Two participants of the program, Audrey and Simon (who is the head gardener of the center) recall the experience and discuss enlightened society. They wonder how we can change our "culture" by transforming the way we "cultivate" and by raising our awareness of nature.
Audrey: Can you explain the project that was carried out in Dechen Chöling's Ziji Garden during the Enlightened Society Assembly?
Simon: As I took part in the Enlightened Society Assembly, I had just finished writing a proposal to Dechen Chöling on how I planned to develop the garden in the coming years. This included planting more beds so, as we were looking for some community work to apply our teachings in a useful way at the center, I suggested this project.
So that's what we did: we took people outside and we gave them an opportunity to grow enlightened society. And it was a great moment! We used a technique called "lasagna beds", which is inspired by permaculture. It was a sunny afternoon, and the atmosphere was very joyful and uplifted. There were 40 of us and the work went very smoothly, in a kind of gentle, self-organized way. You can't imagine how much work can be achieved in just a few hours with that many people!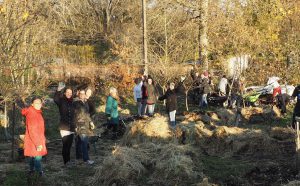 In what way did this work relate with the core theme of the program, "Enlightened Society"?
To me, gardens, and more broadly the places where we grow our food, are very important places where social change needs to happen. I often like to say that in order to change our social culture, we need to change the way we culture our crops. There is an urgent need to raise awareness of our fading link with nature, of the aggression inherent to the speed of our urban lifestyles, and the pervasive system that sets the consumer further and further away from the producers.
His Holiness the 17th Karmapa said in his last conference in Paris that "food is medicine." Starting from there, what do we want to eat? And how can we live a decent life where we respect ourselves and don't compromise the lives of future generations?
A project like the one we did in Ziji Garden is a great opportunity to become aware of these topics, and to start making a contribution as a community.
You are talking about permaculture: can you explain what it is?
Permaculture, as well as agro-écologie, biodynamics and natural farming are different schools of agriculture that were developed in different places in the world in the last century (respectively Australia, France, Germany and Japan).
What these schools have in common is that they develop two main aspects: one is technical and teaches you how to deal with pest control, crop rotation, compost and so on; another one is holistic and spiritual, teaching you to observe and relate to your senses, to be humble and to find your own way of relating with Nature.
You could see these aspects respectively like the mind and the heart: the mind refers to the techniques that are employed, and the heart is the motivation, the view behind the technique. And of course, it all merges into one: when Buddhists speak about mind they place their hand on their heart.
Is this the way Dechen Chöling approaches its own gardening and food production?
At Dechen Chöling, we are not bound to any specific school, but we draw inspiration from some of their shared principles. There are two aspects to developing the garden: contemplation and production.
Contemplation suggests one should feel good and inspired while wandering the gardens. Production implies that from that sanity, we should produce healthy food, to feed the people.
These principles also mean that instead of setting hard production goals for the garden, we give ourselves the permission to take time and to respect the natural rhythm and cycles of nature.
So the lasagna beds you made are also an application of these principles?
Yes, lasagna beds are directly inspired from agro-écologie, the French version of permaculture. Their name reflects the fact that you are stacking different layers of organic waste. In our case, we used some dirt to do the initial design and slightly raise the beds, we then added branches, manure, hay, leaves, raw compost and finally garden soil.
Over time the bottom layers will decompose, provide nutrients and act as a sponge, storing water. This is why it is said to be an autonomous bed: no watering nor fertilizers are needed. But it's a lot of work in the beginning!
Lasagna beds, a technique inspired from agro-écologie
In this case, we took particular care in the design since we are working on a slope. We gave the beds an "S" shape with the idea of collecting the runoff water into a small pond. Also, these beds are located in a conservatory orchard (growing local apple species) which adds a dimension of agroforestry. We are simultaneously growing different levels of crops: vegetables on the ground, and fruit trees above. This enhances the biodiversity and the resilience of the ecosystem.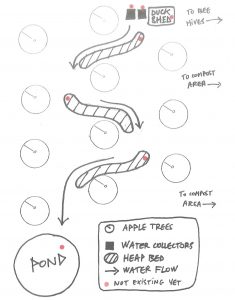 Overview of the Apple Orchard, including the newly created lasagna beds
Following the work of the ESA's participants, what are you planning to grow in these beds for the coming year?
For this year, I'm hoping to grow pumpkins and squash in these beds, as they can grow in nutrient rich, harsh and raw soil. In the following years, as the beds decompose, I would like to grow finer crops, such as cabbage, lettuce and spinach for instance. These beds can then produce food for several years, so we've invested for the long term!
What are your plans to develop the garden further in 2017, and how can we help you?
My hope for this year is for us to be self-sufficient in vegetables for the staff of Dechen Chöling – that is about 20 people. So we'll keep on refurbishing several of our facilities in the garden, upgrading water systems, building sheds and so on.
There are many ways you can help us! Firstly, you can stop by and say hi – I'll be happy to show you around the place. Soon we'll also start having open tours every Saturday afternoon, starting in May Of course if you can't drop by you can always check our updates on the Ziji Gardens Facebook blog.
You can also consider being part of Dechen Chöling's Meditation in Action program: this would allow you to come to the center and stay as a volunteer for a few weeks or months, and give a helping hand in the garden.
If you don't have time and would like to give some financial support, we are also launching a crowdfunding campaign to help finance the stay of these volunteers! You can make a donation to help sponsor them.
A final word
Like Dharma art, Kasungship, Qi-Qong, etc., cultivating the earth is a gateway which gives people a way to engage in societal change. I wish Ziji Gardens to be an inspiration, both locally and internationally. Come and grow with us!
Post Tags:
Dechen Choling
,
gardening
,
nature
,
organic