Friday
California, Arizona, Regions
Heal the Beach
The new Shambhala group Social Action LA holds its first event, a beach cleanup day at Venice Beach
by Chris Bomba and Jason Elias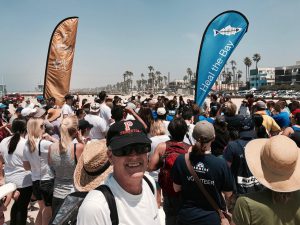 Finally, we scheduled our first Action In the World, and decided to volunteer at a Heal The Bay Beach Cleanup at Venice Beach here in California. The day went great. We started with meditation on the beach and a contemplation, tthen went on to walk the beach as a team looking for trash, plastic, styrofoam, straws and plastic bags – any trash that was manmade. We then finished with lunch together.
All in all, it was wonderful.  A beautiful morning, contemplative practice, building friendships in the Sangha, and something of benefit for the world. We have many ideas for the future and look forward to connecting with the larger Shambhala Community worldwide.
---
Photos by Jason Elias, all rights reserved; permission of photographer required for any use beyond this article.
---
Jason Elias and Chris Bomba serve as leaders and organizers for Social Action LA
Post Tags:
environment
,
environmental activism
,
social action
,
social engagement
,
social networking
,
socially engaged