Tuesday
Opinion Pieces
The Experience of Awe
How awe is connected to using our senses, and to living as an inspired human being
by Shastri Donna Williams
I've been studying contemplative ecology recently, that juncture where our senses contact the natural world and expand, where we can relax–experiencing  connection, health and balance.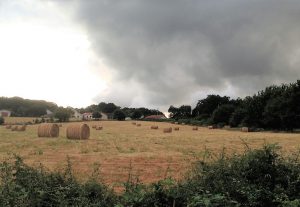 While reading True Perception: The Path of Dharma Art by Chogyam Trungpa Rinpoche, I came across this quote: "Awareness practice is not just sitting meditation or meditation-in-action alone. It is a unique training practice in how to behave as an inspired human being."
What is the connection between using our senses, living as an inspired human being, and the experience of awe?
In her book The Nature Fix, Florence Williams cites Irish philosopher Edmund Burke's 1757  treatise A Philosophical Enquiry into the Origin of our Ideas of the Sublime and Beautiful.   There he laid out the tenets of awe:  a) possessing a "vastness of extent" as well as b) some degree of difficulty in our ability to make sense of it. Our attention is directed to an experience that opens us up to a vista larger than we usually experience, that disturbs or shakes us.
I remember watching the Kohoutek meteor coursing across our skies in 1973.  I saw a piece missing from the sky instead of the regular meteor trail.  It was as if someone had torn out part of the night sky, leaving blackness where the usual starry canopy should have been. Deep fathomless blackness. My version of the night sky was continuous, reassuring, but the comet disturbed that, with a blackness too deep, too big for comprehension.
My usual sense of being in the center of my experience was changed. Where am I? I was awe-struck; there are forces larger than my imagination can encompass.  This can engender a feeling of fear, dread, incomprehension, and powerlessness.  Awe for a very long time was the province of religion. Huge cathedrals, monstrous pipe organs, incense, Gregorian chanting, all existing to provoke awe, humbleness in the presence of God, inspiring worshippers to propitiate a being of great power and majesty.
But awe can also engender a feeling of wonder, of curiosity about our interconnectedness with the phenomenal world. Connecting naturally with all our senses can open us up to the space that we are in: noticing and appreciating the fragrance, texture, vistas, cacophony and palate of our world, experiencing the 'vastness of extent,' the awe of the phenomenal world, and being able to relax with and open to that experience, even when it doesn't fit into our preconceptions
For example, in times of disaster and overwhelm, when we are in the midst of forces larger than our imagination can comprehend, such as natural disasters or the  9/11 attack in New York City, people readily turn to one other for help.  Activist Joanna Macy has written an account of how people instinctively have acted to support each other in such circumstances. Many of us have seen and experienced this way of turning to others for help in aspects of our own lives.
I believe that acting on this openness, this sense of not being the center of experience, can be the basis for living as 'inspired human beings.'  Mindfulness meditation opens our way to connect naturally with whatever space we are in, from the awe of nature, to the ecology of our planet, to other human beings.
In August I'll pack my camping gear and board a plane for Missoula, Montana. I will meet my two sons there, and head south to the Wind River Range of Wyoming to view the solar eclipse on August 21st. I expect to experience the awe of that eclipse, and to return home knowing that that direct connectivity with experience is always available to me through my sensory connection with the world.
---
Shastri Donna Williams of White River Shambhala Center will be leading a Labor Day weekend program at Sky Lake Shambhala Center on Contemplative Ecology: Renewing our Earth Connection.  https://skylake.shambhala.org/program/680/contemplative-ecology-renewing-our-earth-connection/
---
Editor's note: the photo of fields at Dechen Choling with hay bales and looming thundercloud is by D. Schneider, used with permission.
Post Tags:
connection
,
ecology
,
environment
,
nature
,
physical environment
,
senses
,
space