Saturday
Featured Stories
Family and Lineage
An interview by a Growing Brave Conference Planning committee member, talking with Harish Rao: parent, Los Angeles sangha member, and practitioner
by Marcelle Gilkerson
Marcelle: Let me start by asking, what drew you to Shambhala?
Harish Rao: I have always had a fascination with Indian culture and Tibetan mysticism. Polytheism and mythology of world cultures has been a fascination of mine since childhood. The tantric tradition of Buddhism and Vajrayana is a source of great mystery, and I was drawn to connect into these teachings considering my own Indian background. Having heard about Shambhala first in the Hindu scriptures from a young age, over time my curiosity has drawn me into Tibetan Buddhism.
MG: What is your personal lineage, and how does the wisdom in your lineage inform and inspire how you live?
HR: I suppose I have a unique background. Although I was born in the United States I have a mixed familial lineage to complement my Western/Eastern cultural background. My patriarchal lineage is of Dravidian Brahmin descent on the Southeastern Coast of India, and my matriarchal lineage is from the West Coast of Goa. It is said that the first Kalachakra teachings given by Shakyamuni Buddha were done in the same state as my father's lineage, Andra Pradesh. I have always had a strong connection to my lineage background and an appreciation for my rich unique background, which has been a source of inspiration. I suppose this is why I have a natural curiosity about lineage and tradition.
MG: Can you tell me about your nuclear family?
HR: My nuclear family is a cosmopolitan family comprising myself, of Indian descent, my partner of Japanese descent, and my son who is of mixed race descent.
MG: You described your son as a "natural Shambhalian from birth." What are his qualities? 

HR: In Shambhala, we often refer to the ancestral lineage of Shambhala, comprised of sovereigns originating from China, India, Tibet, and Japan. In this case, I am referring directly to my son's fortunate birth, inheriting Indian and Japanese lineage cultural backgrounds. He is growing up being exposed to American, Indian and Japanese cultures throughout his lifetime, which is very inspiring and encouraging to me as a parent.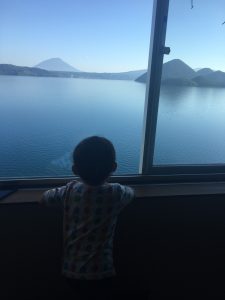 MG: As a parent, what aspirations do you have for your son's spiritual path that might not yet be completely available to you and others?

HR: As a parent, first and foremost, I aspire for my son to embark early on his journey to discover his own spirituality and a tradition which speaks to him. Perhaps there are parents who would aspire to such things as a good education, good health, and opportunities, which are very important to me as well, though I know a spiritual path and practice will provide the foundation for handling all of life's challenges. This is the hardest thing as a parent, and as a Buddhist, knowing that the path ahead involves suffering. Being able to achieve peace of mind and balance as a foundational practice is very important.
MG: What do you dream could be possible for him (and others) on this path, based on your rich cultural wisdom?

HR: I'm not sure if I can speak as an authority from a place of rich cultural wisdom, although my aspiration for him would that he would choose Shambhala as a path on his own if he so desires. Today there are very few people in North America and in the West of Chinese, Indian, Tibetan or Japanese descent who venture on the Shambhala Buddhist path of training, education, etc. I feel like an abject minority once again in an organization. I hope that by the time my son is old enough to step into a Shambhala Center, there will others who share his background and cultural experience. As a practitioner I am constantly reminded of the cultural forms that are practiced in our Centers and programs, which remind me so much of my own background. They are familiar and yet at the same time so distant in terms of community and connection. There are many people who come from the rich ancestral traditions of Shambhala, over 2 billion Indian and Chinese people alone, who will find their way into Shambhala one day in the not so distant future. I wonder as to how that union will happen. Perhaps at that time, we will be having a truly global discussion about creating Enlightened Society which spans the world, ancestral lineages and all.
---
INVITATIONS:
Sangyum Wendy Friedman is supporting the Growing Brave  Shambhala Online series with a conversation about manifesting a Shambhala Household this

Saturday, August 5 at 2pm

 Atlantic Time. Please join us by registering here.
Post Tags:
children and families
,
Family
,
lineage
,
parenthood
,
parenting
,
Parenting As Path