Monday
Atlantic Canada
Everyone Loves a Parade
Shambhala joins in this year's Halifax Pride Parade, with an award-winning entry
by Seth Levinson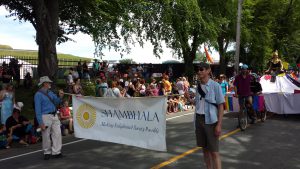 For years, just before Pride, a colleague of mine—deeply involved with LGBTQ community in Halifax—would drop by for a chat. We'd wonder together whether we still needed a Pride Parade. And each year we came to the same conclusion—and we marched on.
The ultimate irony and tragedy is that this same friend—Raymond Taavel—was murdered 5 years ago because he was gay. Yes, we still need Pride.
But beyond the more obvious reasons, I've come to feel that Pride fulfills us in others ways… it represents an ever expanding banner of love under which we all long to stand. Intolerance, hatred and miserliness is exhausting regardless of who we are. The Pride Parade is a great river, exuberant with colour and good heart, quenching our thirst to stand together. Quenching our thirst to be together. All of us.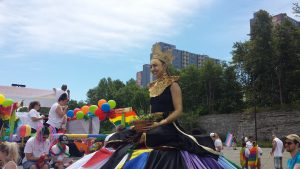 The HSC float, for the second year running, was a glorious and cheerful tribute to Rigden principle. Sangha member Dan Corbett conceived of and constructed a moveable, tandem-drawn shrine (he also pedaled, along with HSC member Moka Case.) At the top of the shrine, sat India Gailey, cross-legged. Elegant and youthful, she was decorated in gold paint and wore flowing robes. A small troop of community members walked alongside, carrying banners and prayer flags. Countless times I'd turn to see India beaming to the crowds. She was radiant. The whole situation was radiant. One marcher reported that she heard a very small boy, upon seeing India, called out 'she's so majestic!' Yep. She sure was. We all were.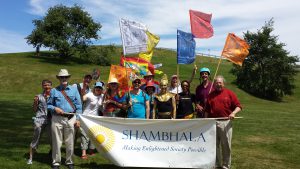 And that's the thing. Pride rouses majesty and fathomless heart goodness. It's is such a great fit for Shambhala. It's an aspiration in our heart of hearts, that we can embrace diversity. We can free ourselves from terrible pain of 'othering.' We can make a practice of embracing our fear and embracing our joy. Pride is a community hugging.
So we march because we can—this is Canada, after all. (And what great good fortune that our Prime Minister and his wife, also youthful and full of vigour, walked with us this year!).
And we march because we must. What better way could there be to fulfill our warrior vow and celebrate good human society?
---
Seth Levinson is a member of Halifax Shambhala Centre, and a graphic designer for Lion's Roar Foundation. 
Post Tags:
Halifax
,
LGBT
,
lgbtq
,
Regions
,
social action
,
social justice
,
social transformation