Thursday
Featured Stories
Open Doors, Open Hearts
Open Doors/Open Hearts
by Michelle Munro
I've been sitting here looking at a blank document for some time…What to write? What would you who are reading this want to know about the Halifax Shambhala Centre?
I could tell you that things are well. That we just participated in our first Doors Open Halifax event, where we saw over 250 people come through our doors, many for the first time.
One comment that was said more than once in one form or another was, "we've walked by but we didn't know we were allowed to come in." People were delighted to hear that they could come to Open House, classes, and sittings.
This perception continues to haunt me, as I ponder ways we could change this misconception.
It seems that getting through the front door continues to be one of the biggest "leaps" to seeing what we have to offer here. This is concerning to me, because, well, I believe the world has a thirst for what we have to offer.
Right now, my heart is still heavy with the mass shootings in Orlando Florida, targeting the LGBTQIA community. It makes the world seem smaller, scarier. It really challenges my confidence in basic goodness.
Sakyong Mipham Rinpoche made the following statement:
On behalf of the entire Shambhala Community I express profound sadness and pain toward the brutal killings in Orlando this past weekend. As we now know, Florida has suffered the deadliest mass shooting in American history. My heart breaks for everyone affected by this tragedy. I want to especially acknowledge the pain of the LGBT community – a community that has faced ignorant violence and discrimination for generations.
Those who have suffered are in my practice and I encourage you to hold them in your heart as well. We should dedicate our practice to the aspiration that all people, regardless of their sexual orientation, race or religion, are able to experience their basic goodness and peace. May the threat of gun violence lessen, and may all beings be safe. We send love and courage to all who are suffering and to all who are in fear.
To me, this is why it is imperative that we as a community hold our hearts bravely open.
That we hold our doors open. That we double down on our commitment to be kind, welcoming, and warm to new people. We need to understand that what we can offer the world can be as simple as safe space, gentle space. And that's a lot. Some people leave this space and fear violence because of who they are, where they live, what they look like, who they love.
I hope we can all remind ourselves of that. It's so easy to get caught up in an endless cycle of complaint. Let's bring it back to the heart. We are so very fortunate to have this space to simply be. As we are. Together. May we never take that simple fact for granted.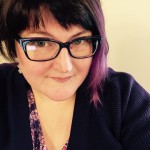 Michelle Munro serves as Director of the Halifax Shambhala Centre.
Post Tags:
Halifax
,
LGBT
,
lgbtq