Wednesday
Community Articles
Self-Existing Dignity
A Shambhala warrior from Baltimore shares her story of abuse, recovery, and connection
by Amy Vernon
"Warriorship is a basic sense of unshakeability. It's a sense of immovability and self-existing dignity rather than that you are trying to fight with something else."

– Chogyam Trungpa Rinpoche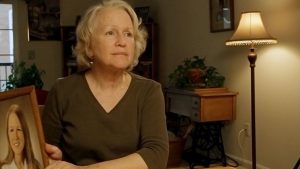 On July 21st 2017, the Baltimore Shambhala Center had the privilege of hosting a genuine warrior for a special invitation-only Friday night talk.  Jean (Hargadon) Wehner came to a completely packed shrine room to share her first ever public talk: "Working with Fear as a Survivor of Sexual Abuse." Jean is one of the main subjects of the recently Emmy-nominated Netflix documentary series "The Keepers," in which she courageously documented the abuses she suffered during her teenage years under the supervision of a man who should have been a trustworthy spiritual authority figure.  
Jean joined us that evening with the film's director, Ryan White, not to talk about the abuse she suffered, but rather about how she worked with the fear that accompanied uncovering these hidden memories. Not only memories of what happened to her, but also memories that revealed information connected to the unsolved murder of a beloved teacher at the school where all of this occurred.  These memories, causing unidentified terror that had been affecting aspects of her life for years, had been repressed for decades, until Jean decided to open herself up through meditation and therapy.  An act of true bravery, indeed. She shared her meditation experience on the website thekeepersimpact.com, where it can be accessed by clicking on "A dedication from Jane Doe" on the front page.
Understandably, the instinct in most humans when faced with something as painful and terrifying as remembering sexual abuse would be to close down, or to hide from these painful memories. Such a challenge leads many to anger, addiction, or a myriad of other self-destructive behaviors. But as we learn through the Shambhala teachings, the act of looking at and working with fear involves slowing down and opening up, which goes completely against our instincts. Jean's experience mirrored what we have all been learning, that once we allow ourselves to feel what we are afraid of, it loses power and becomes easier to face.
Jean's decision to face her memories was one that led her not only to sharing with her loved ones what she had been through and allowing them to support her, but to also filing legal suit under the name 'Jane Doe' against the Archdiocese of Baltimore for having allowed these abuses to continue despite having had the means to stop them.  Ultimately, her path also led her to share her story in what became an incredibly public way, on camera. The release of the documentary series inspired the creation of many online communities, with members spanning the entire planet, giving thousands of people a forum to safely share their own common experiences.
The evening Jean spent with us offered opportunities for our community to demonstrate our warriorship in many ways, not the least of which was creating a safe, compassionate environment in which Jean was able to communicate her experience. She was able to connect with those who were there to learn from and support her.  Part of being a Shambhalian is offering safety to those need it.  As Jean said after the session, "Everyone's efforts to assure my comfort and sense of security helped me face my fear of giving my first public talk.  I left the Shambhala Center feeling that the whole evening was a wonderful success. Thank you!"
---
Amy Vernon works with Culture and Decorum at the Baltimore Shambhala Meditation Center
Post Tags:
courage
,
fear
,
fear and fearlessness
,
fearlessness
,
recovery
,
sexual conduct