Tuesday
Featured Stories
Celebrating Pride
Pride, Basic Goodness and Good Society: part two of a three-part series
by Eugene Castillo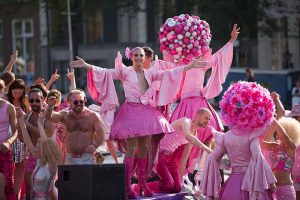 Celebrating our identities as gays, lesbians, bisexuals, trans, intersex, questioning, and gender-queer individuals is both an individual process and a communal activity, though it may seem odd at times to the rest of society. Why do men have to put on make-up, wear dresses, or dress up like nuns to march down the street, some might ask. By the way, don't knock putting on make-up until you've tried it! (Cue sound: "I Feel Pretty" from My Fair Lady) Coming out during my teen years wasn't particularly dramatic. It was healthy, sweet, and poignant, actually.
But when I was barely 21 years old, some friends and I were crossing the street after dinner in Los Angeles, and simply because of the neighborhood where we were (one of us was straight), occupants of a passing car jeered at us, cat-called and shouted unimaginably hateful things. Unimaginable. They wished death upon us. Suddenly, for the second time in my life I felt spittle on my face because of who I am. It was disgusting. It made me feel disgusting. The saliva was slimy. Basic goodness was nowhere to be found during that time in my life. Later, when I had my first partner and shared the joyful news with my only sibling, I was informed, quite discretely, that my mother was "having a very hard time" with the news. I let her.
In the 1990s,"celebrating pride" was something we did in the streets in the face of hatred, oppression, and denial, but always in fear for our lives. We walked arm-in-arm, cause after cause, hugging each other, angry, joyous, outraged, eyes filled with tears with our hearts in our throats, choked with emotion. There was this energy. It was palpable. They were tears of bravery – tears that were tapping into that fearless part of ourselves I would learn about later in a Shambhala class. In 1994, when the shocking news came down, "Don't ask, don't tell," I was horrified. We all were. So we marched. We danced. We cried and hugged and held hands. Years later at our center in Eagle Rock, CA, I would see the title on the first page of the Daily Chant book: "Proclamation of Goodness." What a novel idea, to proclaim who I am! "But, no, not me. Everyone else, but that doesn't apply to me," I thought. That default thinking would change soon. Impermanence.
And, yes, too many of us, hundreds of thousands, lost their lives to the then-deadly disease AIDS that at first people would only whisper about. If you don't say it aloud, after all, maybe it will go away. Maybe "they" will go away. That's what we felt. The agony of the goodbyes, the news of the next person who lost the battle, and the sheer overwhelm at not being able to attend one more memorial. I survived, somehow. Yet it was a scourge that kept many in the closet. Tragically, too many young men simply took their own lives, unable to cope.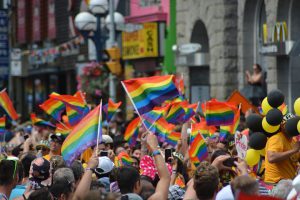 So "pride" isn't a noun or adjective, really, it's a verb. To pride; priding; (gerundive). Little did I know that the visceral experience I had while we were dancing and celebrating in the streets of New York, Chicago, San Francisco, Philadelphia and West Hollywood (Soundtrack: Martha and the Vandellas) would open me up many years later to the precious teachings Chögyam Trungpa gave us on basic goodness and the sanity we were born with. If ever I celebrated on those streets drunk instead with anger or depression, loneliness or even desperation, it was because of wanting to succumb to that haunting phrase: "intrinsically disordered." For this Shambhala-warrior-to-be, the motto "Silence = Death" was preparing me for my Enlightened Society vow. I just didn't know it. Basic goodness, too, can be a verb. That's precisely what we call creating enlightened society.
---
For more information about Los Angeles' Queer Pride Meditation, visit the website: https://la.shambhala.org/queer-pride-meditation-group/
Eugene Castillo is a gay man and member of the Los Angelels Shambhala community. He is a classical musician and a member of the Diversity Working Group.
Post Tags:
Gay Buddhist Sangha
,
LGBT
,
lgbtq
,
social engagement
,
social justice
,
social transformation