Monday
Shambhala News Service
International Advanced Assemblies 2019 Calendar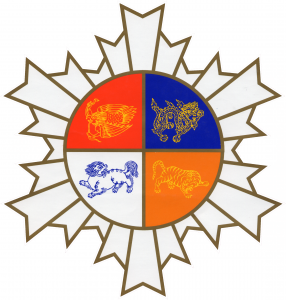 2019 International Advanced Assemblies Calendar Announcement
Dear Shambhala Community,
We recognize that this is not a time to proceed with business as usual as our community continues to work with heartbreak and uncertainty with brave and noble hearts. We therefore offer the 2019 Shambhala Assemblies Calendar with humility, knowing that these assemblies are not for everyone at this time and yet are vital for some.
We have taken great care in considering whether or not it is appropriate to offer assemblies in 2019. We have asked: What is kind? What is needed? What can we support? Even during this difficult time, we have confidence in the Shambhala teachings on transforming aggression and creating enlightened society. We in Practice and Education are committed to providing support for those who are inspired to participate in Shambhala assemblies. Our colleagues in the Dorje Kasung will provide support as possible, and Garsung staffing may look different than it has in the past.
We encourage each person to contemplate whether engaging in an assembly is right for you. This is a deeply personal decision. Assemblies are not the only way to proceed on the path of dharma or to be a Shambhalian. If you need support in making this decision, consider speaking with a trusted confidant. We also are offering some questions that you might find helpful to reflect on as you consider possible assembly participation.
If you decide not to participate at this time, please know that there will be additional (non-assembly) opportunities to gather and practice at city and land centers, many of which are offering new ways to gather and explore our connection to the Shambhala dharma and to heal and change our societal cocoon.
We also would like to acknowledge a gap in offering Regional Enlightened Society Assemblies in North America in 2019. We have received feedback that these programs are enriching for regions and more accessible for some participants. We aspire to have more Regional ESAs in North America in the future, fueled by the development and strengthening of regions.
We look forward to engaging further with you on the path of warriorship.
Yours in Shambhala,
Shodie Lyon, North American Programs Manager
Joanna Francis, European Programmes Manager
Charlie Goetzl, International Director of Practice and Education
International Shambhala Assemblies
The Advanced Program Site, where you can find further information and program specifics, can be found here: https://apas.shambhala.info/
Application Process
All applications open January 3, 2019.  Applications close 8 weeks prior to the start date of each program. Enlightened Society Assembly and Warrior Assembly require that you both (1) apply and be accepted through the Office of Practice and Education and (2) register with the host center.
For Enlightened Society Assembly at Shambhala Mountain Center, you may register prior to being accepted. For other Enlightened Society Assemblies and for Warrior Assembly, you must be accepted prior to registering.
Please go to the Advanced Program Site to apply and for more information about recommendations.
Staffing Opportunities – Supporting the Paths of Others
At this time in Shambhala, it is critical that we take care of each other. The success of these programs is dependent on the volunteer efforts of the program staff who exert extra energy to set up, maintain, and dissolve the containers within which our assemblies are created. We deeply appreciate your generosity and commitment to our community.
In order to staff your program of choice, you must already have completed that program as a participant. Scorpion Seal Assemblies after SSA 1 are an exception, as they are primarily "self-staffed" by first-time participants; however, if you wish to staff an SSA as a repeater, you are heartily welcome to do so. Once the staff applications are available, we invite you to submit an application to staff at your earliest convenience.
Staff application are posted on the host land center's program information page.
Garsung staff applications, as well as View, Practice and Action, will be available on the Dorje Kasung website in 2019. All inquiries should be directed there and not to host land centers or to Practice and Education.
~ 2019 Shambhala Assemblies Calendar ~
The Advanced Program Site, where you can find further information and program specifics, can be found here: https://apas.shambhala.info/. Note: All dates include arrival and departure days.
Enlightened Society Assembly
Land Center
     Dechen Chöling, France: June 9 – 20

     Shambhala Mountain Center, Colorado: July 1 – 11
For more information and to apply, go to the Advanced Program Site.
Regional
Shambhala is pleased to offer two Regional Enlightened Society Assemblies. Regional assemblies are geared towards the regions in which they are held and are open to any applicant who is fluent in the language.           
     Holland — Regional ESA — June 7-15  in Dutch
For more information and to apply: [email protected]
     South Africa — Regional ESA — January 3 -12, 2020
For more information and to apply: [email protected]
Warrior Assembly
     Dorje Denma Ling, Nova Scotia: August 7 – 18
For more information and to apply, go to the Advanced Program Site.
Sacred World Assembly, Rigden Abhisheka and Scorpion Seal Assembly Year 1
Sacred World Assembly, Rigden Abhisheka and Scorpion Seal Assembly Year 1 will not be held in 2019.
Scorpion Seal Assemblies
The following Scorpion Seal Assemblies, Years 2 – 10, do not require a program application.  If you have finished the necessary practice requirements for your SSA or are planning to finish them before the assembly begins, you may register directly with the host center once their registration page goes live.
Some Important Reminders
Scorpion Seal practitioners are asked not to attend more than one Scorpion Seal Assembly each program season, in order to allow ample time to accomplish one's practice while mixing it with daily life.
Importantly, keep in mind that it is completely worthwhile and appropriate for you to rest and deepen wherever you are on the path, should you choose not to attend a new assembly annually.
Aside from individual, group retreat practice, or solitary retreat practice, there are other possibilities available to you. You may wish to participate in an earlier Scorpion Seal Assembly as a repeater (the land centers typically have a discount repeater rate) or, for that matter, you may wish to staff an earlier Scorpion Seal Assembly. Good repeater staff are always sought, especially for the earlier levels.
Whether you choose to attend a Scorpion Seal Assembly consecutively each year, or take more time to deepen your practice, please enjoy wherever you are on the path.
Thank you to those of you who participated in the Scorpion Seal interest surveys.  The following calendar reflects the results discovered in those surveys, as well as many other factors that go into SSA scheduling.
2019 Scorpion Seal Assemblies
Scorpion Seal Assembly Year 2
Scorpion Seal Assembly Year 3
Scorpion Seal Assembly Year 4
Scorpion Seal Assembly Year 5
Scorpion Seal Assembly Year 6
Scorpion Seal Assembly Year 7
Scorpion Seal Assembly Year 8
Scorpion Seal Assembly Year 10
Scorpion Seal Assembly Year 10R (for SSA10 repeaters only)
Karmê Chöling: May 22 – June 2
Post Tags:
Shambhala News Service