Tuesday
Featured Stories
Think Tank: Four Voices
Part One of a four-part series sharing the experiences of participants in the first ever Shambhala Social Engagement Think Tank, held October 12-15 at Sky Lake Shambhala Meditation and Retreat Center
by Shastri Charlene Leung, Chairperson of the Shambhala International Diversity Working Group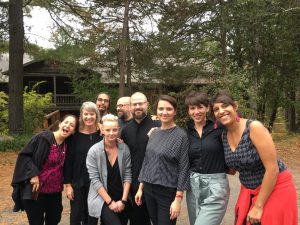 Perhaps "Embody, Feel, & Be Tank" more accurately describes what 32 Shambhalians were asked to do at Sky Lake Shambhala Meditation and Retreat Center in rural upstate New York. What was unique about this ground-breaking Shambhala gathering was that roughly half the participants and planning team that assembled to explore social engagement were "people of color," and the group included two from Mexico and one from Chile.
First conceived a year ago, the initial Social Engagement Think Tank group invited was a mix of Shambhlala academics and activists including about a third PoC and a quarter LGBTQ (lesbian, gay, bisexual, transgender, queer).  Newly appointed Director of the Shambhala Office of Social Engagement, Aarti Tejuja asked, "Who else should be at the table when we explore what social engagement means in Shambhala and in the world?" Further thought went into balancing the demographic composition of this group of people who are already doing socially engaged work both inside and outside Shambhala. The very act of coming together in a new configuration and feeling and being with what arises IS social engagement. What emerged was a groundless, sometimes painful journey for both PoC and white people.
The poignancy of fall was evident, with the sound of leaves falling to the thick rich earth that nurtures us all. We must let go in order to prepare for deep transformation before new life emerges in spring. How will we as an organization turn outward and engage more directly the suffering right here in our communities as the Sakyong asks us to "be Shambhala"? Will we be genuine and relevant to more diverse communities of all kinds? Can we truly open our doors and welcome people whose lives are so different from our own? What new growth will we see in the spring if we take the time to nurture the seedlings of diversity and difference already existing in Shambhala?
What a rare opportunity for PoC to be at a Shambhala gathering and not be the "only one." Though we were a diverse group of PoC–Black, Asian, Latina, of different ages, genders, gender identities, sexual orientations–we were immediately sympatico. As PoC in a white-dominated society and especially in Shambhala, it's difficult for us to ignore race. Sure, anyone regardless of their race or social identity can find reasons to not feel welcomed and to shut down even in a Shambhala space. For PoC, because of the systemic nature of racism, the karmic history and current day public policies and laws that are reflected in the media, reinforced by attitudes and beliefs that play out in social interactions and manifest as unconscious slights and insensitive questions, it's challenging to be who we are, especially in white-dominated spaces. Power has been predominantly based on race (and gender and class) since the European conquest of the Americas. If you look deeper and listen with curiosity, you'll see it manifesting everywhere; if you are a woman you might see it as condescending paternalism or sexualized objectification.
After our opening lhasang, Valentino Romero, Boulder Shambhala, and Jen Woodin, Director of Sky Lake, led a powerful ceremony honoring the land that hosted us and the indigenous people who lived in harmony with the earth before us. We touched the earth, paid homage by the fire, then walked to the future site of the kami (nature spirit) shrine, chanting the names of the indigenous tribes whose land we walked on: Waronawanka/Espous, Munsee, Haudenosaunee/Iroquois, Lenape, Nanticoke, Mohican, Mohawk, Algonquian.
Once there, we offered apples and planted seeds from the Native American Seed Sanctuary. These seeds descended from plants grown by the people who inhabited the land before us.
Everyone was given a seed to take home. Will it be nurtured? As Shambhalian people of color and as white Shambhalians, we carry the DNA impacted by genocide, coercion, murder, rape, slavery, exploitation, child and gender abuse. And we can all arise as warriors. We all need to heal. Can and will white Shambhalians stand in the uncertain ground of de-centering themselves and nurturing the seeds we all share as humans? Might this be an opportunity to heal the wounding of human dignity and establish the ground for diverse enlightened society?
What follows in this series are narratives from both people of color and white people who were participants at the first Shambhala Social Engagement Think Tank.
---
Editor's note–the next three stories in this series will be personal narratives from Think Tank participants: Shambhala Center Directors Tuyet Cullen and Ashley Hodson, as well as Alexandria Barnes, Assistant to the Director of the Office of Social Engagement. 
---
The Shambhala Think Tank on Social Engagement was made possible with support from the Sakyong Foundation, the Shambhala People of Color Scholarship Fund, and donations to a travel fund on the Offering Bowl, and in partnership with Sky Lake.
Post Tags:
Diversity Working Group
,
social action
,
social engagement
,
social justice
,
social transformation
,
Think Tank