Sunday
Community Articles
Inviting the Magic of Play
Why Children's Day is not just for children
by Leslie Gossett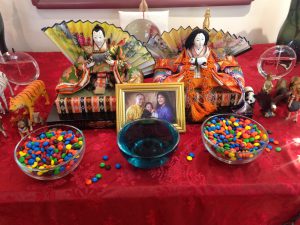 Every year, I get so excited about Children's Day. I love planning the celebration, taking the Emperor and Empress dolls out, inviting the delight and magic of play into the Shrine Room in a very intentional way.
Also every year, when I ask fellow sangha members if I'll see them at the center for the celebration, I realize that many people think they have no reason to celebrate because they don't have young children.
I can't emphasize enough that Children's Day is not just a time for young children. It's one of our Shambhala Nyida days! It's a holiday, and it has a very important place in our world and in our practice. These holidays help us connect to the turning of the year, to plug into the earth and the elements and be more embodied and in touch. Children's Day in particular celebrates the Winter Solstice, which is the shortest day (for the Northern Hemisphere, in any case!). For that reason, we invite light and play into our minds. We celebrate all that is bright, our inner light, our sense of joy and wonder, and we allow ourselves to play. Play is incredibly important.
Perhaps it's hard to connect to play as an adult, especially in Western society, because it is not particularly valued in the mainstream culture. We are often admonished to "stop acting like a child." But our practice actually encourages us to connect with childlike mind. To relax. To have a sense of humor. Fill the Shrine bowls with M & M's! Dress up! Sing! Holidays don't have to all be financial reports from the Director.
The Sakyong even says, "play is unceasing compassion."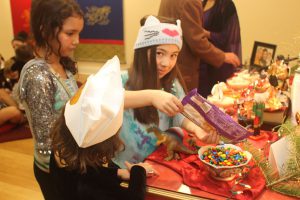 Children's Day is an invitation to lighten up. Share your joy. Celebrate together as a community. If there are no young children, how do you bring out your own inner child? How do you connect with the joy and play of others? If there are young children, then support them! I've been to many a Children's Day where it was just parents and children. No other community members. How do we care for all the people in our communities? How do we support our young warriors? What do we communicate to them when we don't attend things that have to do with them. Rites of Passage ceremonies, Children's Day, Family events. It is our responsibility as humans to care for the future of our lineage. They need a community around them. They need you. Play with them. Let your own mind find joy. Let's all shine together.
Some elements you can include in your celebration:
King and Queen (any gendered Monarchs) of Shambhala- two people dress up as the King and Queen and hold court. Offerings, conversations, and stories can ensue!
Reading Iliana: A Winter Solstice Tale which is a beautiful story no matter your age. It is also available as a podcast.
Singing Children's Day Songs together, especially We are the Warriors
Decorating a Children's Day Shrine, using lights, garlands, animals, and candy
Placing King and Queen dolls on the shrine
Food, Conversation, and Meditation: you know the drill!
Lights: string holiday lights around the space, light candles, make lanterns
Story telling: tell stories of bravery and magic, of your own childhood
Giving of gifts
A play or a puppet show: acting out Iliana or any other story of Solstice
Making Aspirations for the coming season
What traditions do you have for Children's Day?
This year, I invite you to support your local Children's Day celebration. Or if there isn't one, host it yourself. How do you connect to the turning of the year and the changing of the seasons? What rituals and ceremonies are you inviting into your life and your community? There are many resources for family celebrations  here on the Families Hub Website. But you can also adapt the celebrations to fit your community and situation. You can also contact [email protected] for more resources.
---
Planning a Children's Day celebration this year? The Shambhala Times would love to hear from you! Please send us your photos and text to share the delights of the season with the wider mandala: [email protected].
Post Tags:
children and families
,
Children's Day
,
Nyida Day
,
play