Friday
Community Articles
Including Children in Our Practice
Noel McLellan shares his family's experience of bringing their children into practice and chanting sessions, and in the process offers ways we can welcome the vividness of our lives into practice.
As practicing warriors, meditation is a regular part of our lives, and sharing it with our children is an important part of building Shambhala culture. While a child's interest will vary depending on his or her age and disposition, creating a sense of open invitation to join that part of our lives can help dissolve any barriers around meditation. Often, young children enjoy being included in the practice environment, and it can be sweet to invite them to sit with us, possibly even sharing some very simple instructions on posture. Even two-year-olds can be invited to meditate quietly for a few seconds.
If you say morning or evening chants, children may like to join in, even to play quietly in the room while you chant. Protector chants were a staple of my son Gabriel's bedtime routine for a while. He liked helping to take out the tea offering, and sometimes we made milk offerings and juice offerings, which were his suggestions. At some point, he lost interest in this routine but still checks the shrine occasionally to see if there's candy or any good "taste offerings" to steal.
Now that he's four, when my wife or I practice we always invite Gabriel to come and go from the room as long as he sits with us and doesn't create trouble. Having this permeable boundary between practice and living spaces can be a bit distracting, but I also find it helpful in softening the overall boundary between practice and life.
It's easy to get caught in a tug of war between our practice and our life duties, because we see them as separate. In meditation, we enjoy the stillness of our minds. At home, we enjoy the simplicity and quiet of our practice space.
But can our sense of peace also accommodate the playful movement of thoughts? Can our domain of practice embrace the playful and chaotic energy of our children? Please, share your experiences of this in the comments section so we can explore this together.
_________________________________________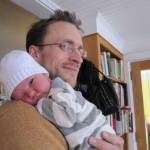 Noel McLellan is a second generation Shambhala practitioner. He grew up in Boulder, CO where he attended Vidya Elementary School, and later Colorado University. In 1999 he served an 18 month tour of duty as continuity kusung to Sakyong Mipham Rinpoche. In the Dorje Kasung, he holds the rank of Kusung Dapon, senior officer of the Kalapa Court. He now lives in Halifax, Nova Scotia with his wife Marguerite, four-year-old son Gabriel, and nearly-one-year-old daughter Esme. He teaches at the Shambhala School.
Post Tags:
children and families
,
Families and Children
,
meditation
,
Shambhala Household