Friday
Community Articles
Let's Dance!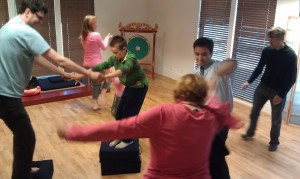 COLUMN: Youth and Families
Dancing in the Shrine Room
by Leslie Gossett
Shambhala Times Column Editor
photos by Alex Van Gils
As the children came into the center that morning, their excitement took on a certain movement. Weaving in and out of adult conversations over tea, and simultaneously dissembling the circle of cushions in the second shrine room to orchestrate various towers and games, they were all buzzing. When I asked how they were doing, "excited" was the answer I continued to receive.

It was clear to me that the children were not alone in their excitement. Everyone seemed to have a little glimmer in their eyes.
Fourth Sundays are always special mornings at our center in Silicon Valley. We offer a Family Practice Day each month. During open house, when the adults practice and then converse, I lead the children in the other room in mindfulness activities, games, movement, music, and anything that arises.
On one of these Sundays, the children and I were engaged in a found art project when a certain conversation began. The children were telling me how glad they were to be there, and how they felt grateful to have this community of each other and a space to explore together. They were asking if we could meet every Sunday instead of just once a month. I told them I was working on that. They seemed really eager, though, to bring the adults into the magic they were creating. They wanted to invite them into our world. I was listening as they talked this through with one another. It seemed to them that they should arrange a way to connect us all.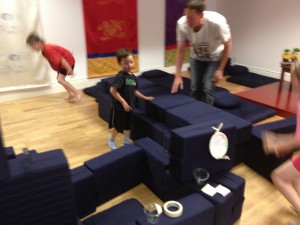 "Let's dance!" they decided. So they planned something incredible. One morning, after open house, they said, we will all go out for lunch at the restaurant next door. Then, we will come back here and have a huge dance party. The adults will come, but they will have to dance. And we will organize games for them to play as well! The children proceeded to talk out which songs should be on the playlist, how they should arrange the dance floor, and every other detail.
Inspired by their desire to bring this magic to our entire community, I found a date that would work, and added our first ever Family Dance Party to the calendar. The parents of one of our children came through with the playlist, and the rest unfolded with great ease.
The children created, out of gomdens, a series of games. Using cups, balls, and various other objects from the center, adults were invited to pay a fee in order to play a game. The prizes included artwork created by the children, and zafus (for use only at the center). The children decided that all of the proceeds should be placed in the donation box. Entrepreneurs that they are, they were planning how best to use this money for the next dance party. In addition to games, there was a meditation station (in case one wanted to sit rather than dance), and a napping station (of course, because dancing is tiring). All this was on one half of the shrine room floor. The other half was the dance area.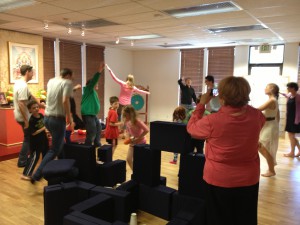 Children young and old had a blast that afternoon. Moving, laughing, playing, truly luxuriating in this capacity we have as human beings to express ourselves through our physical bodies. Some danced atop gomdens, others with scarves, and everyone with each other. It was a blessing to see so many smiles, to hear so many laughs, to see the freedom and space blossom in such celebration. I could see the tension in people's shoulders just melt away. And I could feel the joy and pride the children felt at having had the power and the support to bring their vision to fruition. They had wanted to share this magic all along.
Afterward, I received so much positive feedback from everyone in our community. To be able to offer the space in which these types of events arise, come to fruition, and are thoroughly enjoyed is such a blessing.
The movement within Shambhala is to create a space that welcomes and includes children and families. The how of this will vary from group to group and area to area. The important thing is that we have these conversations, make connections, and try things out. It doesn't take much – just a few interested families.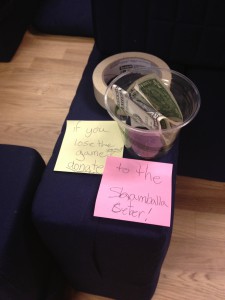 Last month, at the Creating Enlightened Society event, the Sakyong, in answer to a participant's question about the role of children in the community, said, "As we grow up, we become harder and tougher, but it's clear that that sensitivity is still there… if we can allow children not to feel embarrassed about that, and if that sensitivity and curiosity can be encouraged, then as we age, that element is still there as opposed to being shut down." And in light of creating a space for this sort of encouragement, Rinpoche voiced his hope that we could have more and more events and occasions that included and supported children and families.
So, let's explore what is already happening in our community for children and families, and all the ways in which we can open up and grow this vision. It is vital at this time to come together and celebrate our confidence. If you don't know just how to do that, ask a child. You never know, you may just find yourself dancing in the shrine room.
~~


Leslie Gossett is a student of all things human. She lives in Silicon Valley where she works with children, words, mind, and body.
Post Tags:
children and families
,
dance
,
Families and Children
,
Youth & Families