Sunday
Community Articles
The Future Is In Our Hands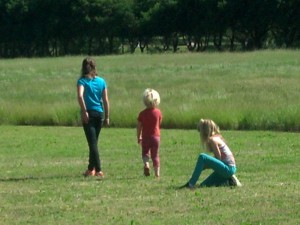 Shambhala Family Days Start From A Good Idea
COLUMN: Youth and Family
by Susie Cook
Sonoma Shambhala Family Days started from a good idea. Over tea after their weekly meditation group for mothers, two moms with elementary school aged children got to talking. One shared that she wished that her children could experience being in the shrine room because it has such a good feeling. The other agreed and added that she wished her children knew how to meditate as it had made such a difference in her own life. What a gift to learn to meditate as a child.
Together, they decided to see about how to make this good idea a reality. With the support of the Sonoma Shambhala community, the format arose naturally to incorporate teaching meditation to the children and bringing them into the shrine room for the last few minutes of Sunday morning meditation practice. Because of the good work of a few individuals, Family Days now includes mindful activities such as art projects, nature walks, yoga, and origami among other activities, as well as basic meditation instruction for the children. Each Family Day finishes when the children join their parents and the rest of the community to practice meditation in the shrine room for the last ten minutes together.
The reason that Family Days happen in Sonoma is because of the effort, perseverance, flexibility, and commitment of at least two people willing to stay with a good idea. When individuals choose to stay by putting energy and attention into a good idea, this intention inspires others to help make that good idea into a reality.
According to Chogyam Trungpa Rinpoche, "The future is in our hands… We have a lot of responsibilities, and those responsibilities are not easy to fulfill. They won't come along easily, like an ordinary success story. They have to be stitched, painted, carved, step by step, inch by inch, minute by minute. It will be manual work. There will be no automatic big sweep or solution."
In keeping with these words of wisdom, Sonoma's Family Days happen because of personal effort and commitment as well as a willingness to persevere as the good idea of Family Days takes shape. Offering connection with Shambhala to even one family makes the manual work of creating Family Days all worth while.
Shambhala Family Days could happen at any center as long as there are at least two people willing to stay with a good idea in order to make it happen.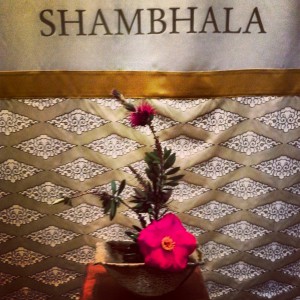 As Sakyong Mipham Rinpoche writes in The Shambhala Principle, "…when my father [Chogyam Trungpa Rinpoche] proclaimed that we humans hold the threshold of the future in our hands, he meant that what happens next on earth is totally up to us. If we are willing to work for a wholesome future, then humanity's future truly does lie in our hands, for it will come about only through manual labor powered by our illumination. This creates a twinkle in the eye, a smile to the lips, and broadens our sense of conviction. In this light, humanity's future can occur because we are willing to hold it in our hands."
In this light, you may feel inspired to start Shambhala Family Days at your local center or perhaps you and a friend have a good idea; for enlightened society might just begin with two people starting from a good idea.
~~
Susie Cook welcomes inquiry and discussion at [email protected]. Susie lives in Sonoma, CA with her husband and two children and is the Northern California Shambhala Family and Children Coordinator.
Post Tags:
children and families
,
Family Days
,
Sonoma
,
Youth and Family