Saturday
Community Articles
A Child's Mind and A Mother's View
NEW COLUMN: Children and Family
This just in from Dallas, Texas: A Child's Mind is offered by Shastri Linda Mockeridge, and below, A Mother's View is offered by Kiki Yardeni, enjoy!
A Child's Mind: Noah is very happy and very curious. When he entered the shrine room with that joyous curiosity, he began to make noises. What a delight! He was learning to make noise and he did it over and over, because he could do it and it was fun. I watched Mom get concerned and make her plan to get her baby out of there because noise is disturbing in a shrine room. Since I was giving a talk on Shambhala Society and was enjoying Noah's delight in his body, I asked to hold him on my lap while I gave my talk. Reminding everyone of the wonderful mind we have, a mind that delights in goodness and present moment; Noah was gifting us with this example. He was simple, direct, open, curious, and very relaxed. No preconceptions, just nowness.

Noah sat with me most of the morning. Although we spoke a more experiential language than the other participants, we both enjoyed the dialogues and discussion. Noah manifested the contentment and mindfulness of the tiger, the joy of the lion, the boundless mind of the garuda, and his dragon wisdom was comfortable everywhere. There was the energy of calm, curious, engaged delight in my lap. It was goodness. The four dignities on all fours!
When we were ready to break, Noah was eager to go to Mom. We were in a circle so we all saw his longing for Mom as they made eye contact. With Mom's permission, I put his blanket on the floor and placed Noah on his belly. We then watched him "swim" across the shrine room floor with exuberant energy and a big smile. It was awesome! Everyone was one-pointed, joining Noah on his journey. Thank you, Noah, for your 8-month-old view of sacred world and your basic goodness. Shambhala society and Enlightened society is undoubtedly present in Dallas!
~~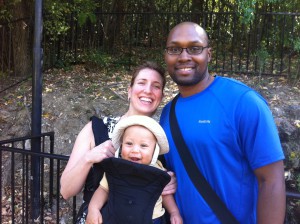 A Mother's View: I'm reading a book right now. It's called Everyday Blessings: The Inner Work of Mindful Parenting. I just finished one called Mama Zen. I keep trying to figure out how I can keep up a meditation practice, be involved with my sangha, AND be a mother to my new baby. So far, the books seem to have a common theme….be as present as possible. My understanding of this is: there is no good answer. In a phone conversation with a friend of mine, he mentioned a koan to contemplate. I responded with, "I don't have time to contemplate a koan. I'm too busy being a mother!" He replied, "Your baby is your koan."
I finally had an answer to my questions: there was no answer. This new chapter in my life would mean a new way of practicing (or should I admit…not practicing), a lack of sangha involvement, and an emphasis on my baby/koan. After about 6 months of this, I started to feel the subtle change in mind quality that is the result of little to no meditation practice, and the gap between myself and the sangha was getting wider. I knew I needed to get back into it. But I just wasn't sure how bringing my baby to sit with me would all unfold.
Showing up to the shrine room for the Shambhala Lineage Festival with husband and baby proved to be an enlightening experience, to say the least. My hesitation was met with welcoming arms from the sangha. My attempts to console my baby's distracting coos and gurgles was met with reassurance that all was fine. To top things off, Linda Mockeridge, our Shastri for the Shambhala Lineage Festival asked to hold him. And to my surprise, ended up holding him throughout the rest of the talk! She used his "beginner's mind" as an example of one we can all be inspired by. I was so moved by it all.
Because there hadn't been any babies at our Shambhala Center, or for that matter, any other Shambhala Center I'd been to prior, I'd never given a second thought about bringing a baby into a shrine room until I had my own. While I know that as long as my baby and I are in the meditation room, there will be some ongoing sounds and movement that have nothing to do with a gong being rung, I now can feel a little more at ease knowing a baby is the essence of what it means to "be present". It seems this path we call life includes life in its many forms and stages. And I hope mine and my baby's future in the Shambhala meditation room will feel as embracing and uplifting as this last time was.
~~
Linda Mockeridge is a Shastri in San Antonio, Texas. Besides teaching within the Shambhala community, she has provided regular practice sessions and Level I's in prison settings and a Juvenile day program. She is a Licensed Clinical Social Worker who has a diversified practice with a specialty in chemical dependence, mood disorders, LGBT, couples and families and particularly likes to treat adolescents and young adults. She has incorporated mindfulness meditation into presentation with professional organization conferences, stress management seminars and employee assistance programming at companies.
Kiki Yardeni is a new mom. She found the path of Shambhala 7 years ago, and has been traveling on it ever since. She is also a licensed clinical social worker and yoga teacher. She works for the Dallas Independent School District assisting students of all ages who have mental health issues. Mindfulness meditation and yoga is something she teaches her students, so that they too can start on a path of warriorship. Although in it's embryonic stage, she hopes to develop a curriculum that can be widely used within the school district which will integrate mindfulness practices into every day life.
Post Tags:
children and families
,
Shambhala Lineage Festival