Sunday
Featured Stories
Tiny Home Community 1
A conversation with Silas Rose about Shambhala vision, tiny home dreams, and the practice of living in community
by George Klima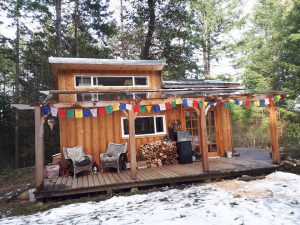 Last summer Silas Rose, Director at the Victoria Shambhala Centre, sold his home of 15 years and bought a restored vintage airstream coach to try out tiny home living.  The desire to downsize and live sustainably, along with the exorbitant cost of housing in Victoria got Silas thinking about tiny homes.  This spring he took the plunge and started the design and build a 265 sq ft tiny home with the vision of eventually living in community with others in a "village" model.
Having recently gone through my own housing transition, and being interested in affordable options I was curious to know more about Silas's plans for the future, so we sat down for a chat.
George. Silas, could you tell us about your vision for community living?
Silas. I've lived in various communal situations since my early 20s, from room-mates to intentional communities. A lot of people have the aspiration for living in community but there are a lot of practicalities that are hard to attend to, particularly around ownership.
I've been in lots of discussions with people over the years around owning property: "Let's get together and buy a piece of land and live together!" However, when it comes down to it, very few people have the financial means to make that happen.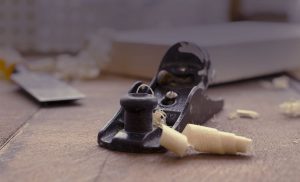 Three or four years ago I jumped onto the cultural meme around tiny homes. I've always been interested in good design and economies of scale, so tiny homes tick off a lot of boxes in my mind. As well, it is desirable to have your own space, while still being in proximity to others in community.
It is compelling because most people can get themselves into a tiny home, one that's comfortable in the long term, for $50,000. Some people do it cheaper if you put in your own labour. I've heard of people building homes for $20,000 – $25,000 that are very small. My own aspiration is that I'd like a home between 275 – 300 sq ft living space.
The tiny home concept is very intriguing for "pop up community," to have your own space but be together with five or six tiny-home owners sharing land. The land can be rented, or it can be a purchased property with a central building for amenities such as laundry or a community gathering space.
In terms of the community vision, I'd love to see people, especially in the Shambhala world, come together around this idea. It's an experiment in enlightened society or "enlightened village," where we're living in proximity to one another.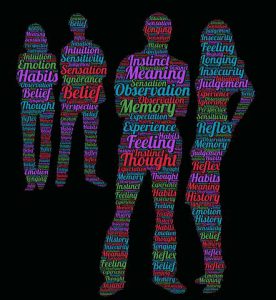 I think it's helpful to have a shared set of values and vision around cohabitation, because things easily break down without that piece. You quickly encounter the pointy edges of community where things get real. The one thing about Shambhala is that we accept that difficult emotions are a part of our practice. Being in community is a practice and a discipline, just like being on the cushion.
Things come up, both happy and sad. Joyful and challenging. I think having the notion of shared practice, that we're sharing the same path, the same commitment to bringing basic goodness into our life, cultivating mindfulness in relationships, gives us a basis to work with the happy and sad parts of community.
George People are people and even within Shambhala issues come up. Even though we believe we share the same values, we still have some conflicts and disagreements. So why restrict the community to Shambhala people?
Silas. I'm not into restricting it. I present that as an option. I am open to being in community with others. Chances are there would have to be some kind of faith or social vision that binds us. Ultimately it comes down to heart. We Shambhalians are very committed to a sense of path, and we feel a heart connection to others who share the journey.
When conflict arises it sucks us up into our head. When things get polarized, unless there's a reference point of basic goodness, or whatever you call it in other traditions, then it's so easy to retreat to our individual polarized place.
---
Editor's Note: To read the second part of this interview, stay tuned for the August 7th edition of the Shambhala Times.
Post Tags:
community
,
home
,
sustainability