Wednesday
Arts and Poetry
More Buried Rivers
A second excerpt from the book subtitled A Spiritual Journey into the Holocaust
by Ellen Korman Mains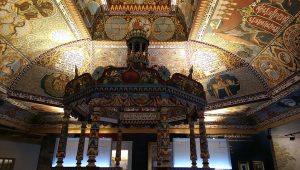 It would be dark when I arrived in Zamość, a place I'd never been and where I knew no one. I didn't even have a reservation for the night. It wasn't confidence driving my risk-taking, but the opposite. I knew I could return to people and places I already knew in Poland, and avoid the unfamiliar, but the part of me that was clinging to safety and security made me feel progressively weaker. Something in me wanted to break loose and find my strength again.
By eight o'clock, the light in each home along the road had been extinguished. It felt like midnight as the bus steered through the eastern Polish countryside. Without the distraction of lights, the night became thicker and deeper. I had exiled myself into darkness. As I surrendered to that shapeless, black sea, I felt both frightened and soothed.
As we pulled into the station, a young man, the only other remaining passenger, walked me part way to the nearest hotel before heading toward his home. Several inebriated characters squatted on the hotel steps surrounded by numerous beer bottles. One threw leering comments at me, but another nobly intervened and carried my bag up the stairs.
A newly restored synagogue had drawn me here. Built over eight years from 1610 to 1618, it had replaced an earlier wooden one built before Jews were allowed to build synagogues of stone. Since no synagogue could exceed the height of any church, the floor had been lowered to increase its interior height. In 1939, forty-five percent of Zamość's population was Jewish.
The Nazis partially destroyed the building and used what remained as a carpenter's workshop. The restoration had been completed only five months earlier and was now a historical site used for lectures, concerts, and exhibits. To see the interior, I had to buy a ticket to the art exhibit housed there. But the synagogue's interior far outshone the art, with walls adorned with floral motifs of soft coral and light blue, and arched ceilings.
As the colors and textures nourished me, I realized it was easier for me to be in an empty synagogue than a full one. I could catch the haunting ancient scent, as if from an empty perfume bottle. I could feel it in my bones without the awkwardness of not reading Hebrew, not understanding the prayers, not feeling I truly belonged there. It might have been different if I'd studied Hebrew like my brother, but that wasn't considered important for a girl in my family.
In the months following my mother's death, she occasionally appeared in my dreams. "Talk to the rabbi," she said in one. In another, I'd changed my clothes and then realized that the rabbi who had conducted her funeral was carrying them. Had I worn the clothes—the body—of a rabbi in another life? Since then, I looked for other rabbis to study with and engaged with several, including Rabbi Zalman Schachter-Shalomi, the father of Jewish Renewal. But I still felt alienated from most of Judaism, always more comfortable in the company of Buddhists where a Buddhist was defined as someone without territory—a refugee.
To one side, a podium housed a computer display with exhaustive information on the Jewish history of Poland and of Zamość, where two Jewish streams had converged, or rather collided—the devotional Hasidic stream and the rational adherents of Haskalah, the so-called Jewish Enlightenment, which promoted involvement in mainstream European culture, thought, and economic development. 
They loosely echoed the streams of Buddhism that had taken root in the West; engaged Buddhism and the vision of an enlightened society on the one hand, strict Zen and devotional Vajrayana Buddhism on the other. Trungpa Rinpoche had encouraged us to combine both.
Both Jews and Tibetans had lost their ancestral homes along with greater or lesser degrees of protected isolation. Perhaps that's why I felt doubly homeless.
---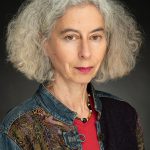 Trained by Chögyam Trungpa Rinpoche and a senior teacher for many years, Ellen Korman Mains is the daughter of Polish-born Jews who survived the Holocaust. She lives in Boulder and is a citizen of Canada, the USA, and now Poland. For more information, please visit www.EllenKormanMains.com or  www.BuriedRivers.com.
---
Editor's note: Ellen's book is currently available on through website: http://store.vervante.com/c/v/V4081805469.html. It will become available for purchase on Amazon & BN.com in mid-October.
---
Post Tags:
buddhism
,
Family
,
memoir
,
Poland