Thursday
Arts and Poetry
An Amateur's Experience of Thangka Painting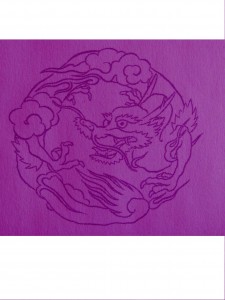 In 1976 I was very fortunate to begin my study of traditional Tibetan thangka painting with the Rongae family at Naropa University.  Since that time my circumstances have been such that I paint very seldom.  As a result, I am still very much an unskilled beginner, but I always find it rewarding as working with such detailed and sane images both focuses the mind and raises the spirits.
---
Editor's Note: We are currently on hiatus from publishing new articles; in the meantime, please enjoy this classic item reprinted from our back issues.
---
The Rongaes made a point that, perhaps with the exception of a "nyinthang"(literally "day thangka") – which is painted in one day while reciting a mantra – thangka painting is not a meditation, but a skill.  There is no formal meditation while painting, rather, we would work together in a jovial atmosphere, most often with the radio playing.  But the skill and techniques are exacting.  Thangkas are not decorative art.  They are not signed.  The only reason to make thankgas is to inspire and to aid other's visualization practice.
Noedup Rongae, our primary teacher, offered several teachings which have stayed with me:
Respect your lineage.   In our case, this is the New Menri School of thangka painting in whose style we always work.
Stay within the traditions. Designs have been handed down from enlightened teachers.

Copy, copy, and copy. A traditional student copies his master's works for some first three years before composing their own works.

Focus. Noedup told us a saying, "When you paint the buddha's eyebrow,  it is 10,000 miles long."  In other words, the attention you bring to your work has the effect of enlarging it to a nearly cosmic size.
Have confidence. As Noedup said, "Why practice a brush stroke?  If you do it correctly, it should be in the painting. If you do it incorrectly, you are simply practicing doing it wrong!"
For those interested in pursuing thangka painting, I recommend either finding a teacher, Naropa University offers courses or studying books such as:
TIBETAN THANGKA PAINTING: Methods and Materials
by David Jackson and Janice Jackson
May this be of benefit.
Post Tags:
painting
,
thangka