Wednesday
Featured Stories, International Programs
Introducing the Live Weekly Dharma Gathering
Este artículo ha sido traducido al español aqui.
Dear Shambhala Community,
It is with great pleasure to announce the launch of Live Weekly Dharma Gatherings in collaboration with Shambhala Online and Kalapa Media. Starting February 20th, we will gather every Wednesday 7:00-8:30 pm EST for a guided meditation, a dharma talk, and discussion with a featured guest teacher. We are very much focused on highlighting teachers of color, women, female-bodied, and femme teachers; as well as queer and trans teachers, younger teachers, non-vajrayana teachers, and some special teachers from other traditions and communities.
This tradition of the Weekly Dharma Gathering began at Shambhala New York in the early 1990s as a way to welcome the greater community into the Shambhala center. Today, many Shambhala centers around the world continue to host these open houses for members and friends of the Shambhala community. We hope that these events will allow us to collectively examine the issues facing our sangha and larger society by spotlighting new and fresh voices across our mandala.
On February 20, we're grateful to have Aarti Tejuja kick off the series with a talk titled "Stepping Out and Stepping In: The Importance of Meditators Becoming Activists and Activists Becoming Meditators." Click here to read more or register. This is a much-needed conversation as we become more socially-engaged meditators in the world. Dr. Claudelle Glasgow will lead us through the end of February with the talk "On Silence: Skillful Means for Modern Times." Alex Vlasic, Maho Kawachi, Tuyet Cullen, and Getsül Karma Lodro Gyendon will lead sessions for the month of March. View the entire list of teachers scheduled through June 2019.
Please join us on Wednesday, February 20th for our first gathering. You can register in advance via this link and see the full schedule of dates and teachers.
The cost is $10 for the General Public and $20 for Patrons who wish to pay-it-forward. Because we are committed to making these programs accessible to all, there is also a 25% discount option that one can select for each talk. If you are facing significant financial hardship, please email Barbara at [email protected].
Yours in the Vision of the Great Eastern Sun,
Dr. Shanté Paradigm Smalls
Adriana DiFazio
Ashley Dinges
Mimi Valiulis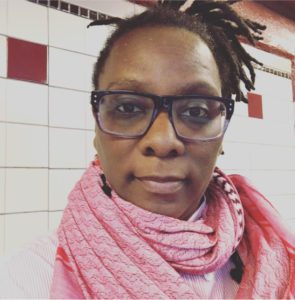 Shanté Paradigm Smalls, PhD, is a Teacher and Mentor in the Shambhala Buddhist lineage of Chögyam Trungpa Rinpoche and Sakyong Mipham Rinpoche. Shanté has been a student of Shambhala since 2006. They are assistant professor of Black Culture and Literature as well as a performer and performance studies scholar. Dr. Smalls, a dog enthusiast, sci fi nerd and yoga practitioner, has published works on hip hop, film, queer performance and been a host of other scholarly topics.
Post Tags: