Sunday
Uncategorized
Book Review: The Way of Tenderness by Zenju Earthlyn Manuel
Este artículo ha sido traducido al español aqui.
The Way of Tenderness – Awakening Through Race, Sexuality, and Gender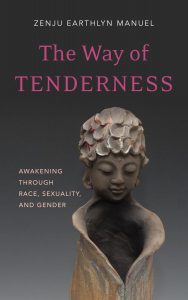 By Zenju Earthlyn Manuel
Review by Christine Heming
As a heterosexual white woman I often feel that relating to diversity, particularly race, sexuality, and gender, is akin to walking through a minefield – how to be inclusive, how to say the right things, and how do I really feel about it all.  At the same time, I hold precious dharma teachings about fearlessness, compassion, and wisdom. In this little gem of a book, The Way of Tenderness—Awakening Through Race, Sexuality, and Gender (Wisdom Publications), Zenju Earthlyn Manuel bridges these seemingly separate realities, taking the reader on a tender journey of awakening from the distortions that produce discrimination and oppression into the "multiplicity within oneness."
Rev. Zenju Earthlyn Manuel is the guiding teacher of the Still Breathing Meditation Community in East Oakland, CA.  As a lesbian black woman, she speaks from direct experience – hard won insights from her journey through rage and self-hatred to complete tenderness.  These insights apply to everyone no matter what characterizes their embodiment because "we all partake in race, sexuality, and gender. . . We are all raced, sexualized, classed, and so on." Manuel is inviting us "to look right where we are for timeless wisdom within our struggles of race, sexuality, and gender," for these are "not merely labels or categories, but involve tangible lived experiences for each of us."
As individuals and as a society we have all internalized the judgments inherited from past abuses that say that some groups of people are superior and others are inferior.  Those who are deemed inferior and different from the dominant culture are feared, and fear leads to oppression. That oppression Manuel tells us is a distortion of our true nature and it disconnects us from the earth and from each other.
In the midst of her pain and suffering, Manuel felt a deep longing for wholeness and connection – what she knew in her bones was always her true nature.  Her spiritual awakening came "by walking through the fiery gateway of attending to the suffering related to race, sexuality, and gender." She makes clear that spiritual awakening is not an experience that transcends this world or that erases suffering.  Rather, it is right here in the body we inhabit, the body that lives with the categorical labels given to it by others. Of her own experience she says, "The body I inhabit has experienced nearly every category of hatred that exists within this society."
To awaken through race, sexuality, and gender is to look deeply into the suffering and the joy and not be held hostage by either, "to fiercely examine ourselves," and to know that we are complex beings filled not just with pain and rage, but also with wholeness and well being.   Manuel's personal story exemplifies the deepest sense of making friends with oneself.
But this fierce examination holds for society as well. She writes, "A society that does not examine itself is an unenlightened one."  Just as we cannot look elsewhere for our enlightenment, a society can't seek relief elsewhere. We are society and we are the only ones to meaningfully transform the fear and oppression we impose on each other into compassion and connection.  Manuel tells us we must trust the totality of our nature and our interrelationship, both its multiplicity and its oneness.
The "multiplicity in oneness" expresses our interrelationship, our kinship.  On the one hand, we are all of the same nature; we all have basic goodness, for example.  That nature cannot be altered, diminished, or corrupted. It is inexpressible and can be known only through direct experience.  But that nature of goodness manifests or is expressed in many different forms or embodiments. In this sense, race, sexuality, and gender are collective manifestations and not individual situations or points of view on life.  Race, sexuality, and gender encompass everyone, and recognizing this is at the core of both personal and societal transformation.
Manuel goes further saying that we are part of nature.  Our bodies are part of the natural world. That world is a world of diverse forms, each contributing to the whole.  So it is with human beings. We are all part of nature and its diversity. Do we want to see a forest with only one kind of tree?
In Shambhala we teach that what the warrior renounces is anything that is a barrier between self and other.  In our society as well as in our dharma communities, differences in how we are embodied – differences in race, sexuality, and gender – are often barriers that disconnect us from one another rather than sources of tenderness.  It is encouraging to see that our Shambhala community is beginning to acknowledge these realities and examine our culture for even our dharma teachings can become a barrier to persons different from ourselves.
When Zenju Earthlyn Manuel began to engage with the Zen Buddhist community she noticed an unspoken expectation that spirituality transcended the notions of race, sexuality, and gender, and all other embodiments for that matter.  Identities were delusional and were to be let go. There was the assumption that the absolute truth, the truth of emptiness, was the real thing. To awaken, one needs only to apprehend this ultimate truth about our nature. To be sure, it is necessary to realize this "oneness," but Manuel makes it clear that "oneness" is not "sameness," and this is where we can go astray.  This is how we turn a blind eye to the "multiplicity," and the inherent, unique, and personal suffering of persons who have different embodiments from the general dharma community.
Manuel also acknowledges the great benefit of sangha sanctuaries.  Her initial experience with Zen Buddhism was through a sanctuary group for persons of colour.  This was critical to her ability to step on the path of dharma and tenderness, and eventually enter the larger Zen community.
Zenju Earthlyn Manuel grew up with Louisianan parents who practiced the southern custom of nodding or, for a man, tipping your hat to anyone you happened to meet, even strangers, and they would nod back.  In nodding "hello" in this way, you were letting folks know that you see them – you see not their faces but their lives. Everyone performed this acknowledgement, right in the midst of an environment of discrimination and harm.  For that moment, the perceived differences were ignored and something human was exchanged.
The way of tenderness could be defined as this acknowledgment – acknowledging and honoring all of life fully with body and heart.  Manuel describes this acknowledgement as an inner bow – a wordless and deeply felt nod to everyone. What a simple yet potent practice to replace our hesitation, fear, and awkwardness when we encounter someone different from ourselves.
In writing this book, Manuel wanted to "step completely out of the box of what has already been said about race, sexuality, and gender"- the political, social, and psychological analyses as well as the language and concepts of Buddhism. She does so fearlessly and with great tenderness.  There is no blaming or shaming. There is complete tenderness towards all of us. At the same time, she is open and clear about the harm that she experienced and its impact in her life.
This book is a slice of pure dharma and a living example of the path of warriorship.  It is beautifully written, and Zenju Earthlyn Manuel's tenderness emanates from every page.  No matter where you are on the journey to overcoming divisiveness and discrimination, The Way of Tenderness will enrich and enlighten you.
You can find this book at Wisdom Publications here.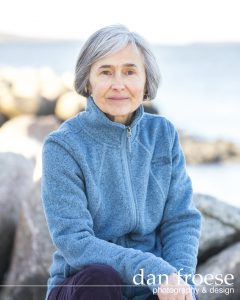 Christine Heming is a regular contributor to the Shambhala Times.  She has been a meditation instructor and teacher of the buddhadharma for over 40 years.  She was student of Chogyam Trungpa Rinpoche, and at his request moved to Nova Scotia with her family in 1982 to help establish a dharma centre in Halifax.  About 25 years ago she moved from Halifax to the Annapolis Valley and founded the Annapolis Shambhala Group.   She has completed a three-year retreat in the Kagyu Buddhist tradition.   She loves gardening, reading, and long walks on Nova Scotia's beaches. She lives with her husband, Gregory Heming, and their puppy, Norbu, on a farm in Port Royal, NS.
Post Tags:
basic goodness
,
book release
,
book reviews
,
Enlightened Society
,
social action
,
social engagement
,
social justice