Tuesday
Community Articles
What is Ulab 2020 and how might it be useful to Shambhala?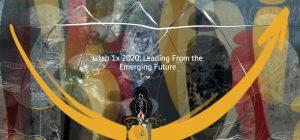 ---
By Christopher St. John
In September 2019, at the invitation of the Shambhala Process Team and the Shambhala Board, about 400 Shambhala members joined the course in social transformational leadership called u.lab: Leading From the Emerging Future.  This course is free, and is based on the work of Otto Scharmer, a visionary organizational theorist and author, most recently, of Leading from the Emerging Future: From Ego-system to Eco-system Economies.  Otto, in turn, cites many of our Shambhala teachers and leaders, including Acharya Arawana Hayashi and Francisco Varela, as important influences on his work.  Arawana co-founded The Presencing Institute and her work on embodiment and social presencing is an important component of the u.lab course (aka Theory U).
Otto Scharmer has articulated key Ulab principles. The massive disruption we are all experiencing from the pandemic offers everyone the opportunity to either close down and retreat into what in Shambhala we call "cocoon" or lean into the patterns of disruption with curiosity, compassion, and courage.
Shambhalians recognize the point that energy follows attention. Otto refers to attention as the scarcest resource in an age of many scarcities. Ulab encourages us to place our attention on the openings we see for the social future we want. Naturally we cannot create new social forms by ourselves, but must reach out to others to imagine and try new ways of being together. The pandemic reveals many things — how interconnected and interdependent we are, how we alternately yearn for human connection and run away from it, and how challenging it can be to hold our minds on what really matters, whether we are 20 or 70, meditate or not, and whether we are together on Zoom or in the same physical space.
Many have been inspired by Chogyam Trungpa's vision of "enlightened society" and Sakyong's Mipham's extraordinarily hard work to help many deepen our understanding of Shambhala vision and our heart/minds. Given my own blind spots and stubbornness, I am no longer surprised that fellow practitioners and teachers have sometimes done or said things that seem utterly "wrong" or incomprehensible from my limited perspective. It saddens me that sangha talk continues to bubble with examples of disregard for our shared expectations of right speech and action and lack of forgiveness for ourselves and others when we experience lapses.
It could be argued that deeper attention to the basic principles of Shambhala and Buddhadharma should be all we need to address the challenges of our community and the world.. But just as individual emotional health can benefit from both meditation teachings and counseling or medical interventions, so our social health may benefit both from all we have gained from our lineage teachings as well as newer "technologies" for working together.
I have found in Ulab some highly complementary and practical tools for engaging with others who share the aspiration to wake up and co-create more wakeful society. There are moments of magic on Zoom calls with both Shambhalians and non-Shambhalians. Just as with our lineage of meditation practices, I have to show up with all my blind spots and opinions and practice the patience to see and feel beyond them. I have to allow others the same space.
In one sense there is nothing new here, and it remains for us all to find our part in building the world we want within Shambhala and/or our broader communities. I and others will continue to find inspiration for the work of listening deeply to what our world needs now. We have learned over again that the muck and mire of samsara is the starting place to discover the clarity and peace that we seek.
The 2020 edition of the u.lab course begins September 8th, 2020. You can get more information and how to register for the course here. The holding space group will be hosting a zoom call on Saturday Sept.12, noon – 1:30pm  for Shambhalians to share our experiences and how we might support each other in the Ulab journey. You may register for this call here.
The holding space group also plans monthly calls for Shambhalians to discuss topics within Shambhala, practicing the tools of engagement we are learning from Theory U. On Friday September 18 at Noon-12-1:30 EDT, our guest will be Tara Templin, Shambhala Director of Care and Conduct.
The holding space group sends a newsletter with links to upcoming events and archived resources to assist our deepening understanding of what Theory U has to offer. You may get on the mailing list for the newsletter and future calls, by sending a message to [email protected] .
---
Shastri Christopher St. John is a member of Brunswick/Portland (Maine) Shambhala and of the Holding Space group, initiated by Process Team member Nancy KapLon joined by Shastri Janet Bronstein, Joan Carney, David Maynard, Steinar Sabbasen, David Takahashi, Marty Behrens, and Trevor Moo.
Post Tags:
care
,
community
,
holding space
,
process team
,
scharmer
,
shambhala
,
ulab
,
vision
,
work