Tuesday
book reviews
Jairam Ramesh's New Book Looks At The Poem That Defined The Buddha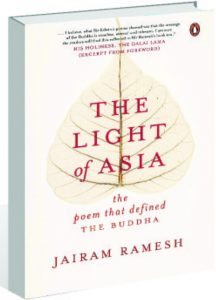 Reposted from The Tribune India by Amitabha Bhattacharya
Here is a book on a book — a biography of Edwin Arnold's portrayal, in verse, of Siddhartha Gautama's evolution as the enlightened Buddha — authored by one of India's more sensible public figures. How 'The Light of Asia' (1879) played a seminal role in popularising the Buddha and his teachings, mainly in the West, and to different countries including India, makes for a compelling narrative. Moreover, Arnold's work influenced many notable personalities — scientists and litterateurs, politicians and theosophists — all over the globe and continues to evoke interest even today. It was truly transformative in its impact.
Jairam Ramesh has woven the story around the history of Arnold's book, showing how individuals, cultures and institutions interact with each other.
Divided into four sections and subdivided into 25 chapters, this biography follows a chronological sequence, revealing in the process  the interesting life of Arnold and its inherent contradictions, and contextualising its impact in an emerging age of reason and humanism.
The Buddha preached no God, didn't believe in 'permanent, unchanging self', was against animal sacrifice and suggested the path to ameliorate human condition.
Arnold's association with India started in 1857 when he took over and served for a few years as the principal of Poona College (renamed as Deccan College later). Though an apologist for the Empire, his fascination with India and its thought systems would continue till the end. His work 'The Book of Good Counsels: From the Sanskrit of the Hitopadesa' (1861), translation of Jayadeva's 'Gita Govinda' (1875) and that of the 'Bhagvada Gita', titled 'The Song Celestial' (1885), were all well received, but none could match the appeal of 'The Light', not even 'The Light of the World' (1891) — a panegyric to Jesus Christ.
What were the reasons behind its phenomenal success? Is it because Arnold explained concepts like Nirvana in more positive terms that seemed acceptable to a wider readership? How could it influence men as different as Rudyard Kipling and Mahatma Gandhi, TS Eliot and Dharmananda Kosambi, Jawaharlal Nehru and BR Ambedkar? There have been more serious scholars on Buddhism, greater Orientalists, better poets and writers than Arnold ever was. Yet, the legacy of 'The Light', through literature, cinema, drama and painting, endures. Inspired by it, 'Buddhadeb Charit' was written and presented on the stage by Sri Ramakrishna's famous disciple Girish Chandra Ghosh (1885). The play mesmerised Calcutta, with Arnold among the viewers! Why would Arnold be reckoned so seriously across diverse cultures? The book under review, through extensive research and literature survey, seeks to fathom the underlying causes.
The reverence that Rabindranath Tagore and Swami Vivekananda had for Buddhadev is well recorded. Ramesh quotes Vivekananda: "Arnold's book … represents more of Vedantism than Buddhism." According to Ramesh, "It is clear that to him Arnold's poem was invaluable not so much as a tract on Buddhism but as a moving description of Buddha's life." The impress of Buddha's life of compassion and piety was profound on Tagore. However, Ramesh's contention that Arnold's book influenced Tagore's poem 'Bidaye' remains contestable.
The episode about transfer of ownership of the Bodh Gaya temple in 1953, in pursuance of the movement started by Arnold, Dharmapala and others, is an interesting lesson for everyone. Ashoka had built the temple which was rebuilt after 500 years. Centuries later, the legal possession of the village went to a Saivite Hindu mahant. That the dispute ended amicably, following a legislation of the Bihar Assembly, speaks volumes about the sagacity of our leaders.
This book is replete with interesting insights. For instance, should government assistance be provided for translation of religious books? In the context of a request from Mahadevi Verma, Nehru had noted, "But books like the 'Buddha Charita' or the 'Rig Veda' are classics of ancient India and can hardly be considered just religious books."
Ramesh captures the spirit and shares the flavour of Sir Arnold's poem, and tells the story in a language that is free flowing, bereft of jargon and imbued with empathy. A definitive work that would be cherished by every reader.
---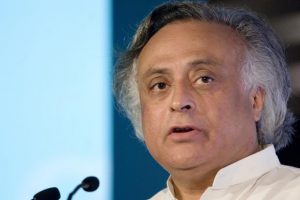 About the Author
Jariam Ramesh, a Rajya Sabha MP, was Union minister between 2006 and 2014, holding several key portfolios including environment and forests. He is the author of several well-known books including Indira Gandhi: A Life in Nature and Intertwined Lives: P.N. Haksar and Indira Gandhi. His last book, A Chequered Brilliance: The Many Lives of V.K. Krishna Menon won the Kamaladevi NIF Book Prize in 2020.
Post Tags:
book review