Thursday
Uncategorized
The Great Within – The Transformative Power and Psychology of the Spiritual Path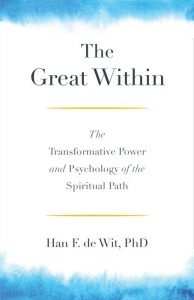 Christine Heming reviews the new book by Han F. de Wit, PhD.
Han de Wit's story has a familiar ring – the pursuit of Western psychology in the 1970's only to find it offered little to those who wanted to study and understand the mind. Fortunately for us, de Wit did not abandon psychology, but returned to his chosen field after a time of broader exploration, bringing with him the knowledge and practice of the contemplative traditions, and in particular, Buddhism.  He is credited with being the founder of what has come to be called, contemplative psychology.
If you want to know what contemplative psychology is all about and how it differs from conventional Western psychology or scientific psychology, this is your book.  It is thorough, clearly written, and well-organized.  If you are a student of Buddhism, this book is an excellent reference.  Many Buddhist teachings and principles are presented here using the language of psychology.  As such, one is exposed to another way of talking about mind and the spiritual path altogether, and this is likely to awaken a new or deeper way of understanding these teachings.  For example, it is interesting to read about the development of ego – the five skandhas – in a new light, with new language, and with a new metaphor.  Other additions to de Wit's exposition of contemplative psychology are the numerous references to commonalities with various contemplative religious traditions, philosophers, and even to writers like Marcel Proust and Leo Tolstoy.
The Great Within is divided into two sections.  The first part, entitled "Explorations," presents the view and central themes in contemplative psychology and distinguishes it from conventional or academic psychology.  Central to contemplative psychology is the notion of "inner flourishing."  This flourishing takes place deeply within our being, in the inner depths of the heart, but at the same time it manifests in how we live our daily lives.  Inner flourishing is not an abstract concept; it can be experienced, cultivated and expressed.  This, says de Wit, is the fundamental nature of our humanity, or our humaneness.
Conventional psychology with its focus on observable behavior and its use of the empirical method, does not address this inner experience.  It requires what de Wit calls "research in the first person" and it has been carried out for years within contemplative, spiritual traditions.  It is to those traditions that one must turn to understand this flourishing, its obstacles and its development.  For de Wit, the psychology contained in the spiritual traditions is "one of the greatest treasures of humanity."
The assumption of contemplative psychology is that human beings have a certain degree of freedom to shape their own minds:  they can imprison themselves within a state of mind or liberate themselves from it.  In the second part of the book, "Spiritual Practice and Development," de Wit explores the contemplative practices that support that liberation, and bring forth our inner flourishing and humaneness.
This part of the book was the most interesting to me.  De Wit answers questions about why one would seek a spiritual path, what is self-knowledge, how to view moments of openness and doubt, and the importance of a critical attitude and a health sense of distrust.
De Wit asks why people, across time and cultures, engage in practices such as prayer, offerings, ritual, meditation and contemplation; study obscure texts and practice complicated liturgies; and choose to live according to strict rules of behavior.  What kind of structures or practices have evolved to support their discipline and what ultimate benefit do they receive from these activities.
It turns out the contemplative traditions offer an enormous wealth of disciplines and methods to help us flourish.  These de Wit categorizes as disciplines of thought, mindfulness, insight, and action and speech.  Within the discipline of thought, he distinguishes the intellectual disciplines of study and reflection, and the disciplines of the imagination, which include the devotional path.  He examines each category, pointing out their contributions and limitations.  Examples are used across traditions making this a rich exploration of spiritual practice.
When I began reading The Great Within I was daunted by just how much it contained – it was literally a book with a great within!  But as I continued reading, I found within it a rich source of knowledge and understanding, new learnings, and a deep appreciation for one of the pioneers in translating the wisdom of the contemplative traditions into modern psychological language and practice.  De Wit leads you through with thought-provoking questions, offers new metaphors for understanding, connects you to the broad range of contemplative traditions, and paves a pathway to a more humane existence.  I like this book.
To hear directly from Acharya Han de Wit about his journey in founding contemplative psychology go to: https://vimeo.com/shambhalaonline/review/353133310/56b5473d4f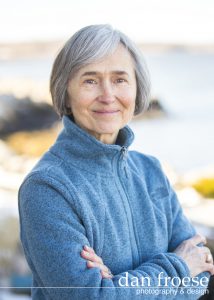 Christine Heming is a writer and educator.  She has been a student of the buddhadharma for over 45 years, and a senior teacher and meditation instructor in Shambhala.  She lives in Port Royal, Nova Scotia.
Post Tags:
Acharya
,
book review
,
book reviews
,
dharma
,
han de wit
,
psychology
,
shambhala
,
spiritual path