Tuesday
Uncategorized
Favorite Books: An Invitation to Readers of the Times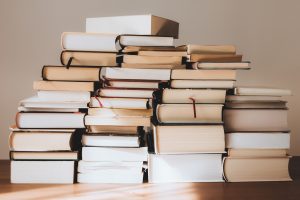 If you haven't fully embraced the digital age (like me) and enjoy holding a book in your hands, you probably have to keep scouting out more shelf space (me too).  Then there is the dilemma of how to organize the increasing treasure trove.  I'll share my method.
The premier bookcase located in my study/office holds the dharma books that I turn to repeatedly or that have been written by my teachers.  They take the top shelves.  Less often used dharma comes next, in the upper middle range.  Descending to the middle range is the most interesting lot – my non-dharma favorites.  These are books that have enlightened or inspired me, sometimes only for one line or paragraph.  In truth they are usually full of dharma though not explicitly so.  I suspect we all have these little gems on our shelves.
Looking over this middle array, I became curious about what others might have on similar shelves (even digital ones).  So, I thought, why not find out.  Here is an invitation to you, a reader of the Times, to let other readers know your non-dharma favorites – the books that have inspired, enlightened or enriched your life, recent or past.  All you need to do is write a short paragraph about the book and what makes it a favorite.  Send your favorites to [email protected] and be sure to write "My Favorite Book" in the subject line.
To get us started, here are three of my favorites.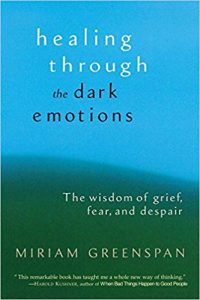 Healing Through the Dark Emotions by Miriam Greenspan
I read this book many years ago and have recommended it to others numerous times.  What comes through so clearly is that these "dark" emotions – anger, fear and despair – are normal human responses to the challenges of living.   When we embrace these emotions fully, we discover their wisdoms – clarity, bravery and gratitude.  Greenspan writes with conviction born both from her clinical training and experience, and from her own personal journey.  Numerous stories bring the wisdom in this book to light.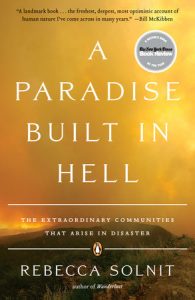 A Paradise Built in Hell by Rebecca Solnit
This book is my evidence for basic goodness.  Solnit investigates five disasters in depth and tells the stories of those who were there – ordinary people as well as those in positions of power.  It is a beautiful testament to the basic goodness that naturally arises in those times of total upheaval, hence the use of the word "paradise" in the title.  People report how the differences, that normally separate them, disappear and they work together as one humanity.  There is even evidence of immense joy springing from such communal spirit.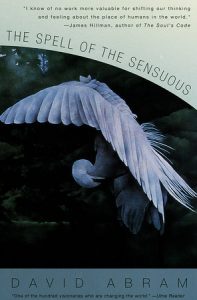 The Spell of the Sensuous:  Perception and Language in a More-Than-Human World by David Abram
Abram is a philosopher/ecologist who lived among the indigenous people of Indonesia, Nepal and the Americas.   He discovers the intelligence in non-human nature – a sentience, what we would call drala – and it changes not only his way of seeing and feeling, but also his view of the world to one that is alive, awake and aware.  There is so much more to this book to amaze and delight.  This is my go-to book on perception, drala, the elements and the relationship between language and perception.
Now it is your turn.
Christine Heming
Book Review, The Shambhala Times
Post Tags:
basic goodness
,
book review
,
book reviews
,
books
,
dharma
,
favorite
,
shambhala