Tuesday
Community Articles
Touching the Earth Collective – November 2021
Touching the Earth Collective: November 2021 Newsletter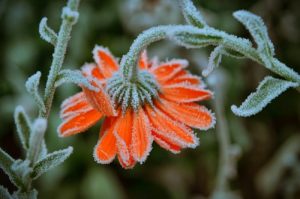 Days of Action in Halifax, Boulder, Sky Lake
and Washington DC.
HALIFAX:
by Richard Peisinger
I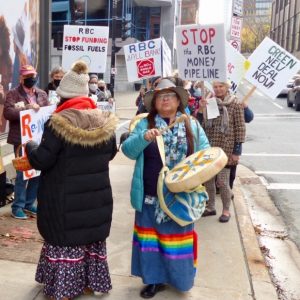 nspired by GreenFaith's October call for action by faith groups worldwide, the Halifax Shambhala Touching the Earth Collective organized an October 29th RBC Day of Action in conjunction with Leadnow, a Canadian advocacy organization.  We held our demonstration on the sidewalk in front of Royal Bank of Canada (RBC) Halifax offices on a busy downtown street. On the same day, there were over 30 actions occurring at RBC locations across Canada coast to coast.
RBC is Canada's largest bank and the 5th biggest fossil fuel development lender in the world. Since the 2016 Paris Climate Agreement, RBC has bankrolled over C$208 billion dollars in fossil loans. Further, a number of RBC financed projects have trampled indigenous sovereignty including the current Coastal Gaslink Pipeline across Wet'suwet'en lands in British Columbia and Pipeline 3 across Ojibwe and Anishinaabe territories.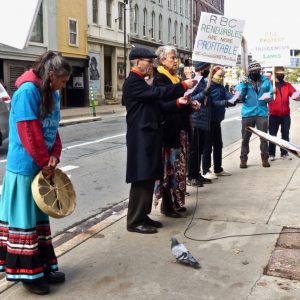 The key messages to RBC were:
1) immediately stop fossil fuel bankrolling;
2) shift their financing portfolio to renewables; and
3) honour the United Nations Declaration of the Rights of Indigenous Peoples statutes calling for the free, prior and informed consent, as has been ratified by the Government of Canada.
The downtown Halifax RBC action brought together members of the general community, the Shambhala community and Mi'kmaw grandmothers or water carriers. Together, on downtown sidewalks, we held a sacred space with tobacco offerings, song, prayer, lhasang smoke and the warrior's cry. Our protest line wound around the block, we held our placards high in confidence and cheer, and we spoke forthrightly calling for RBC (and all other fossil fuel enablers ) to wake up to protect our sacred living environment. Our event concluded with a Mi'kmaw song honouring the women earth warriors and the chanting of the One Earth Sangha aspiration prayer.
---
BOULDER:
by Emily Takahashi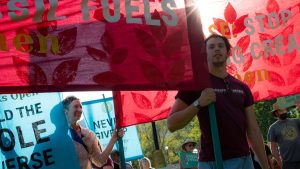 On a warm weekend in late September members of Boulder's GreenFaith Circe and friends gathered to paint banners and signs with messages from their faith traditions that addressed the urgent need for climate action and justice.  That Monday, September 27, we assembled at the Boulder Creek for a Moving Vigil, which began with a land acknowledgment and water blessing, and then proceeded along the creek path through Boulder's Central Park, past municipal buildings and into the commercial and banking district, and concluded at the Boulder County Courthouse on the Pearl Street Mall.  Along the way the community stopped at various junctures to hear words of encouragement and prayer from local ministers, sing kirtan songs, read poems, or sit in silence with Quaker Friends before Chase Bank, and ultimately finished with a lhasang of great tenderness and strength, offered by Shambhala drala caretakers,  Agness Au, Daniel Naistadt, and son David.  All along the way, the colorful banners painted the days before were held high for all to see.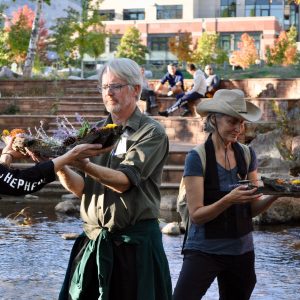 Last Sunday late afternoon, October 17, in solidarity with the global Faiths4Climate Justice movement, the community came out again, hoisted our banners and signs, and once more assembled to do our journey, this time in reverse.  We began at the County Courthouse with a land acknowledgment by David Takahashi that spanned 300 million years ago to the present, and even future generations were addressed by a local climate scientist/Zen priest, a Jewish Renewal rabbi, and led in song by a pagan minister and ecopsychologist.
This time the group spent the better part of an hour holding our banners and singing at the busy intersection of Canyon and Broadway, encountering the hundreds of folks not only buzzing about their Sunday activities, but also coming out of the mountains in droves, where no doubt they were buoyed by a day of leaf-peeping, which was still in its glory days. Horns honked in joyful solidarity and the mood of both celebration of our beautiful world and the heartbreak of its precarious fragility was evident.  Finally, we returned to the Boulder Creek site where we had opened three weeks prior, and silently, reverently assembled bark boats of flowers and candles, which were sent downstream with heartfelt prayers and closing remarks by Sherry Ellms, Naropa professor and Joanna Macy Center faculty lead.
Sign petition here: https://greenfaith.org/cop-26-multi-faith-statement/
---
SKY LAKE
by Irene Woodard
On October 17 in the Hudson Valley, we participated with 150 others in the Faiths for Climate Justice walk across the Mahicantuck River, also known as the Hudson River. When we reached the center of the Rip Van Winkle Bridge we were led by Indigenous Leader, Owl, in prayer for the waters…It was a rainy day, and a rainbow appeared…
Back at Sky Lake, we hung banners on the front of the building , that have been so enjoyed, we have been asked to keep them up for a while… we will never give up…
Click here to view our bagpipe video!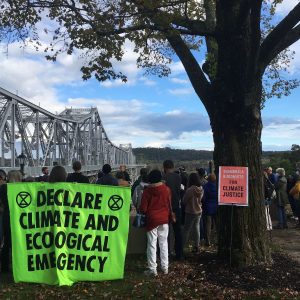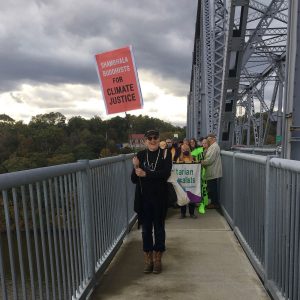 ---
WASHINGTON D.C.
Buddhist presence at the People vs Fossil Fuels actions at the White House, Oct. 11-15
by Mark Rasmuson
A delegation of approximately 160 multi-faith leaders was organized by Greenfaith to participate in the week's events, at the invitation and following the leadership of Indigenous and frontline organizers.  Of these, around 25 were Buddhists or mindfulness practitioners.  They were mainly from local sanghas we helped mobilize, including several Plum Village/Thich Nhat Hanh groups, the Insight Meditation Community of Washington, Extinction Rebellion Buddhists, as well as our own Shambhala EcoDharma group.  There were a few folks from out of town, including from a Zen sangha in Minnesota.  I was particularly appreciative that former Shambhala Acharya Adam Lobel joined us.  Adam was invited by the Greenfaith organizers to offer one of the morning prayers before the group pushed off for the march to the White House on Tuesday, and delivered a beautiful and heartfelt offering.  Later in the morning, a small group of us (Buddhists) joined Adam and other faith leaders, including an 89-year old rabbi in a wheelchair, in a demonstration in front of the White House where we were arrested for blocking the sidewalk.  It felt like the right place to be and the right thing to do.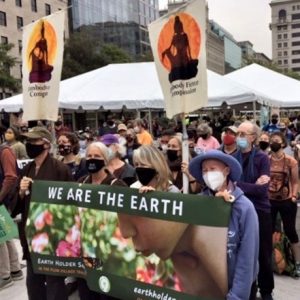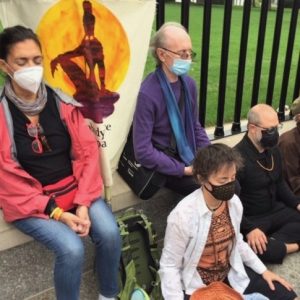 ---
Did you know you can become a Sustaining Member of the Collective
by contributing $9/month — $108/year?
Becoming a Sustaining Member of the Collective is one way
to express your support and protect the earth.
Your monthly gift of $9 will help sustain our work
and allow us to continue into the future.
All Sustaining Members will receive the Touching the Earth pin,
with the elements of earth, fire, air and water, as an expression of our thanks…
And it helps spread the word!
Click here to contribute in US $! / Or here in Canadian $ 
Sustaining Members receive donation tax receipts from Shambhala.
---
Shambhala Touching the Earth Collective
— Elemental Expression —
Every month, we offer a space for one of the Collective's members or friends
to share their work, art, or passion…
Yeachin Tsai
Joining Heaven and Earth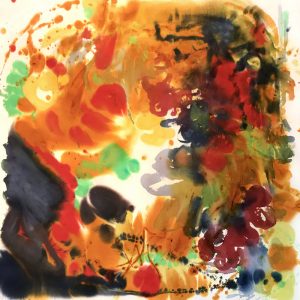 I came from a subtropical, little green island on the Pacific Ocean – Taiwan. My grandparents were farmers. I remembered when the earthquake and typhoons hit the inland, how the trees and earth shaken and crumbled… the enormous force of nature. People lived on the land; they relied on every element of nature. The relationship used to be close and intimate. My grandparents would worship local gods and communicate with them. Because they believed nature is a living being as we are, and we are indeed inseparable.
After I moved to NYC decades ago to pursue my MFA degree, living in the Big Apple, I started purchasing packaged produce and meat from the supermarket. Everything is neat and clean, but also feel very distanced. When I didn't see where everything came from, I didn't know how to relate with them or appreciate them. I lived in a box, moved from one small apartment to another. Only after I moved to upstate New York some years ago I was able to feel that I am part of nature again: the changing scenery of four seasons, heat and ice, snowy and wild winter storms… How amazing the blue sky is and how stunning the foliage colors are!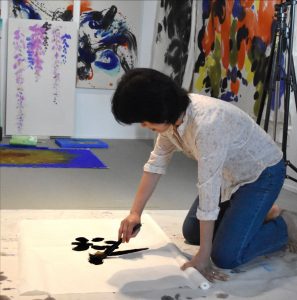 The beautiful Hudson River always has been an inspiration for artists and poets. The eternal, timeless beauty of nature is also an endless source for my art. I long to talk to nature, feel the love and the fierce force. My paintings thus have titles like "cloud," "river," "sea," "rain," "wind," "star," "bird migration" and "murmuration," etc. Nature becomes a crucial part of me. I ask myself, as a small but dignified human being who lives in between vast heaven and earth, what carries me going forward, and, what is the meaning?…
I would like to share some reflection through my artwork with you. May you enjoy the energy and joy of peace and harmony.
Yeachin received her BFA at National Taiwan Normal University and her MFA at Brooklyn College of the City University of New York. She is known for her rhythmic forms and decisive brush marks made with a certainty rooted in Chinese calligraphy, and the infinite time and space dynamics of Chinese painting
You can see more of her work at https://www.yeachintsaifineart.com/
---
"What, at this moment in history, would not be a waste of my time?"
A Reflection by Christine Heming
I have been contemplating this question for about a year now.  After spending some time feeling overwhelmed, distraught, and guilty that I wasn't doing more to help the planet, this question and the answers offered by Paul Kingsnorth turned things around for me.  The social and ecological crisis we are facing can easily overwhelm us, and there are no simple solutions.  What can one individual do?
I have been re-reading an essay in Orion by Kingsnorth titled, "Dark Ecology – Searching for truth in a post-green world."  Kingsnorth is an environmental and social activist, writer, and founder and co-editor of The Dark Mountain Journal.  Dark Ecology, written in 2012, is his critique of the failure of the green movement of the 1970s and 80s, and the co-opting of this movement by what he calls the "neo-environmentalists."  His essay is a worthwhile read.  Beyond its ecological and social importance, his deep and personal reflection on the question – "What, at this moment in history, would not be a waste of my time?"- evokes a spiritual-activism I could not ignore.
Kingsnorth arrives at five "tentative" answers to his question.  He is clear that his answers are specific to himself; others will likely arrive at different conclusions.  His context is straightforward: "If you don't like any of this [where we are going], but you know you can't stop it, where does that leave you?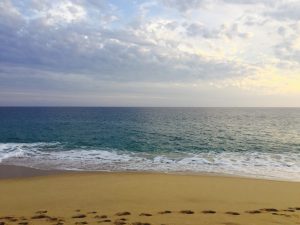 The answer is that it leaves you with an obligation to be honest about where you are in history's great cycle, and what you have the power to do and what you don't."
Here are Kingsnorth's five "tentative" answers:
One. Withdrawing.  Do this not out of defeat or burn out or escape, but "with a questing mind."  This is taking "part in a very ancient practical and spiritual tradition: withdrawing from the frey." Kingsnorth says withdrawing is a deeply moral position.  We are refusing to help the machine advance. Action, he says, is not always more effective than inaction.
As a Buddhist I can understand this quite well. We withdraw to examine our view, our assumptions, our understanding of where we are and how we got here.  As practitioners we retreat to further our path toward compassion and wisdom, to examine and overcome obstacles, to refresh and re-inspire ourselves.  Kingsnorth writes:  "All real change starts with withdrawal."  That withdrawal might take the form of a long retreat or a momentary pause in which we consciously discern the right and possible thing to do.
Two. Preserving nonhuman life.  Take a step away from our anthropocentric conditioning.  Recognize that the "human empire is the greatest threat to what remains of life on earth, and you are part of it."  Do what you can do at a practical level:  buy up some land and re-wild it; let your garden run free; work for a conservation group or set one up; put your body in the way of a bulldozer; use your skills to prevent the destruction of another wild place.  Ask yourself: "How can you create or protect a space for nonhuman nature to breathe easier; how can you give something that isn't us a chance to survive our appetites?"
My Buddhist understanding of the multiple realms of beings and the Mahayana admonition, "All beings have been our mothers," make this second action potent for me.   We are all composed of the same elements, and all ultimately pure and inseparable, all sharing equally in the web of life.
Three. Getting your hands dirty.  This is rooting ourselves in some practical work, some place, some way of doing something that grounds us.  It's doing "physical work in clean air surrounded by things you cannot control."
Our teacher, the Vidyadhara Chögyam Trungpa Rinpoche, loved encampment, living in the natural world; it must have reminded him of his homeland and the nomadic people of Tibet.  He encouraged us to…
To read the rest of this article, please click here.
---
EARTH SALON
Sunday, November 14, 2021
Noon (Atlantic time)
Find Your Roots – in the Root Cellar: All About Cold Storage with David Wimberly
Did you get a great harvest and wonder how to store it all?
Are you thinking of buying those big 50 lb. bags of carrots, potatoes, apples or other produce at the market when the price is low?
In this 90-minute webinar, you will learn almost everything you need to know about cold storing your vegetables in a root cellar
or other modified methods of cold storage at home.
Click here for more details
https://us02web.zoom.us/j/81262050347
Passcode: Sacred
---
You can also join the STEC mailing list for free and
join the ongoing conversation!
Lots of lively exchange of information and discussion!!
Simply email us at:
[email protected]
---
Please visit our website
https://shambhalaonline.org/touching-the-earth-landing-page/
Any comments regarding this newsletter content or
suggested features and/or artists can be sent to:
[email protected]
Post Tags:
newsletter
,
touching the earth collective