Monday
Community Articles
Join Touching the Earth Collective for a Global Lhasang!

Shambhala Touching the Earth Collective Global Lhasang Practice
The Shambhala Touching the Earth Collective is inviting you, your Center, or your Group to a global lhasang practice between 7:00-9:00 p.m., your local time, on September 22, 2022 – the upcoming equinox.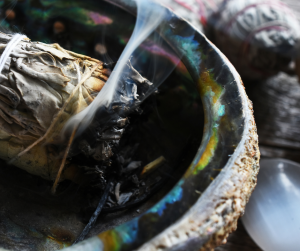 One of the most significant practices passed on to us by Chögyam Trungpa Rinpoche is lhasang – the ceremony of burning juniper to purify space and invoke the dralas, the enlightened energies of the natural world. Such cleansing rituals are shared by many cultures around the globe and take such forms as burning sage (smudging) in the Americas, "fire saining" in Celtic traditions, herbal powders in Africa, and incense in Hindu traditions. Simply offering a stick of incense can be a lhasang.
Many of us in Shambhala are familiar with the drala principle. We understand that by connecting with the dralas we can help restore the health and vitality of the natural world. The purifying smoke of the lhasang carries our aspirations upwards and, at the same time, provides for the blessings of the dralas to flow downwards. Meeting the dralas in this way also creates an opportunity to deepen our personal connection to the earth and all living things. Chögyam Trungpa Rinpoche continually encouraged us to connect with the dralas saying,
"They are longing to meet you."
Now, with the earth in extreme peril, what better time to practice a collective, global calling on the dralas.
We are envisioning a collective, global lhasang ceremony with Shambhala Centers, formal and informal Groups, and individuals performing lhasang between 7:00 -9:00 P.M. in their respective time zones. 9:03 P.M. is the actual autumnal equinox in the Northern Hemisphere, and vernal equinox in the Southern Hemisphere. This will create a continuous smoke offering that circles the earth for 24 hours.
***********************************************************************************
What you can do to participate:
– Send an email to your community letting them know that this lhasang practice will be happening on the equinox. You can use this template email or draft your own.
– Decide who will prepare and lead the lhasang at your local Center or Group or another location, such as a sangha member's home or a nearby park (keeping in mind any fire restrictions in your local area).
– Enjoy the lhasang! Take photos and email them to [email protected] so we can share them with the global Shambhala community.
– You may also want to organize a potluck dinner or some other type of social event before or after the lhasang, but this is not necessary.
– If you do not live near a Center, create your own lhasang and contact the Collective (see email below) if you desire more instruction.
Please join the worldwide Shambhala sangha for this global lhasang on the equinox and be part of a powerful collective expression of Touching the Earth's Mission Statement:
"Clearly seeing the need for an urgent response to human-caused environmental degradation Touching the Earth warriors invite individual and collective action for the rebalancing, protection and celebration of a healthy living world."
If you have comments or questions, please email: [email protected]
***********************************************************************************
Post Tags:
autumn
,
autumn equinox
,
autumnal equinox
,
Chogyam Trungpa
,
community
,
connection
,
dralas
,
earth
,
enlightened
,
equinox
,
lhasang
,
offering
,
practice
,
smoke
,
touching the earth collective