Monday
Eastern, SE Europe, Netherlands, Scene and Heard, World, other
A Progress Report
On January 21st, 2009, I wrote a letter to the Vajradhatu sangha and the Shambhala community, stating that from this time forward it is my intention to focus on the propagation of the teachings of my root guru, the Great Vidyadhara, Chogyam Trungpa, Rinpoche, and his predecessors. It has been about three months since this letter was posted on sangha-announce, and much has happened.
I am grateful for the invitations being offered by the Shambhala Times and to the Radio Free Shambhala website to report on the progress of this work.
To begin with, the Shambhala Prison Community (SPC), which is separately incorporated from Shambhala International, continues strong; and it also has been evolving rapidly. We have begun to authorize meditation instructors, and to create a path into instructorship for those doing prison work. The Shambhala Prison Community is not a non-profit organization in the conventional sense of establishing territory in its field, consolidating that territory, and expanding from its established base. We have no home office function to speak of; we spend 96% of every dollar raised on work in the field, providing service to prison inmates, correctional personnel and volunteers. We have been training case workers in the Polish prison system; last December 2008, I conducted our fourth three-day workshop outside of Warsaw for ten participants.
Our organization in Oregon has put on about 18 weekends for offenders in the Maximum Security Penitentiary, originally via Shambhala Training. This year that program is shifting its emphasis to the Four Foundations of Mindfulness and other basic Buddhist practice topics. This March, I visited prison workers the SPC trained two years ago in Amsterdam. Three of these individuals now belong to a group of four full-time staff employed by the Dutch government to provide Buddhist services to inmates; that group covers over 80% of the prisons in The Netherlands, which has one of the most progressive governmental systems in the world in the area of concern for the human development of its inmate populations.
While in Europe this winter and spring, I made several prison Dharma presentations, notably with the Amida Trust in Narbrough, United Kingdom, at a university conference for mindfulness practice in the field of psychology in Warsaw, and in France.
Most of my activity, as it has been for some years, is conducted outside the prison field – straight Dharma, unmingled with worldly dharmas, presented to meditation groups. This presentation falls generally into the two categories of cutting through spiritual materialism, and Buddha Nature, in the context of all three yanas; and the Shambhala parallels. I have just this April completed a two-month tour of nine countries, mostly in Western and Central Europe (I also presented a program in the United Arab Emirates). My activity is dividing out into three major components:
Collaborating with senior students of our lineage on Vajrayana practice and the Shambhala teaching of the Vidyadhara, and maintaining communication generally among the Vajra Sangha, who are often painfully dispersed and isolated – at least as much as I am able.
Teaching in Zen, Karma Kagyu and other centers and venues – programs and individual talks, in equal measure. This activity comprises a great part of my work. It includes relating with teachers of different lineages.
Establishing non-aligned groups, which operate under the principle of personal mentorship, rather than that of institutional process, and which follow the teachings of the Vidyadhara. There are now five of these, one in each of five countries.
This has been, without question, the most dynamic and creative period of my practice and teaching path. It is characterized by exertion, hopelessness and a tremendous sense of the need for our teaching stream in the world at large. In fact, the world is starving for what we know. My overarching feeling is that we should stop trying to sell the Dharma, and start giving it away to those who request it, for whom the karma is ripe.
Anyone wishing to know more, to collaborate or to help is welcome to write to me or call me at [email protected], or 1 303 444 0043.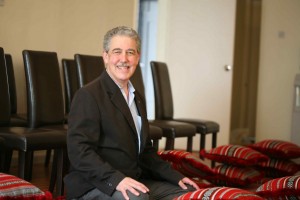 Bill Karelis has been studying and practicing the Dharma since 1972. He served as Comptroller of the Boston Dharmadhatu from 1975-1977, and as Coordinator from 1977-1983. In 1983 he moved to Boulder, where he served as Assistant Finance Director and later Finance Director of Vajradhatu and Nalanda Foundation, and sat on the Boards of both institutions from 1983-1988. He was instrumental in establishing annual fundraising in Shambhala International, and to the founding of the Shambhala Trust. In 1988 he was fired by the Vajra Regent, then the President of Vajradhatu, apparently for speaking up about certain problems that had arisen at the top levels of the organization. In 1988 Mr. Karelis began to reemphasize study and practice in his personal path, eventually joining the Core Faculty of the Ngedon School of Higher Learning, and traveling throughout the current Shambhala Centers to present the Buddhadharma and the Shambhala teachings at all levels, hundreds of weekends of each throughout the world, visiting most centers many times. He also served on the Faculty of Nitartha Institute from 1996-1998. He has led four dathuns, as many Fire Pujas, served as umdze for twelve major abhisdekas, and taught at the 1985, 1994, 1999, 2000 and 2001 Seminaries. He practices the artistic disciplines of poetry, calligraphy and photography and lives with his wife, Brigitta, in Boulder, Colorado.
All photos by by Bill Karelis, 2009.
Post Tags:
Europe
,
prison