Thursday
Community Articles, World, other
Annual Spring Retreat at Shambhalacalli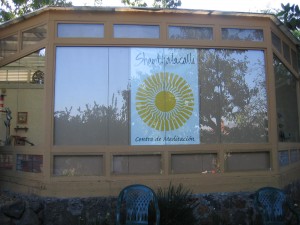 Another March in Mexico, time for Jean and I to make our way again by plane and bus from our home near Puerto Vallarta to Tepotzlan to staff another annual group retreat with Acharya Allyn Lyon at Shambhalacalli. Our friend Cecilia Amador met us at the bus station in the nearby city of Cuernavaca, where we spent the night at her beautiful house in the mountains above that city. The next day, Cecilia drove us to Shambhalacalli, only 45 minutes away. On a single acre of land with three buildings, Shambhalacalli sits only minutes away from the central plaza of Tepotzlan, a beautiful mountain city in the state of Morelos, overlooked by the imposing ruins of the pyramid of Tepotzteco. (For a further description of Tepotzlan, refer to my article on the 2008 Shambhalacalli retreat.)
We soon reunited with Acharya Allyn and several friends from the previous year's spring retreat, and were introduced to new staff and participants. In particular, Co-Director of the center, Erica Cohen, was in charge of the kitchen and dining areas, Rebeca Alvarez, Head of Practice and Study and Cathy Goode and Julian Hernandez Co-Coordinators of the Shamatha section. Jean and I were to serve as the overall coordinators for both programs.
This week retreat hosted 20 to 25 Mexican, American and Canadian participants: the Shamatha participants settling into the smaller second floor shrineroom above the kitchen and dining room, while the Ngondro and Werma Sadhana students occupied the larger shrine room building. Since our last retreat, Gary Hubiak, with direction from Eva Wong and advice from Jim Fladmark, had upgraded the main Shambhala shrine, adding new construction and a beautiful backdrop on the large glass wall.

The schedule for this retreat mirrored that of the previous year: 8 a.m.-Morning Chants all together, 8:30-Exercise (Cecilia directed Lujong practice, while John Perkins and Julian Velez commanded drill practice,) 9-10-Breakfast and clean up, 10-12:30-practice in individual tracks, 12:30-Refrigerio (refreshments), 1-2:30-practice and study in individual tracks, 2:30-Comida (lunch,) Rota jobs and rest period, 4:30-6:30-practice and study in individual tracks, 6:30-Protector and closing chants all together, 7-Supper, 8-9:30-practice and study in individual tracks. As during the previous year's retreat, cook Mati provided us a delicious variety of primarily Mexican cuisine throughout the week, including chili rellenos, verdo laga, and pescado en hoja santa.

During the morning hours, until 2:30 lunch, the whole group maintained silence, then until 6:30 supper, "functional silence" and from supper on, relaxed talking.
For study, the Shamatha students read Sakyong Mipham, Rinpoche's book, Ruling Your World, while the Ngondro/Werma students focused on the Sakyong's work, Adhisthana. Acharya Allyn was very active throughout, giving a talk each day to both the Shamatha and Ngondro/Werma sections. I was involved in both sections so I could hear every talk. These were very inspiring because of Allyn's insight and skill in presenting the dharma in accordance with the students' experience.
During the full moon, the entire group performed the Sadhana of Mahamudra, always amazing because no one is excluded from being exposed to such a powerful and advanced teaching. The retreat ended with a traditional Werma Feast for the Ngondro/Werma students, and later we all celebrated with a garden cocktail party and banquet.
Jean and I stayed on for an extra day after the retreat to join Acharya Allyn, Erica and Cecilia on a "pilgrimage" with cook Mati to the pyramid ruins of Tepotzteco. Within sight of the pyramid, we discovered a tree in the shape of a dogface, which we all took to be one of the protectors of the pyramid. We had brought with us tequila, incense and tobacco, which we offered to that protector and Tepotzteco, thanking them for another successful retreat at Shambhalcalli.
Brus and Jean Westby live in Bucerias, Mexico, for much of each year, and were recently invited by Acharya Allyn Lyon to help staff a week's long practice retreat at Shambhalacalli in Tepotzlan, a mountain town near Cuernavaca in the state of Morelos.
Post Tags:
Mexico
,
Shambhalacalli