Monday
International Programs, World, other
Shambhalacalli in Tepotzlan
Written for the Dot
For a Spanish translation of this article, click here.
Brus and Jean Westby live in Bucerias, Mexico, for much of each year, and were recently invited by Acharya Allyn Lyon to help staff a week-long practice retreat at Shambhalacalli in Tepotzlan, a mountain town near Cuernavaca in the state of Morelos.
After an hour flight from Puerto Vallarta to Toluca, a longer taxi ride to the southern Mexico City station of Tasquena, and a short bus ride to Tepotzlan, Jean and I arrived at the practice center Shambhalacalli (calli means "house" in the local Nahuatl dialect,) where Acharya Allyn Lyon has her home  during part of the year.
Sitting on approximately an acre of land, several buildings surround a newly tiled courtyard: a shrineroom building, the teacher's apartment, the kitchen/dormitory/shrineroom building and a storage building. We immediately found our friend, Cecilia Amador, in the shrineroom building busily working to prepare for the next day's arrival of the participants and other staff members. Cecilia introduced us to the program's co-coordinators, Luis Alonzo Vasquez and Citlalli Pena, and to Jaime Velez and Salvadore Espinoza, who were teetering on ladders positioning lights.
We were immediately struck by the beauty of the shrineroom. Large enough to comfortably seat 40 practitioners, the shrine itself, with the Primordial Rigden in the central position, was simple and elegant, positioned against a wall of glass looking out to the garden area.  Cecilia brought us to reunite with Allyn in her one-bedroom apartment. We had a nice chat for a while and, as it was getting late, we then returned to our oversized room in the Posada Sarita, our hotel located just five minutes from the center.
The next day, we took advantage of a free morning to tour the central plaza area of Tepotzlan. This is a city built on a volcanic hillside and surrounded by magnificent cliffs. It's most famous landmark is the ancient pyramid of the Tepozteco Indians, both a sacred pilgrimage site and tourist attraction. As this was the beginning of Semana Santa, or Holy Week, the central plaza was crowded with makeshift shops offering a variety of items from carpets to jewelry to the largest and most colorful fruit and vegetables we had seen in Mexico.
We toured the central church, La Iglesia de Nuestra Senora de la Navidad, built in the 16th century by the Dominicans, with an attached convent that housed Emperor Maximilian's French troops during the 19th century.  That morning and the other few short opportunities we had to explore Tepotzlan were not long enough to fully enjoy the beauty of this magical pueblo.
We returned in the afternoon to Shambhalacalli to find that a number of participants had already arrived and registered with the program bursar, Gaby Cordova. By five p.m., the program began with a welcome talk by Allyn and evening practice. We had divided ourselves up into two tracks, one doing lojong practices in a small, lovely shrineroom above the kitchen, while the other doing Shambhala and Kagyu ngondro practices in the larger shrineroom.
Approximately 25 people attended during the week, divided more or less evenly between the two practice tracks, with some people leaving and joining throughout. Perhaps 20 of the participants were Mexican from Tepotzlan, nearby Cuernavaca and Mexico City, so Spanish was obviously the prevailing language. As an American wanting to practice my language skills, I was determined to recite the chants and subsequent sadhanas in Spanish, a project both challenging and inspiring.
Over the course of the week, we kept to a daily schedule as follows:
8 a.m. morning chants all together
8:30 exercise (lujong, chi gong, tai chi, and salsa, a dance of movements benefiting all the vital organs
9-10 breakfast and clean up
10-12:30 practice in individual tracks
12:30 refrigerio (refreshments)
1-2:30 practice and study in individual tracks
2:30 lunch, rota jobs and rest period
4:30-6:30 practice and study in individual tracks
6:30 protector and closing chants all together
7:00 supper
8-9:30 practice and study in individual tracks
We all looked forward to our four daily repasts, as the kitchen coordinator, Erica Cohen and cook, Mati, provided us a delicious variety of primarily Mexican cuisine throughout the week.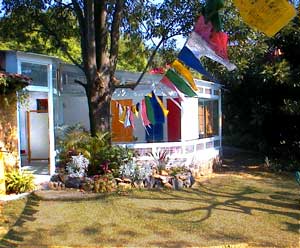 During the morning hours, until 2:30 lunch, the whole group maintained silence; after lunch and until 6:30 dinner, "functional silence" was observed and from supper on, relaxed talking. Although we were for the most part silent, Tepotzlan outside our walls certainly wasn't. The usual daily hawkers from vegetables to honey, garbage trucks, car stereos blaring played second fiddle this week to the massive explosions of cuetes – fireworks – marking the celebrations of the various barrios – neighborhoods – for Semana Santa.
One evening, we were even treated to our own barrio's fireworks display. So our days were full of profound silence and tooth-rattling noise.
In our lojong track, Jean, Rebecca Alvarez and I gave meditation instruction regularly and ran discussion groups, alternating Spanish and English. Acharya Allyn gave us a daily talk on the lojong slogans of Atisha. In the ngondro track, Allyn taught on a commentary of the seven-line supplication to Padmasambhava. Carlos Abusaid served as translator for the lojong track (as well as leading daily Shambhala Yoga exercises each day) while Lourdes Alvarez, a founder and present co-director of Shambhalacalli along with Yolanda Corona, served as the ngondro track translator.
We discovered that although Allyn's spoken Spanish is limited, she certainly understands much of it, often correcting the translation in her lojong talks. She also has an intrinsic love and understanding of the culture of her adopted country. I personally found her talks on the slogans very informative, insightful and filled with humorous anecdotes.
On a full moon night, we all practiced the Sadhana of Mahamudra. On two other nights we did the Werma sadhana feast and, for those who had completed Warrior Assembly, the Padmasambhava feast. Each of these occasions served to increase our individual discipline and bring our whole group closer together in friendship.
Needless to say, our Semana Santa group retreat was a big success, due in major part to the consideration and good humor of the hosts and guests of Shambhalacalli. On the final morning, Allyn gave an inspiring farewell talk. We then gave her a fun teacher's gift of a lounge chair so she could enjoy the gardens. We ended our remarkable week with a tequila toast! As we said our goodbyes and Cecilia drove us to the bus station, we felt as though we had truly found a dharma home in Mexico.
Post Tags:
Acharya
,
Allyn Lyon
,
Mexico
,
Shambhalacalli