Tuesday
Dharma Teachings
Divine Lady of Gathering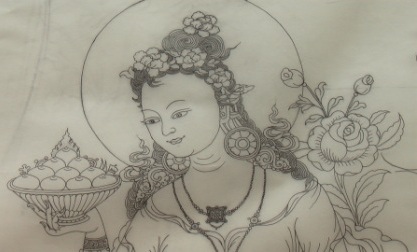 By President Richard Reoch
Among the many initiatives the Sakyong has undertaken to manifest Shambhala Vision, is the commissioning of the Rigden Lineage thangka. It is currently being painted at the Shambhala Art School in northern India by a team of artists under the direction of the master thangka painter, Noedup Roengae.
Toward the centre of the huge canvas is the great Queen Natsok Yum, seated in the retinue of King Dawa Sangpo, who supplicated the Buddha for the teachings on enlightened society. Queen Natsok Yum is known as the divine lady of gathering, and she is depicted holding a flower that represents "the peace that binds the kingdom of Shambhala." This is the peace we contemplate when we come together to celebrate the Harvest of Peace.
We each have our own way of understanding and experiencing what this peace might be, which is often expressed as an aspiration. Perhaps Natsok Yum's presence in the thangka could be a hint at the fruition of Trungpa Rinpoche's inspiring and profound heart-slogan Victory over War — the peace of egolessness and the final dissolution of the last vestiges of arrogance and aggression in our collective being.
Post Tags:
Peace is the Answer
,
Richard Reoch