Thursday
Dharma Teachings
The Birth of King Gesar's Qualities
To harvest peace, we contemplate the enlightened qualities required to benefit a world torn asunder by violence and greed. In the Tibetan tradition this is brought to life in the story of the birth of King Gesar of Ling, the famed hero-warrior who overcame obstacles that were preventing the dharma from flourishing. While in New York City in June 2006, His Eminence Namkha Drimed Rinpoche told many tales of Gesar. This is a retelling of one of them.
We are being urged by Sakyong Mipham Rinpoche to look at how we — in our lives as individuals and as part of a community — can bring benefit to all beings. The story of Gesar's birth outlines how the capacities and uncompromising methods for peace gathered together to form the being who would appear in our world as Gesar. Gesar continually expressed compassion, wisdom, power, and skillful means. His Eminence pinpoints the actual birth of Gesar of Ling as occurring in the year of the Earth Tiger, 1038 A.D. in Do Kham, which is in Eastern Tibet. The tale begins long before the birth of the Hero, and explains the outer, inner, and profound reasons for the violence that needed to be quelled.
____________________________
King Trisong Detson of Tibet was an emanation of Manjushri, the boddhisattva of wisdom. He had many obstacles to his longevity. For instance, among his ministers there were some with genuine love for dharma and some who wished to see dharma destroyed. So while the king was committed to benefitting beings in the future, his enlightened activity was not completed before his death.
His grandson, Langdarma, was an emanation of Mara, who is a demon. Langdarma became the King, but was against the teachings of the Buddha and as a result, he created a terrorizing regime of fear and torture.
At this time Avalokiteshvara, the supreme boddhisattva of compassion, saw that many maras – or demons — had appeared in the world who were obstructing and even destroying the teachings of the Buddha. Avalokiteshvara could not endure the extent of the suffering this caused and called on Amitabha, the great buddha of compassion, and asked, "What kind of activity should I engage in?"
Amitabha told him to ask the same question of Guru Rinpoche, Padmasambhava. In response, Padmasambhava summoned Avalokiteshvara, Manjusri, Vajrapani, and Amitabha to the Pure Land called DewaChen. Knowing that King Trisang Detsen had taken rebirth in another realm, these powerful beings supplicated him to take human form once again in order to complete his enlightened activity. Upon hearing the needs of the world, his compassion was great and he agreed.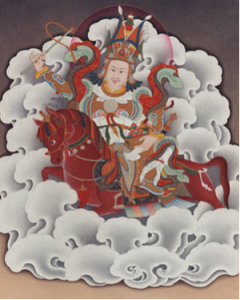 His speech was blessed with wisdom by Manjushri. His body was blessed with compassion by Avalokiteshvara. His mind was blessed with courage by Vajrapani, and his activities were empowered by Padmasambhava. As a result, his whole being was a synthesis of these awakened qualities of the three times. His mission was to tame those who could not be tamed by conventional means alone.
He would take birth as Gesar of Ling, the great warrior king. White Tara would take birth and become his first wife and Green Tara would become his second. Hyagriva, the great protector who destroys the afflictions of ignorance, greed, and hatred, would become his horse. His ministers and court would be emanations of Werma, which are enlightened dralas.
In this way, the birth of Gesar, the Great Warrior King who would bring peace into the world, was set in motion.
____________________________
If you are reading this story to your children, you might list with them all the qualities they think they would need in order to bring peace to themselves, their family, friends, and the entire world. They could create characters from these qualities and choose kings and queens, ministers, advisors, helpers, friends and even animal protectors. In this way, they can engage in creating their own story of peace.
Post Tags:
Gesar
,
Namkha Drimed
,
Peace is the Answer