Saturday
Sakyong and Family, Shambhala News Service
Earthquake Message from Sakyong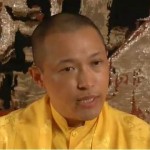 The Sakyong, Jamgon Mipham Rinpoche, has written a letter to the Shambhala community from his retreat in Nepal.
Pharping, Nepal
April, 2010

To My Dear Shambhala Community,

I am devastated to hear the news of the earthquake that has struck the
Jyekundo area. This part of Tibet is our ancestral homeland; it is in this
region that the Dorje Dradul meditated and studied. I myself have spent time
in Jyekundo and the surrounding areas. The area is extremely beautiful, and
it has become a cultural and economic center in Eastern Tibet. Tibet has
gone through many difficult times recently; however, the people have a
tenacious spirit, and their fervent belief in the Buddhadharma has provided
them solace and strength.

I am moved that you have decided to gather and practice and pray for the
victims. Needless to say, the reconstruction of an already poor area will be
a massive undertaking. This will not only take the support of China, but
also international relief. In this light, I'm happy that Shambhala has
contributed to this effort. Please recollect the preciousness of life, and
remember as Shambhalians not to be overwhelmed but to be brave.

I send you love, warmth, and blessings from my retreat,

The Sakyong, Jampal Trinley Dradul

Donations may be made to Konchok Foundation for earthquake relief.

European donations may be made to the Gesar Fund.
Please mention "Earthquake".
ING bank # 4391534
Stichting Gesar Fund
Mollenakker 2, 3994 GC Houten
IBAN: NL79INGB0004391534
BIC: INGBNL2A
Read more news and updates on the earthquake.
Post Tags:
earthquake
,
Sakyong Mipham