Friday
Dharma Teachings
Cultivating Genuine Dialogue
This is the first in a series of articles by senior Shambhala teachers invited to share their personal impressions of the Way of Shambhala curriculum. Thanks to Jim Northcote of Kootenay Shambhala Centre for creating this series.
By Susan Chapman
In the fall of 2008, when I first moved to Vancouver, I started a Monday night dharma study group that focused on the experience of dialogue. Although I formed this group in response to a request to offer a program for beginning meditators, it was also a way of meeting my own need for a sense of community after having lived at Gampo Abbey for the previous seven years. When I lived in Boulder in the early 80's I loved the delek system that the Druk Sakyong created, groups of about 25 people who got to know and care for one another through conversations about the dharma. So I gravitate towards these kinds of situations.
Last year, in 2009, we launched the Way of Shambhala in Vancouver and I was delighted to realize that this format encouraged the kind of dialogue I'd come to appreciate so much. When we create the conditions for people to turn towards each other and genuinely share their experience of the teachings, a special kind of group lungta is raised. David Bohm, the quantum physicist who also worked with Krishnamurti to explore transformational communication, describes this. He says that when the conditions are right, we can experience "a stream of meaning that flows among, through us and between us."
If we want to create a space that welcomes the soul, we must speak our own truth to the center of the circle and listen receptively as others speak theirs. We must also respond to what others say in ways that extend the welcome, something that rarely happens in daily life.

―Parker Palmer
According to Bohm, genuine dialogue can occur even when we're alone. In Way of Shambhala we accomplish this by introducing contemplation as well as short dyad exercises. In Bohm's view, dialogue is not the same thing as a discussion. I think most participants in Way of Shambhala would agree. The experience of dialogue is more than educational, it is transformative. It can moves us beyond knowing into the wisdom of not knowing.
Bohm echoes the teachings of our lineage by noting that genuine dialogue requires that each person suspend assumptions (opinions and fixed ideas). The path of the Way of Shambhala, like the Shambhala Training levels, is masterfully crafted to cultivate prajna through direct experience while by passing the trap of finding ground in a 'dry understanding' of the dharma.
As Sakyong Mipham Rinpoche says, the transformation we're looking for is to let go of "me" and discover "we." Genuine dialogue builds community by bringing individuals through stages of sameness of intention, accommodating difference in understandings. This opens the door to understanding the teachings of fearlessness and compassion. It reminds me of one of my favorite teachings from the Druk Sakyong on the topic of communication:
It takes a long time to take our fences down. The first step is to learn to love ourselves, make friends with ourselves, not torture ourselves any more. And the second step is to communicate to people, to establish a relationship and gradually help them. It takes a long time and a long process of disciplined patience.

If we learn to not make a nuisance of ourselves and then to open ourselves to other people, then we are ready for the third stage—selfless help.

―Chogyam Trungpa, The Myth of Freedom
Last night, after nearly two years, the Monday night group ended with a potluck celebration and mutual expressions of joy, love and gratitude. It isn't over, really. Soon this group will transform into the Meditation in Everyday Life class and the path of warriorship will unfold for them. I can't wait to see this happen.
_______________________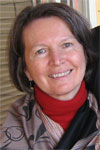 Susan Chapman was empowered as a Shastri by Sakyong Mipham Rinpoche in July. To learn more about her, go to Susan Chapman: Our New Shastri in Vancouver! on the Vancouver Shambhala Centre's blog.
Excerpted from: Kootenay Shambhala Blog
Read other articles in Senior Teachers of the Way of Shambhala series.
Post Tags:
communication
,
senior teachers on Way of Shambhala
,
Susan Chapman
,
Way of Shambhala