Saturday
Dharma Teachings
Wisdom in Times of Transition
This is the third in a series of articles by senior Shambhala teachers invited to share their personal impressions of the Way of Shambhala curriculum. Thanks to Jim Northcote of Kootenay Shambhala Centre for creating this series.
By Rebecca Hazell
We are in a time of transition as a community, a transition that is set in a vast context. Our earth and its inhabitants are more bound together than in any other time in history, yet all are at great risk from environmental degradation and from extreme ideas. The Way of Shambhala was designed to address both our sangha's needs and those of our world at large, including the earth itself.
Sounds overwhelming? Not really! It is still and always will be a path of opening our hearts while sharpening our intellects, just as the Buddha taught us to do.
The Shambhala terma and the teachings that unfold from them are meant for our times. They are a unique gift given to us by the Dorje Dradul, Chogyam Trungpa Rinpoche, based on bodhisattva activity in the world. Their profundity and vastness have inspired other great Tibetan teachers to request them. Now Sakyong Mipham Rinpoche has given us a complete path that beautifully aligns these terma teachings and with the teachings of the Buddha. The Way of Shambhala is therefore a union of ancient wisdom and the cutting edge of the new.
The Way of Shambhala unifies our community's vision and practices–from basic shamatha, through Warrior Assembly and Seminary, and into the vajrayana practices of the Shambhala, Kagyu and Nyingma lineages. By integrating the Buddha's wisdom with the earthy and lofty teachings of Shambhala, both are strengthened and deepened. Their resonance with each other is made clear, and how to apply their wisdom is made practical.
Students who follow this path are empowered to go into their daily lives with specific skills, most importantly the power of listening and responding with gentleness and accuracy. So many people feel unheard and isolated. They are desperate for some kind of connection–with others, with ideas, with their favorite TV show. During Shambhala Trainings and the weekly classes that make up the Way of Shambhala, students learn how to hear and thereby connect both to themselves and to each other. To cultivate deep listening, the Way of Shambhala uses methods drawn from traditional meditation and contemplation exercises as well as from successful leadership trainings.
The difference from conventional leadership trainings is that the spiritual nature of listening and responding is front and center. As the Sakyong puts it, we can listen each other into our innate wisdom. This ability to listen to our world, wherever we go, and then to respond accurately and with heart, is powerful. It provides a way to go beyond extreme ideas and to let others realize their own wisdom. It's an act of profound trust and vulnerability, since it would be easier to tell people or even be told ourselves what to think. This kind of listening, just like shamatha, goes beyond thinking into being present and genuine. It encourages us to be artful in our communication with ourselves and our world. To go through the entire Way of Shambhala, either as a newcomer or an "old dog" is to discover and rediscover our wisdom and good heart.
_______________________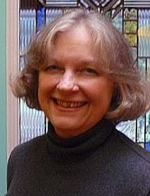 Rebecca Hazzell became a student of Chogyam Trungpa Rinpoche in 1973 and is now a student of Sakyong Mipham Rinpoche. Over the years she has served in a variety of Shambhala senior administrative and teaching roles. She is an author/illustrator of award-winning books, all of which are based on the Shambhala princilples of fearlessness, gentleness and insight. Read more on the Victoria Shambhala Centre's Our Lineage page.
Excerpted (and edited) from: Kootenay Shambhala Blog
Read other articles in Senior Teachers of the Way of Shambhala series.
Post Tags:
Rebecca Hazell
,
senior teachers on Way of Shambhala
,
Way of Shambhala