Sunday
Dharma Teachings, Featured Stories
Rainbow of Confidence in Boulder
By Jennifer Holder
With many blessings and the help of participants, I was able to capture photos of Saturday evening's stunning moment on my iPhone and report it to the mandala this morning. Click on the photos to see them more clearly and in a larger size.
Last night, gently and with penetrating relaxation, Kalapa Acharya Adam Lobel delivered an evening talk to illuminate program participant's experience of Rigden: Unconditional Confidence in Boulder's third floor shrine room.
He finished speaking and sat among the brave, pioneering graduates of the new Way of Shambhala curriculum. On a large screen to the right of a Rigden Shrine, newly-created along the southern wall, we contemplated the menu for the movie Realizing Confidence: The Making of the Primordial Rigden Thangka. With the AV team unsure where to click to enter the movie, Greg Smith — Shambhala thangka painter and a permanent neighbor of the Great Stupa of Dharmakaya — suggested they click on the transparent Ashe that was surrounded by swirling clouds. His painterly mind must have read the inspiration of Cynthia Moku, who worked with Sakyong Mipham closely to create the Primordial Rigden image that now graces our shrine rooms across the world with a powerful teaching presence.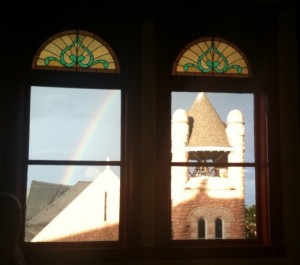 As the movie began to draw us in, Acharya Lobel announced that a rainbow had appeared in the window to the left of the Rigden shrine. Participants shuffled to peak at it, gasping somewhat, though quickly returning to view the rest of the movie. Having respectfully waited until the credits rolled and the last name crossed the screen, everyone dashed to the windows. What we discovered was a fully-arched rainbow in the southeast, that stretched from the steeple of the Methodist Church to embrace the entire city of Boulder in vivid display.
Post Tags:
Freshness of Rainbow Wisdom
,
Kalapa Acharya Adam Lobel
,
Way of Shambhala