Friday
Featured Stories
Earth Gathering at Windhorse Farm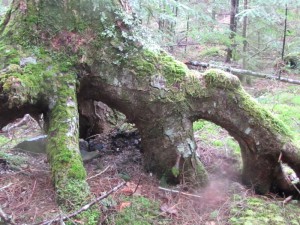 By David Wimberly
It is always Earth Day in Shambhala as surely as the Sun of Shambhala is always rising. The dharma regards the earth as sacred and values all living beings. This is remarkably enhanced in Shambhala with our vision to create enlightened society. Protecting the Earth is fundamental to good human society on the planet. A vibrantly healthy natural world is essential to upholding our lineage; both the lineage of our teachings and the lineage of life itself.
To more deeply explore the connection between nature and the Shambhala teachings, and to further rouse our community for ecological engagement, an Earth Gathering was convened this April during the auspicious full moon at Windhorse Farm in Nova Scotia. I found the gathering a wonderfully rich and fulfilling experience. I am still beaming–filled with appreciation for the ecological profundity of the Shambhala teachings and for the community traversing this path.
When human beings lose their connection to nature, to heaven and earth, then they do not know how to nurture their environment or how to rule their world… healing our society goes hand in hand with healing our personal, elemental connection with the phenomenal world.

– Chogyam Trungpa Rinpoche
The Earth Gathering was convened by Kalapa Acharya Adam Lobel, who led the process with daring and insight and evoked leadership in the warriors gathered at Windhorse Farm. Everyone at the gathering had dedicated their lives to Shambhala study and practice as well as to helping the earth and all beings through environmental action. The thirteen participants were senior representatives of the Touching the Earth Working Group as well as key leaders and teachers in Shambhala society, including Ashe Acharya John Rockwell; Marty Janowitz, an environmental consultant and former Warrior General of Shambhala; and Sherry Ellms, a core member of the Environmental Studies department at Naropa University.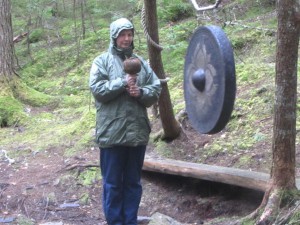 We performed numerous practices outdoors, beginning and ending with lhasang at the powerful Kami Shrine beside a mossy brook. We delighted in the sustainable living at Windhorse Farm and took long drala walks in the surrounding forests and fields. Ancient trees and gentle moss; singing birds and circling eagles; swelling rivers and rushing streams; moon, sun, stars and rain–we drank in the richness of the phenomenal world, so alive, and experienced the blessings of the lineage.
In Deep Woods

I rest against a moss-covered rock-bench before dawn.
It reminds me of a lime velour banquette in a cheap hotel.
Before me lies a dense lattice of untidy trunks and
Branches withered by striving, dark and dumb;
Above, the green canopy awaits the sun.

Hidden codes impel this arbor up,
No eye, no ear, not feeling. All
Elbow and jostle for a portion of bright sky; and as
Greenland's icy mantle melts, our little brook prattles on.
But soon this forest shall be gone, gone, completely gone.

Star-swept sky, cure our knowing, for
Such sadness cannot be well-borne by us.
You, your head-pennants catching the rising sun, beaten
Silver helm and crystal mail shining, riding a snowy mare,
Wielding the pure spear, bearing the perfect sphere!

Unknowable heart of the senses, Earth's secret soul:
Cleanse our despair, heal us, show our being whole.

Dan Hessey
Windhorse Farm
April 18, 2011
Much of the power of our experience came about due to Windhorse Farm itself, which is an amazing treasure. Early students of Chogyam Trungpa, Jim and Margaret Drescher have created fertile ground for sacred world at Windhorse Farm by engaging in a sustainable life of land stewardship–a model for Nova Scotian forestry practices and a living embodiment of the Shambhala earth teachings. And they share and teach sustainability principles brilliantly with immense love and compassion. Every instant there opens my heart.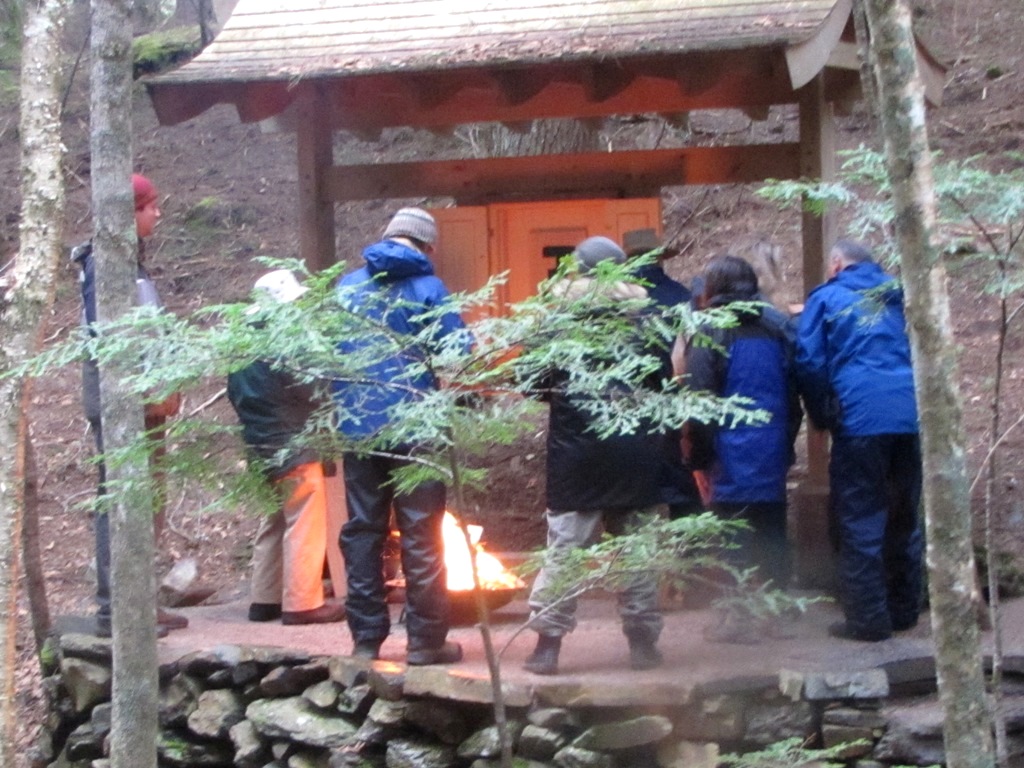 To further invoke inspiration from the earth, we each spent a solo overnight, practicing and sleeping on the bed of the forest. The full moon kept us company, and the chill woke us up repeatedly to return to our practice and supplication. There were record low temperatures (a bit below freezing) for the night, yet every warrior braved the course. None of us had tent or made fires so that we could better remain open with our hearts and extend our minds into the forest. It was heartbreakingly beautiful and rewarding, and very vivid, including my popsicle toes.
Building from that experience, we began a group process to evoke the earth's wisdom towards how we, as Shambhalians, can best be of help to our world. How our hearts long for this! And yes, it seemed that the wisdom and blessings of the lineage and of the earth answered.
One result is a vision statement that is still in process but can be shared:

Building environmentally awakened society arises from authentic confidence
in unconditioned goodness, in community with all living beings.
The Shambhala approach to ecology is to actualize sacred world on the spot.
We are still exploring the results of the Earth Gathering. It seems a gate has been opened, and our collective path in Shambhala will extend further in ways that can be of great benefit to all. That path can be full of joy as we manifest the vision of enlightened society and actualize sacred world, living in the challenge.
—————-
At the Kalapa Governance Gathering in Halifax, we will commemorate Earth Day by incorporating it into our entire day, acknowledging Earth Protection as integral to proper governance and life. From start to finish we will dedicate the merit of the day to the living Earth. With President Reoch presiding, Tim Walker and I will offer a golden tree to our shrine. Tim will lead a guided meditation, and I will offer a few words inspired by the Earth Gathering about view. At the start of each session of the day, we will have another guided Earth contemplation led by a senior teacher, and President Reoch will close the day in similar fashion. I am delighted to have ecological sustainability as a core value of Shambhala governance.
Please tell us how you celebrated Earth Day in a Shambhala way.
And how do you help the earth in other ways, on other days? Write a comment below or submit an article to [email protected] We would love to hear your voice!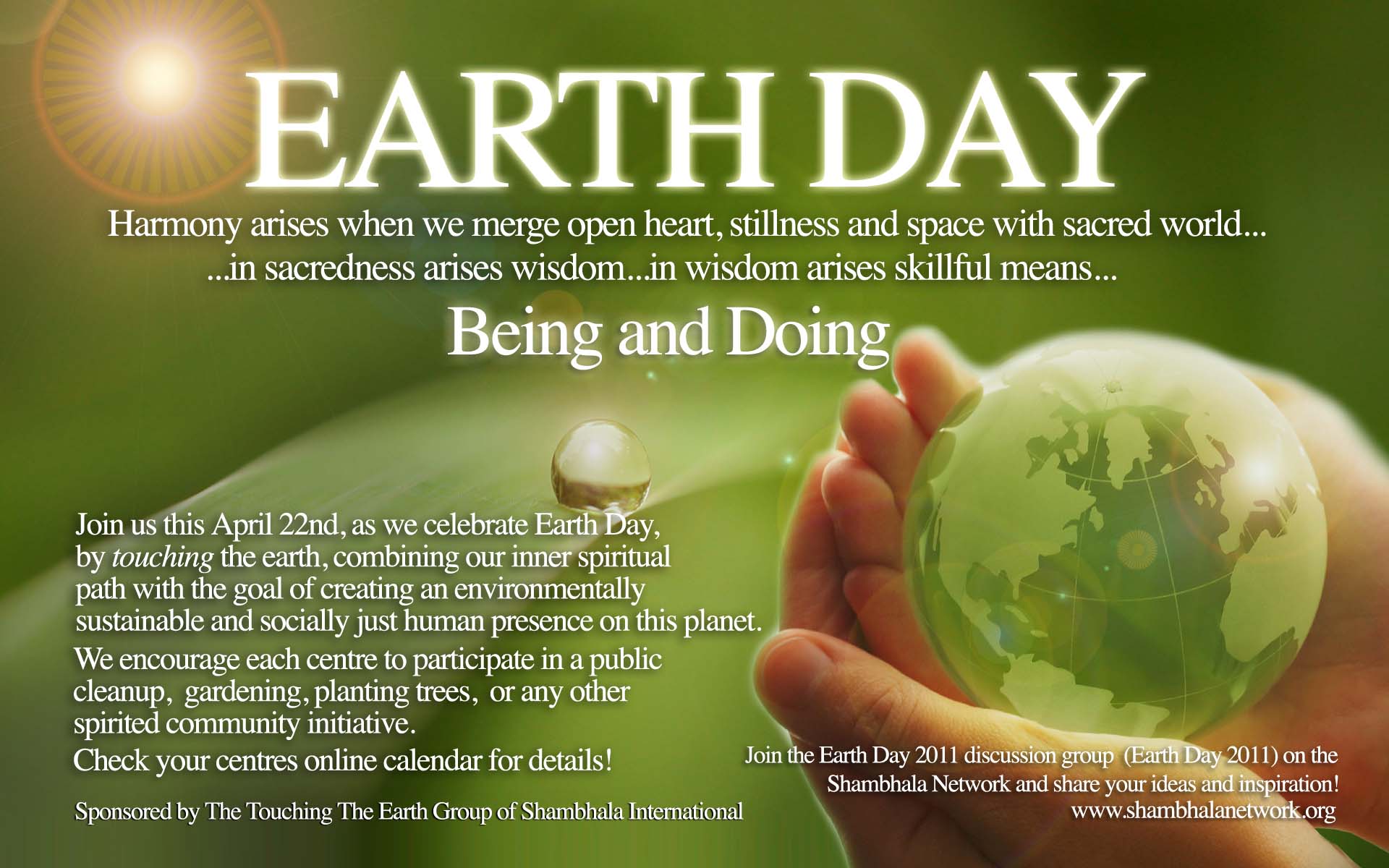 The Touching the Earth Working Group arose from the heartfelt need of Shambhallians to help the communities of life. It is increasingly clear that the ecology of the entire earth is deeply suffering from the worsening climate change and other environmental ravages from human materialism. Many cultures are vanishing, destroyed by a struggle that leaves even the victors hollow. Yet we in Shambhala have teachings and practices for creating awakened society in deep harmony with all beings. And we can have a delightful and fulfilling life doing it.

David Wimberly has been a student of the Sakyongs since 1975, having the great good fortune to find such a rich lineage of Earth Protection. He has been active in numerous environmental campaigns; most notably he was pivotal in helping Nova Scotia become world leader in diverting waste to resource, focusing on composting. He serves as a founding member of the Touching the Earth Working Group.
Photos by Jim Tolstrup.
Post Tags:
Earth Day
,
Earth Gathering
,
Proctecting the Earth and Trees
,
Protecting the Earth