Tuesday
Featured Stories
Touching the Earth and Being Mindfully Green
By David Delcourt, Guest Editor and member of the Shambhala Touching the Earth working group
In 1970, the same year the Vidyadhara, Chogyam Trungpa Rinpoche moved the North America, Wisconsin Senator Gaylord Nelson established a national teach-in, henceforth known as Earth Day. Meant as a day of environmental observance, Earth Day has since flourished, marking the beginning of the modern environmental movement.
It came as no surprise to me to hear from early students of Trungpa Rinpoche that environmental and social activism were factors contributing to their desire for meditation and teachings. As David Wimberly reveals in A History of Sustainability in Shambhala, Trungpa Rinpoche's, and now Sakyong Mipham Rinpoche's teachings have inspired Sangha-wide respect, appreciation, and loving kindness toward the earth. It was in this light that in 2007 the third Shambhala congress created the Touching the Earth working group, which continues working to pave a road forward for Mandala-wide sustainability. Only two days ago, the Sakyong released Protecting the Earth, a call to contemplation and action on climate change.
"When human beings lose their connection to nature, to heaven and earth, then they do not know how to nurture their environment or how to rule their world… healing our society goes hand in hand with healing our personal, elemental connection with the phenomenal world."

– Choygam Trungpa Rinpoche
The Shambhala path emphasizes basic goodness, fearlessness, and courage – engaging with our world through meditation, wisdom, and compassion. The Shambhala warrior goes beyond bodhisattva activity for benefiting all sentient beings, also seeing the importance of a sustainable, natural environment that supports each of us. Sakyong Mipham Rinpoche wonderfully describes the path:
"The teachings of Shambhala are about king's view, how we rule our world and help others by tapping into the power, magic and brilliance that exist in the cosmic mirror, the natural elements, and the human domain. As Shambhala warriors, we become sane, courageous individuals living in the world, always seeing and proclaiming the Great Eastern Sun." [Click here to read the entire talk.]
In these dark times, suffering is not only human. Remarkable leaders such as Gesar, Warrior King of Ling, wrote songs of the earth's suffering, one of which we share in this Protecting the Earth-themed edition. Today, the vision of the Great Eastern Sun radiates the confidence to confront these dark times and overcome all obstacles, notwithstanding barriers to sustainability.
When we touch the earth, literally and figuratively sowing seeds of compassion, there are direct and indirect karmic implications. Sanghas throughout the Mandala have long been engaged in cultivating compassion through gardening, such as those wonderfully described in this theme by Olivia Kirby (Creating Gardens of Compassion,) Bob Cervelli (Community Garden Reaps Rewards in Spades,) and David Wimberly (Literally Cultivating Peace.)
Others, as is the case in Halifax and in my own sangha in Boston, have made sustainability a daily part of center efforts. Sarah Lipton, Boston center coordinator, has led the effort and even developed a flyer (featured in her article, Of Tea Mugs and Compost, in this edition!) to communicate the center's environmental efforts. Acharya David Schneider further echoes the Boston center's message on resource usage in his article Dedicating Energy. There are also sustainability programs for our younger Sangha members, one of which is presented herein by Dan Glenn, Karme Choling's youth and families coordinator, who helped with the Teens Touching the Earth retreat.
Shambhala's sustainability efforts do not stop with our own community. In winter 2008, an appeal for an International Buddhist Conference was published in Buddhadharma magazine. Although the date has yet to be determined, the Sakyong and the Sakyong's Council are exploring participating and potentially hosting part of the event. The conference was well received by Buddhist communities worldwide. Teachers in attendance will include His Holiness the Dalai Lama, and His Holiness the Gyalwang Karmapa, who recently published a booklet outlining tangible steps how Karma Kagyu monasteries and centers could address environmental concerns. The Karmapa's instructions are explicit in their physical relationship to the earth, emphasizing forests, water, wildlife, and waste management. (View and download the booklet in English by clicking here.) For information on other global Buddhist responses to climate change, visit ecobuddhism.org.
In closing, I invite us all to contemplate the Sakyong's words and understand that as Shambhalians, we have the opportunity and the challenge to make a difference:
"Disastrous as this situation is, it is still possible to change course. The earth is calling to us for protection and for a return to basic sanity. We must all heed this call by adopting an approach that returns to a deep respect for our environment, and conserves our threatened resources."

– Sakyong Mipham Rinpoche
With that powerful message in mind, the Touching the Earth working group invites you to take part in the 2009 Shambhala Green Commitment announced today via Shambhala News Service. This is a crucial first step in committing your center to following the Shambhala vision of sustainability and working to protect our earth.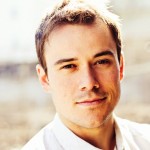 David Delcourt is the co-founder and COO of MakeMeSustainable.com, a Web site dedicated to helping people connect their desire to help the environment with their ability to do so. From his high school days in Asheville, North Carolina to the present, he has been an active environmentalist and advocate for ecological consciousness on the political level. David has been quoted in various periodicals including the Boston Globe, the Boston Herald, the Weekly Dig and numerous blogs, and his writing has been featured in the Huffington Post and FoundRead.com. He was featured in BusinessWeek's January 2008 special "Switching to Green Jobs" alongside long time hero Al Gore.  David is a Boston Sangha member, and weather permitting you can generally find him in the bike lane.
Editor's note: Readers may also be interested in Sue Gilman's Drala in Karme Choling's Garden, an update on sustainability materials from the Touching the Earth group, this news of a Touching the Earth weekthun in British Columbia, and Taking Our Seats as Earth Protectors, by Sue Gilman and Fred Meyer for The Dot and published here.

Post Tags:
Protecting the Earth