Thursday
Featured Stories, Video, Audio, Photos
Announcing the Golden Mirror of Wisdom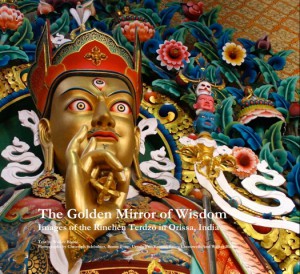 By Walker Blaine
Shambhala has a new book, The Golden Mirror of Wisdom: Images of the Rinchen Terdzö in Orissa, India. It was created at Sakyong Mipham Rinpoche's suggestion. The Golden Mirror of Wisdom is a 92-page hardbound edition in coffee table format (12.75" x 14.75") and features large, high-quality photographs taken at the Rinchen Terdzo, one of the most important rituals in the Nyingma tradition of Tibetan Buddhism. His Eminence Namkha Drimed Rinpoche enthroned Sakyong Mipham Rinpoche as a holder of the Rinchen Terdzo in March of 2009 at the conclusion of the Rinchen Terdzo's three months of empowerments and teachings, which were bestowed at His Eminence's monastery in Orissa, India.
The 129 images in The Golden Mirror of Wisdom are drawn from several thousand photographs taken by five photographers: Christoph Schonherr, Benny Fong, Laura Chenoweth, Ursula Von Vacano, and Walker Blaine. A short introduction to the Rinchen Terdzo accompanies the photos, which are arranged according to the motif of the five perfections—the perfect teacher, disciples, dharma, place, and time.
As you will see from the sample pages, besides telling the story of the Rinchen Terdzo, The Golden Mirror of Wisdom gives a good sense of the Sakyong and the Sakyong Wangmo's world in Asia. It also gives picture of the Ripa family and an introduction to that part of our extended lineage. The book is a colorful and engaging introduction to the Tibetan heritage of our Shambhala world.
The Golden Mirror of Wisdom is also the companion volume to last year's book, The Great River of Blessings, an edited version of the daily blog written at the request of Sakyong Mipham Rinpoche in order to easily inform people about the importance of the Rinchen Terdzo and give a portrait of the Sakyong's life in outside the West.

The Great River of Blessings is 272 pages long and is available as a paperbound edition or a free download through the Sakyong Foundation. It has been updated to its final 1.9 version after more than 1,000 downloads. Please consider making an offering to the Chandragiri Malaria Relief Project when you download this book.
The Golden Mirror of Wisdom is for sale as a hardbound book printed on high quality paper. The price of an order is approximately $100 per volume before shipping from lulu.com. All writing, photography, and layout work on this project was donated. The cost has been kept as low as possible for a single-volume, high quality publication through lulu.com, an independent, on-demand printer.
View a sample of the Golden Mirror of Wisdom: golden-mirror-sample
Post Tags:
rinchen terdzo