Thursday
Scene and Heard
A Wedding On Top of the World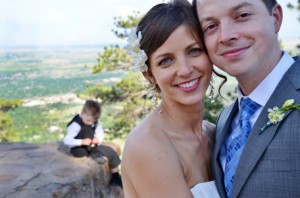 To say they were on top of the world would be more than accurate.
Hannah Kinderlehrer and Paul Fowler were married on June 12, 2011 at the Flagstaff Amphitheater overlooking the city of Boulder, Colorado. Hannah and Paul's four-year-old son, Luca, carried himself as the image of his debonair daddy, Paul, in a tiny tuxedo with a well-sculpted coiffure. Hannah was beyond stunning in a gown that was the flawless azure of late twilight, rising into a gorgeous fitted cream-colored torso. She wore a flower in her hair, as Luca and Paul did on their lapels. There were delighted gasps as they entered through the trees which overpowered the four-piece orchestra performing against a backdrop of rock, nature and majesty.
An occasional breeze tamed the heat and toppled the less weighty items on their Shambhala shrine. The Ponderosa pines created a perfect umbrella for the rows of rustic seating as the children played in the dirt and the guests hung on every one of Acharya Judith Simmer-Brown's words about viewing marriage as the ultimate path.
Directly following the ceremony, Hannah and Paul celebrated their nuptials with a reception at Naropa University in Boulder. Friends and family created a forum to make offerings and show off their limitless talents to the beaming couple. Paul made a surprise offering to Hannah of a choral song performed by the audience that he had emailed them about ahead of time. Hannah surprised Paul in return with a flash-mob she had also coordinated beforehand. Only the guests were in on both secrets and from where I sat, it was deeply inspiring to see this newly adorned husband and wife offering their talents so heart-fully to one another. Little Luca boogied his heart on out on the dance floor, visibly consumed by the joy of it all.
KI KI SO SO
To Hannah and Paul!
Post Tags:
wedding